Radio Tarma DX Photos
These photos were taken during my visit to Radio Tarma in April, 2018. Click on any photo to enlarge it and then use the arrows to scroll through all the photos for this section. Other locations may be selected from the menu on the left. Links are provided for large versions of several photos for personal use only.
Article on Radio Tarma
An article and pictorial about my visit to Radio Tarma was published on the SWL Blog. The article has a lot more detail about my visit but it only includes some of the photos found here.
Studio and Offices
Radio Tarma's studios and offices are located in this building, a few blocks from the central plaza. Radio Tarma is just part of the larger Grupo Monteverde, currently run by Mario Monteverde, the son of Radio Tarma's founder. The company also operates a chain of tropical music stations named Radio Tropicana with FM frequencies in Tarma, Satipo, La Merced and Pichanki. In addition, Grupo Monteverde has two TV stations in Tarma and runs the local cable franchise, which is located across the street from the radio station. Finally, they also manage the local FM repeater for Peru's primary news network, Radio Programas del Peru.
Radio Tarma Studio Video Recording (21 MB MP4)
Radio Tarma website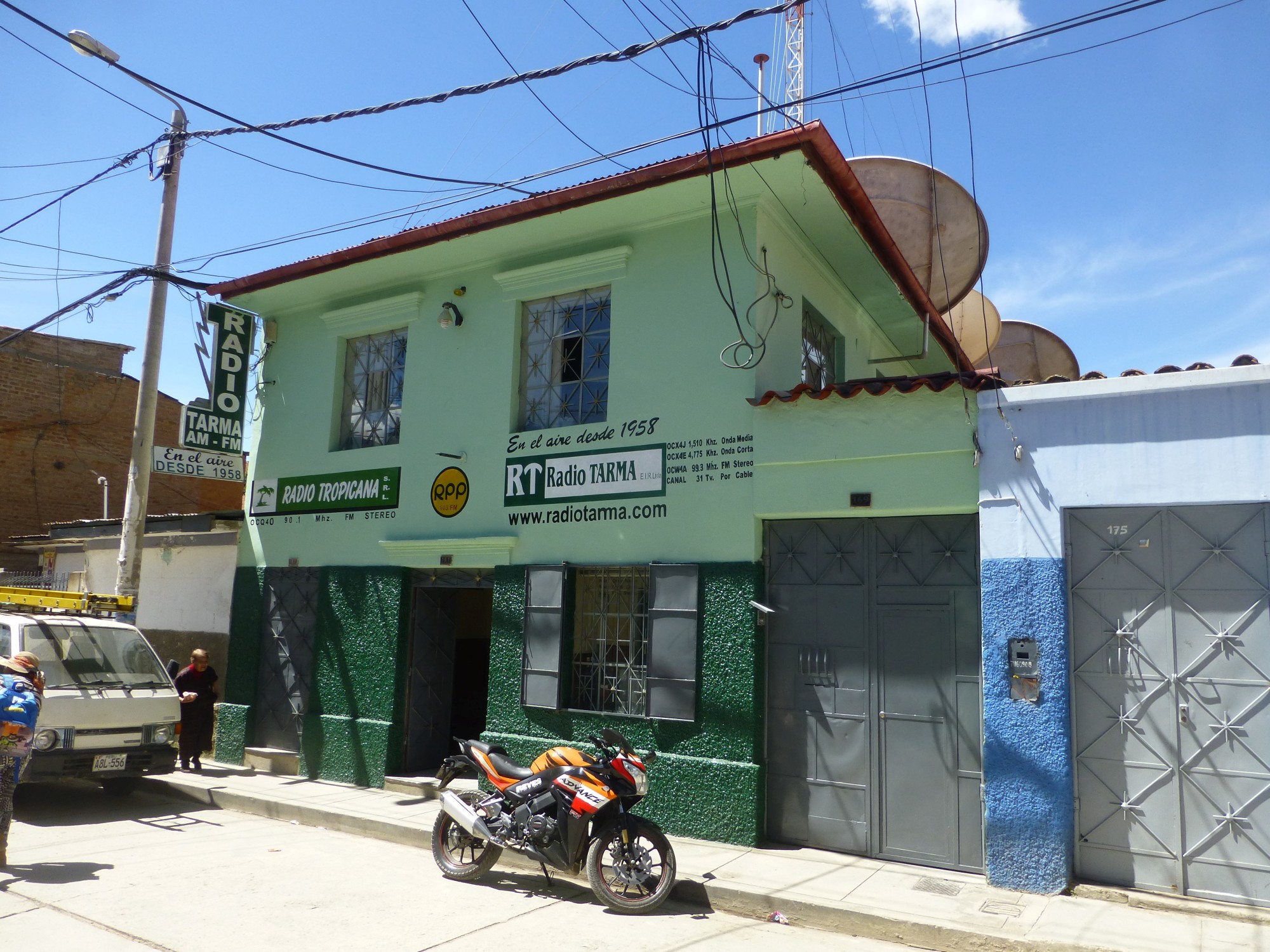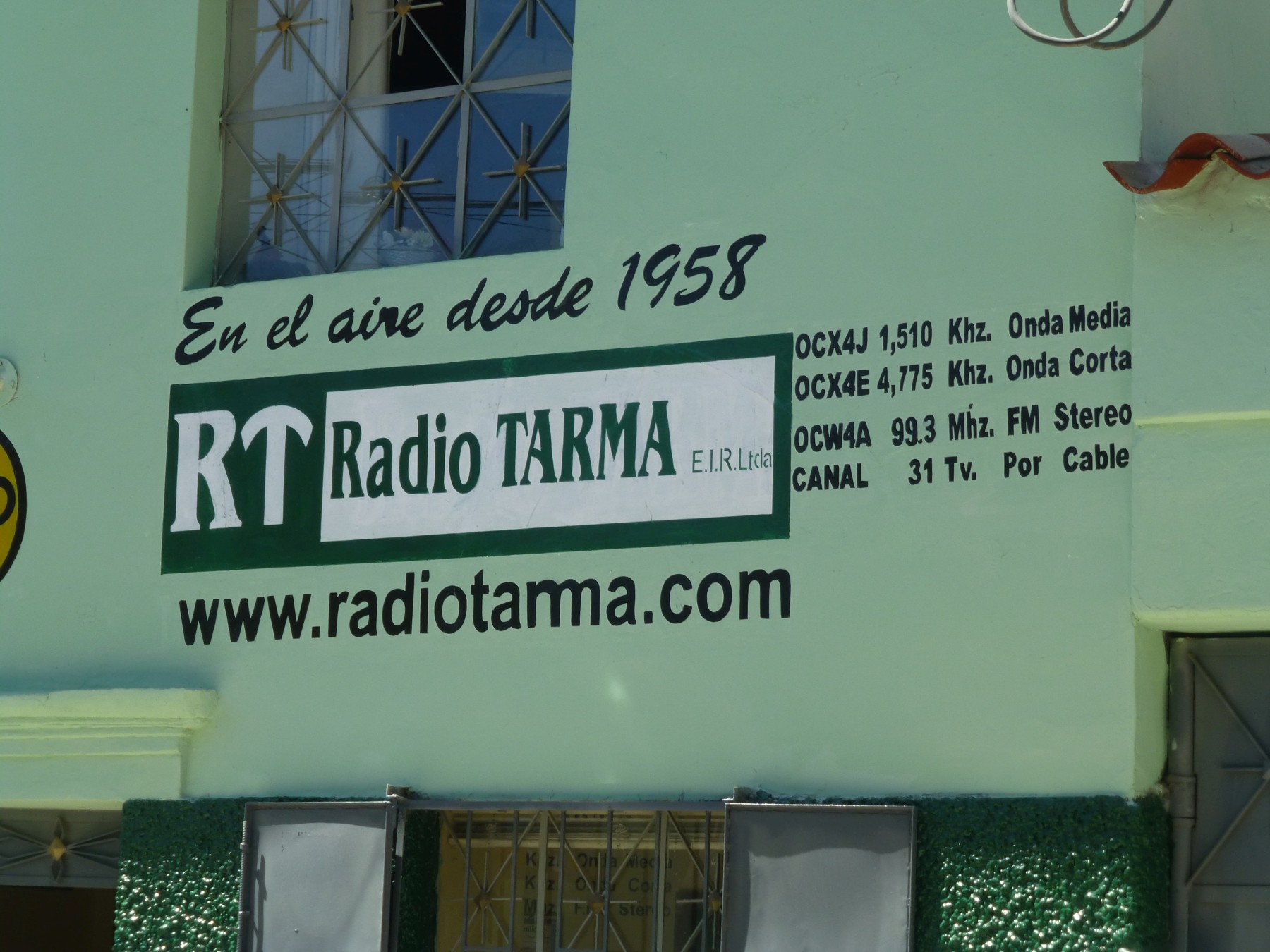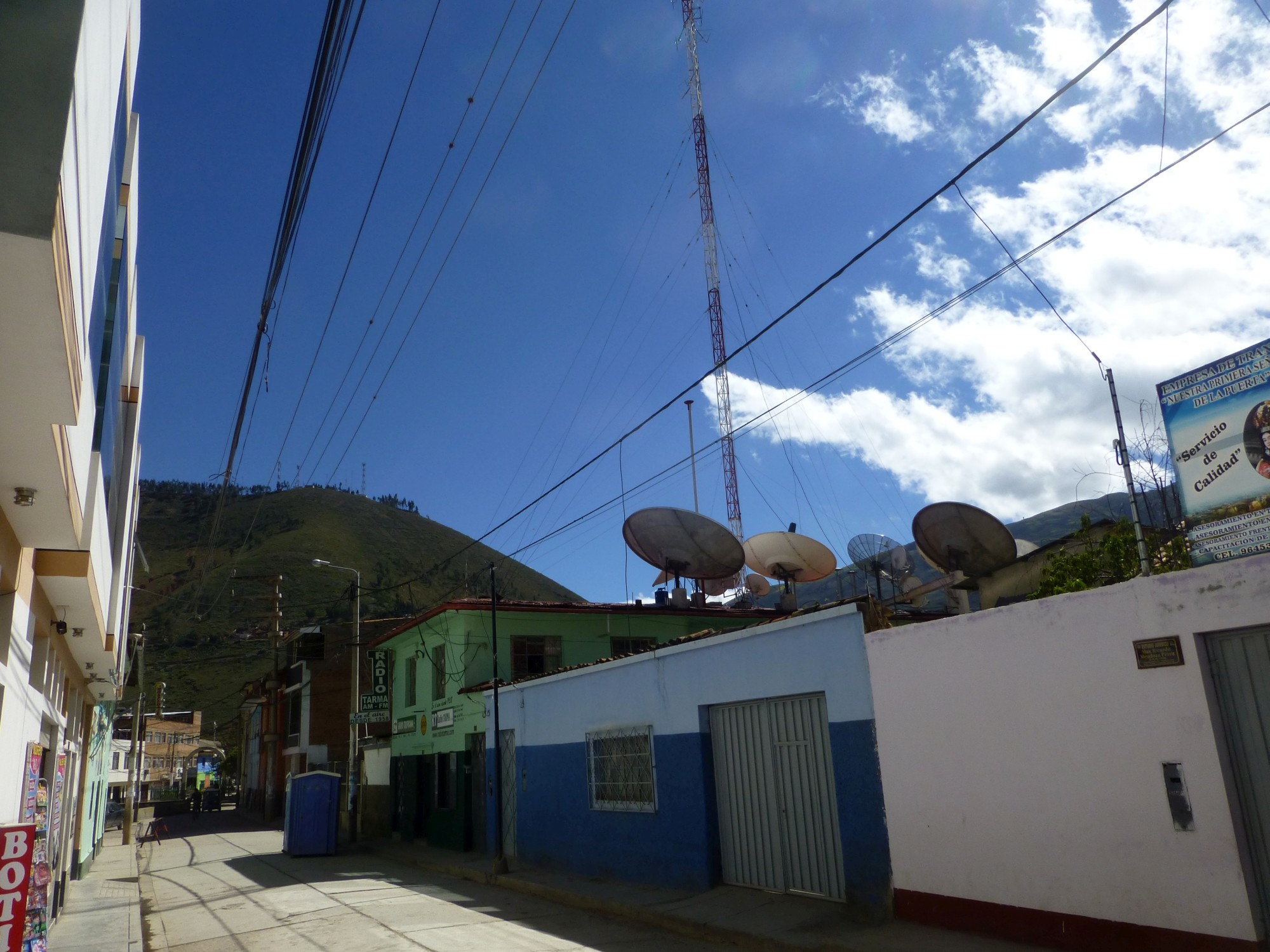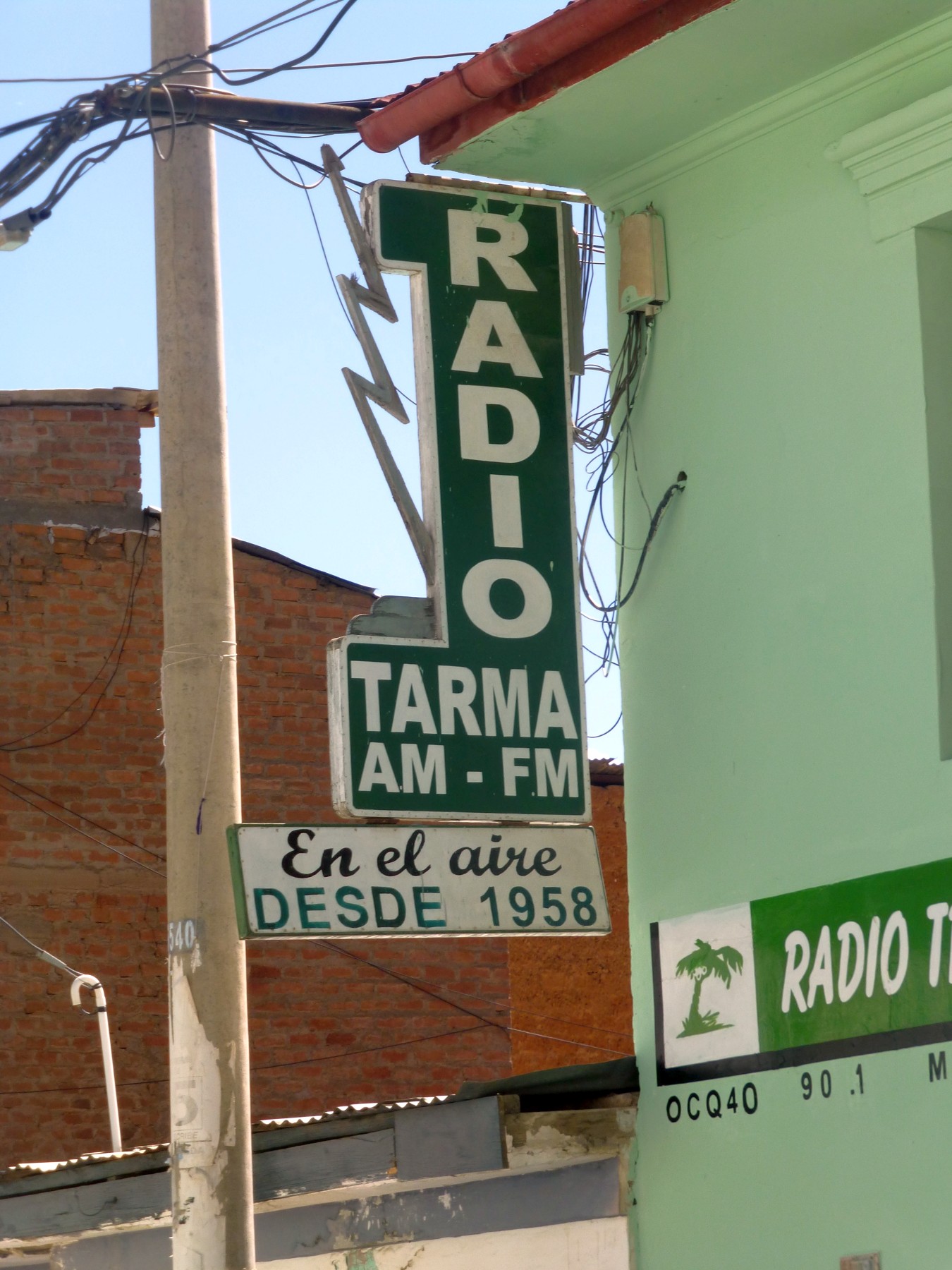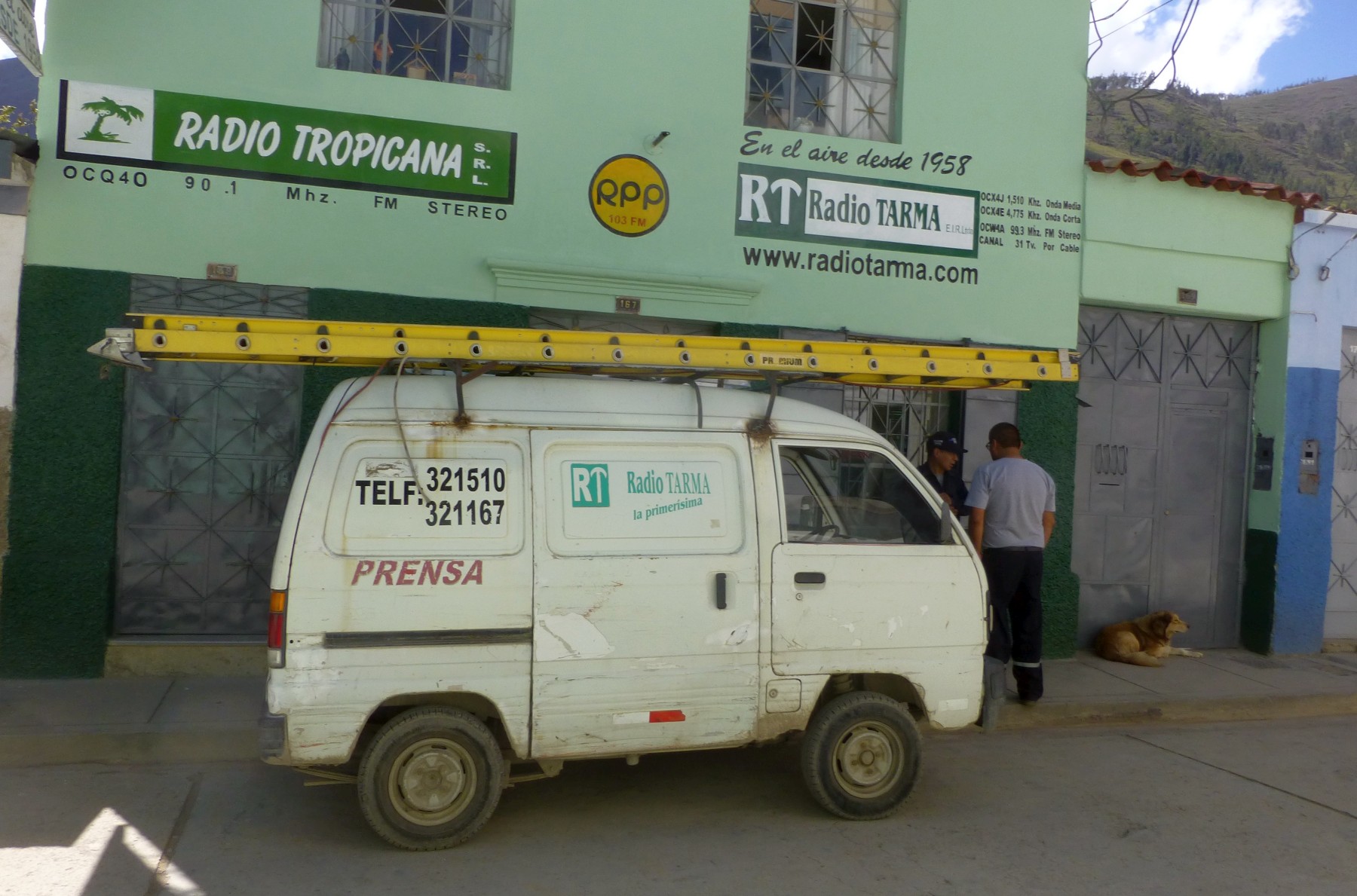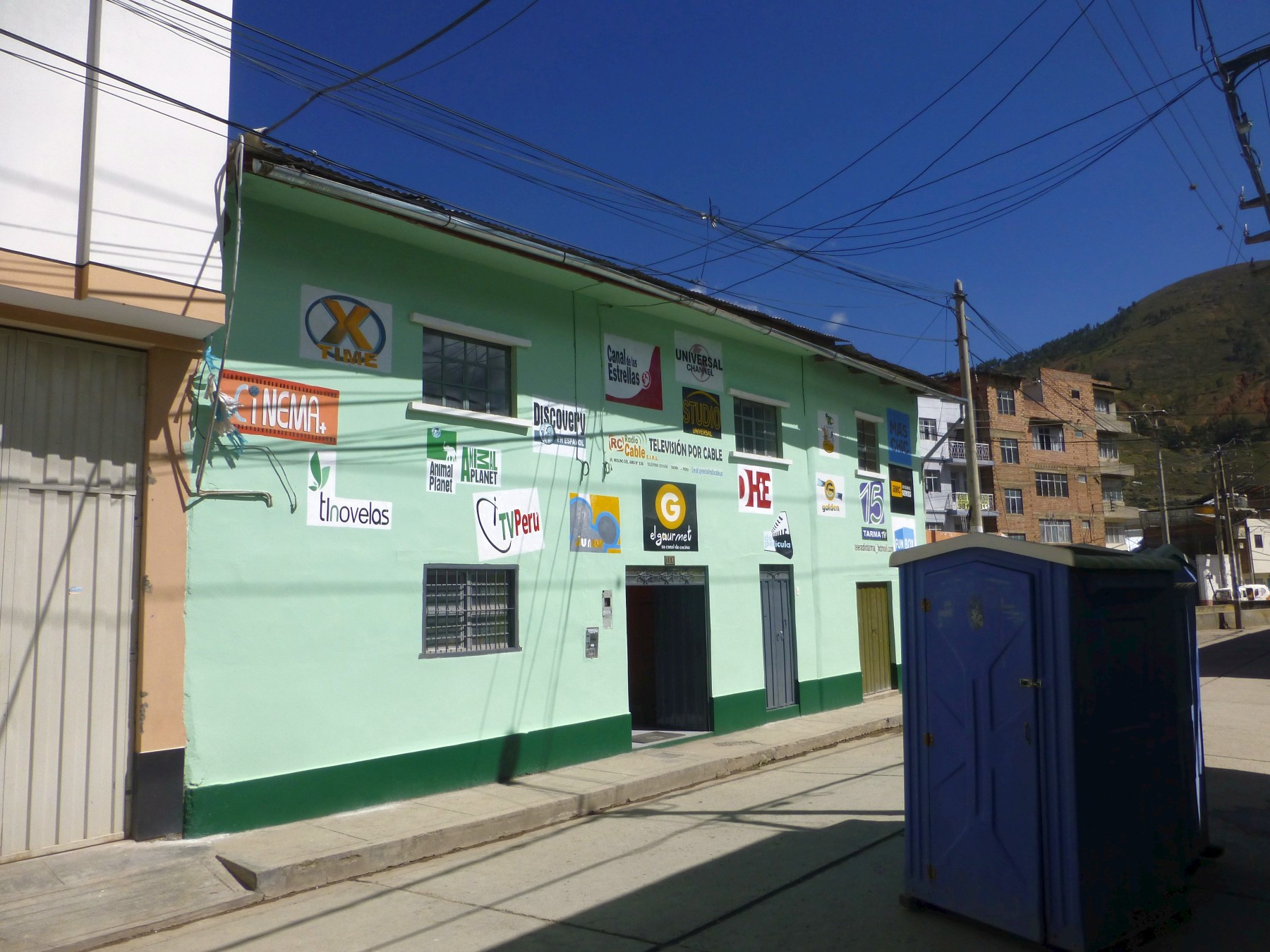 The first thing the visitor sees upon walking into Radio Tarma is this sign listing the station's frequencies and a framed certificate underneath. The certificate is from DXer Ralph Perry. A painted sign on the adjoining wall displays the logos for Radio Tropicana and Radio Programas del Peru.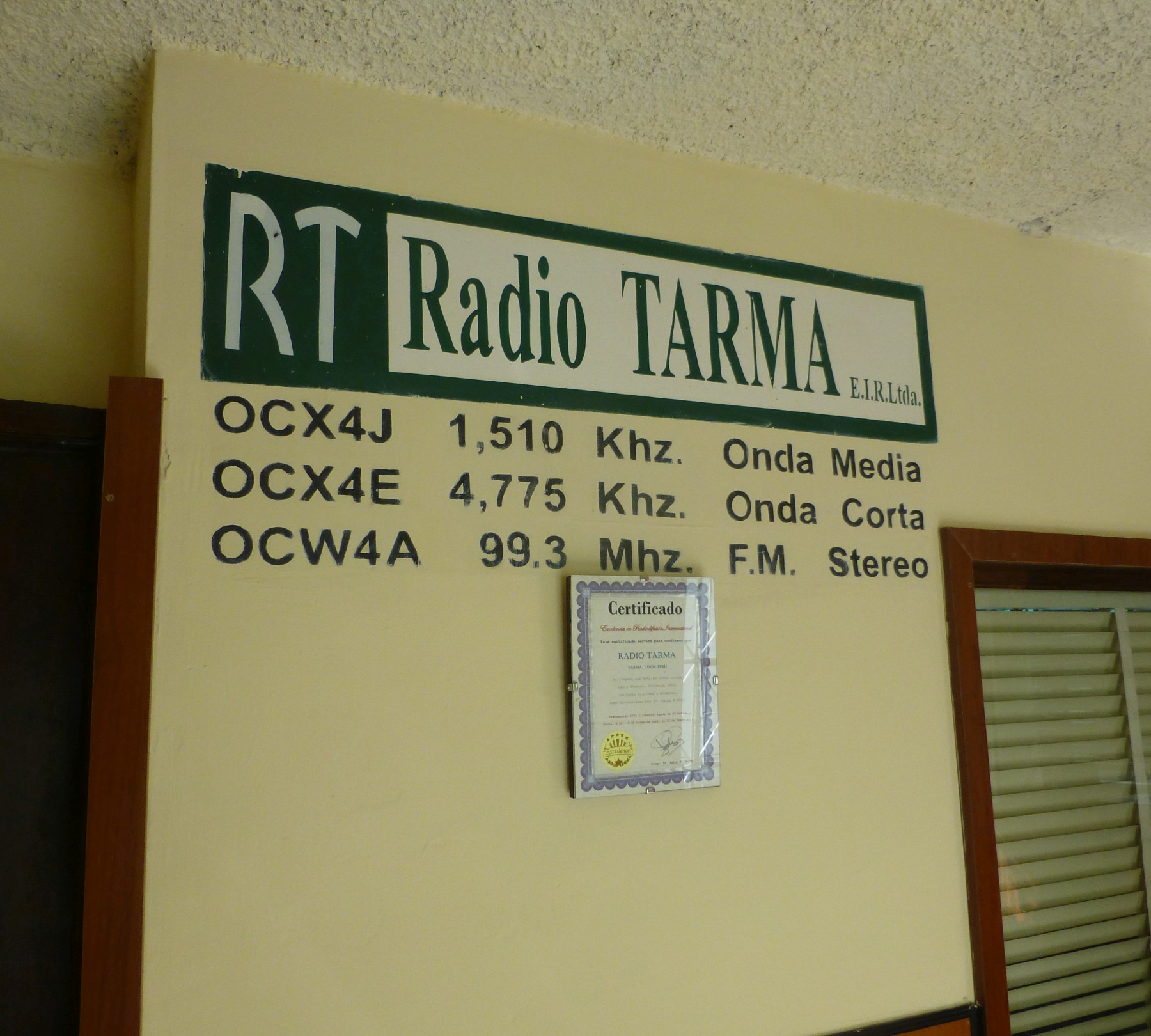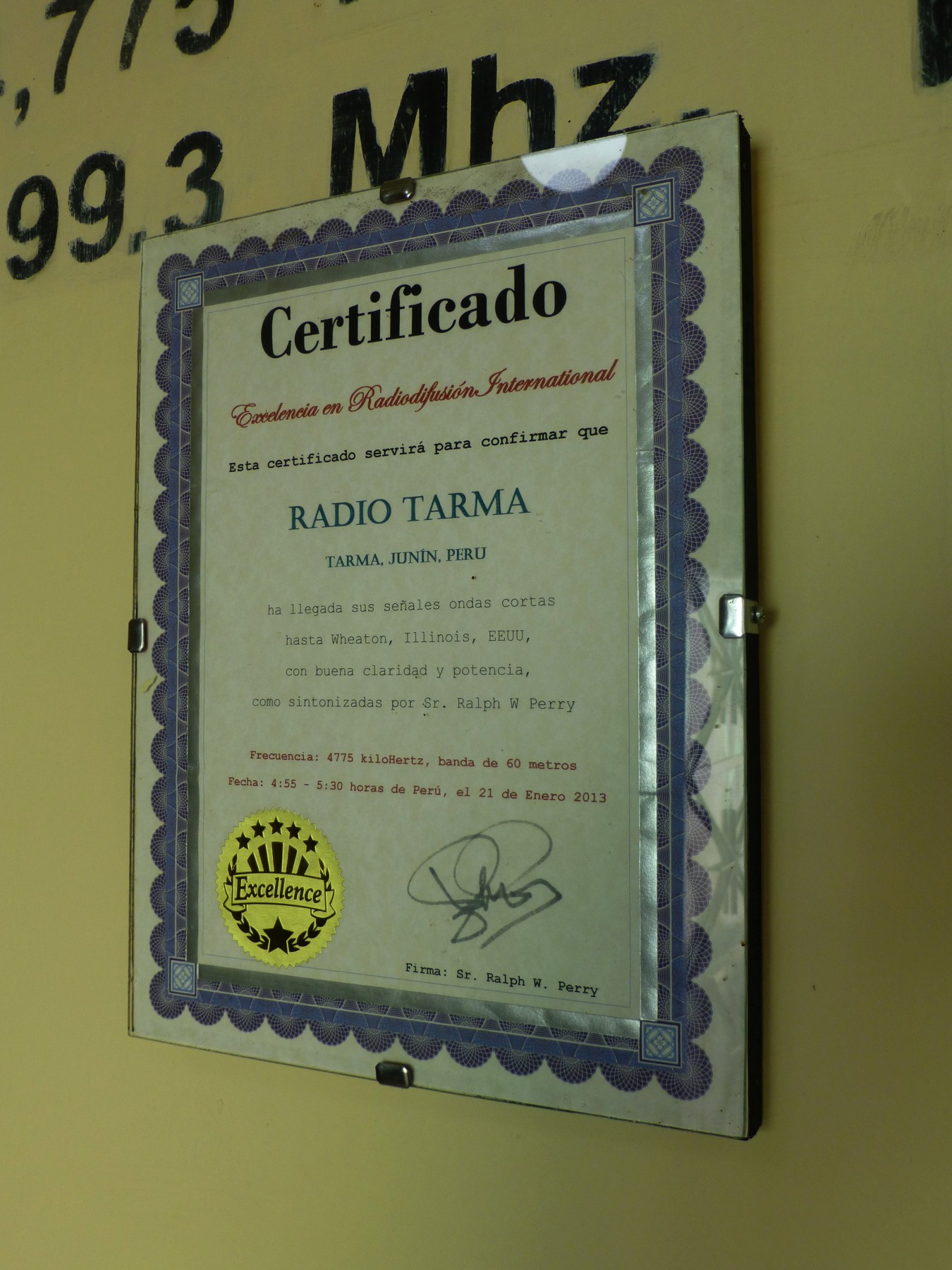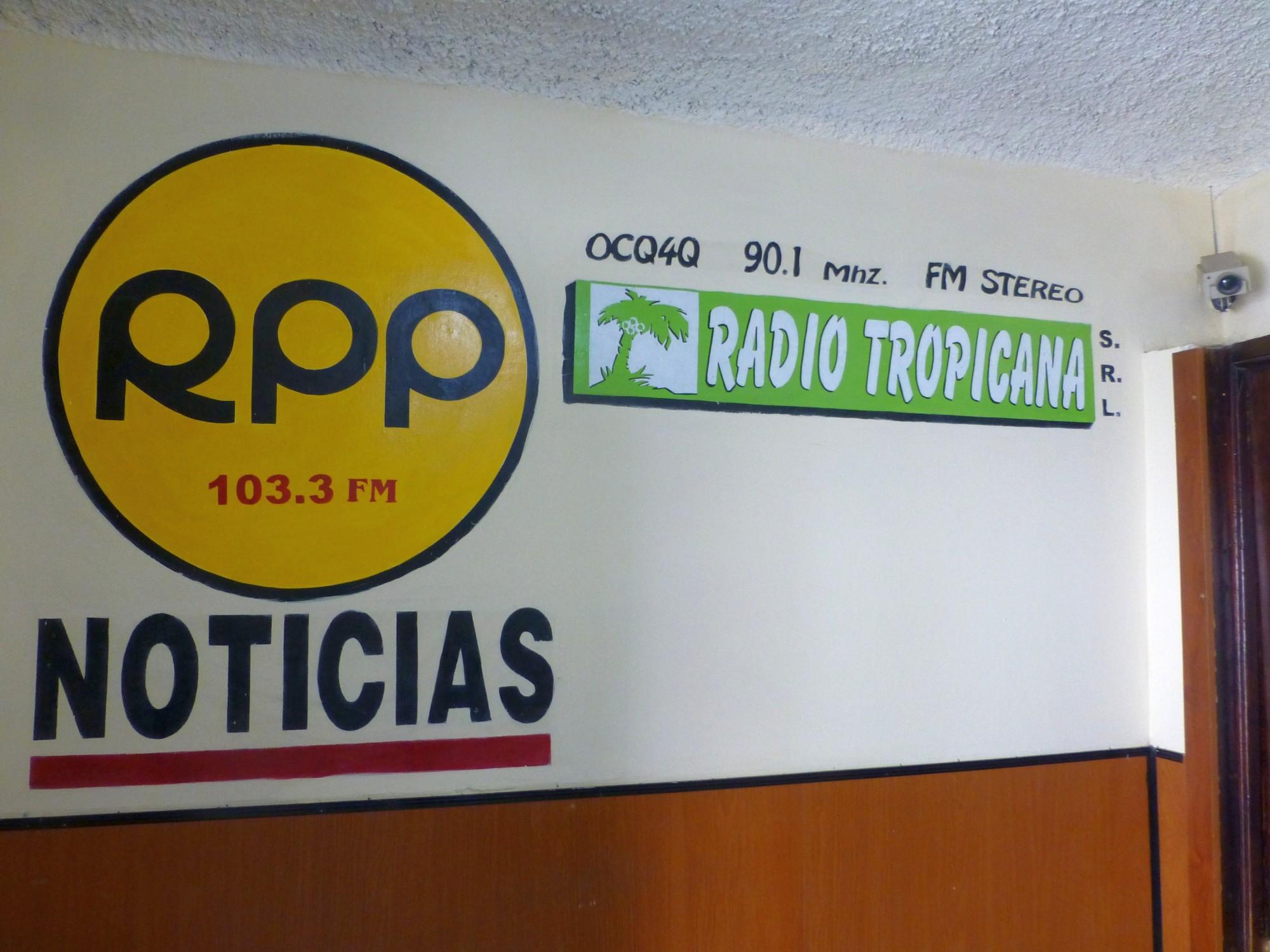 Decorations at the station include a 50th anniversary banner, a 60th anniversary calendar, and a Radio Tropicana poster. Radio Tarma has a very extensive library of vinyl recordings, but today all music played on the air is digital. Little by little they are converting parts of their record collection to digital format.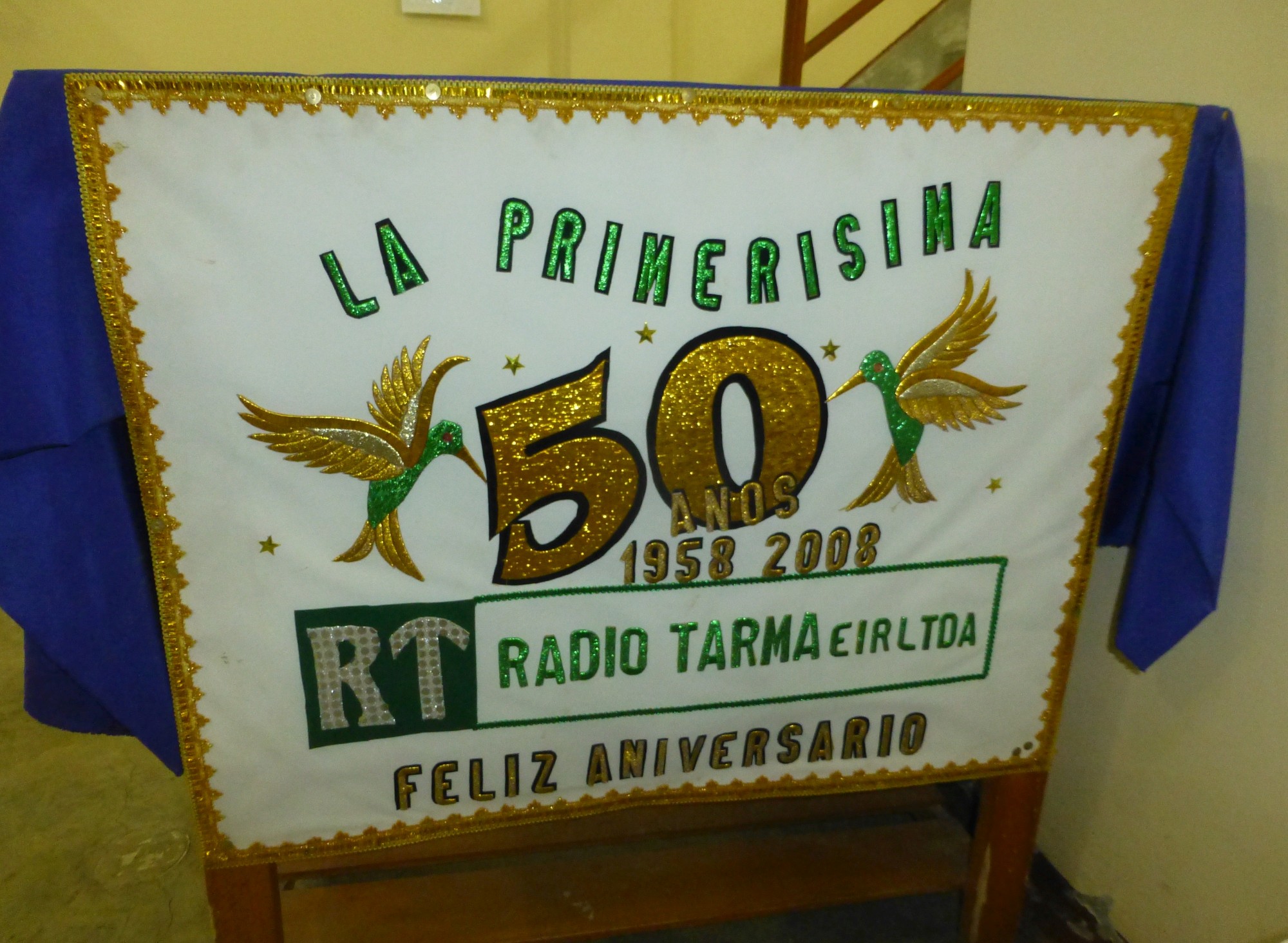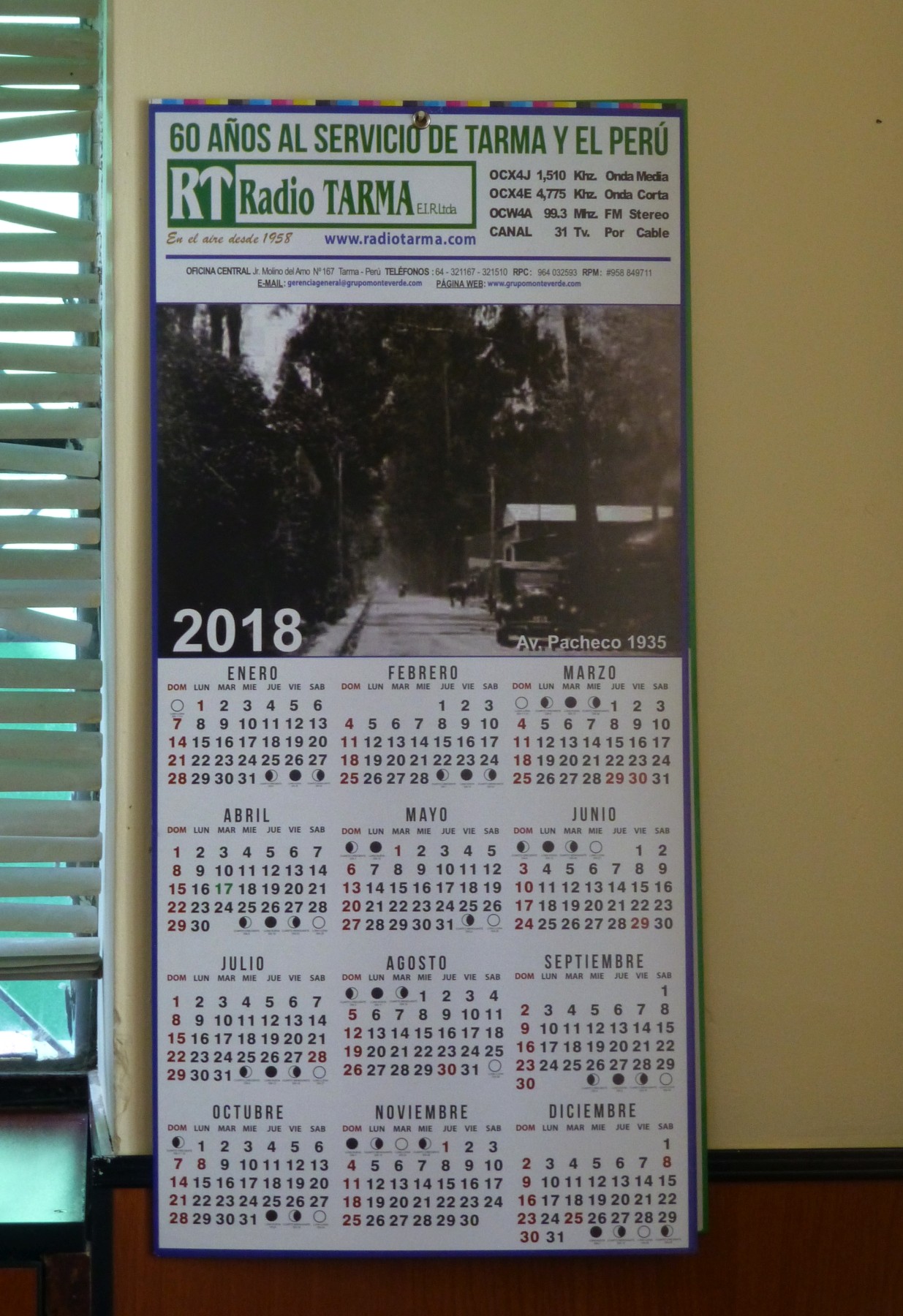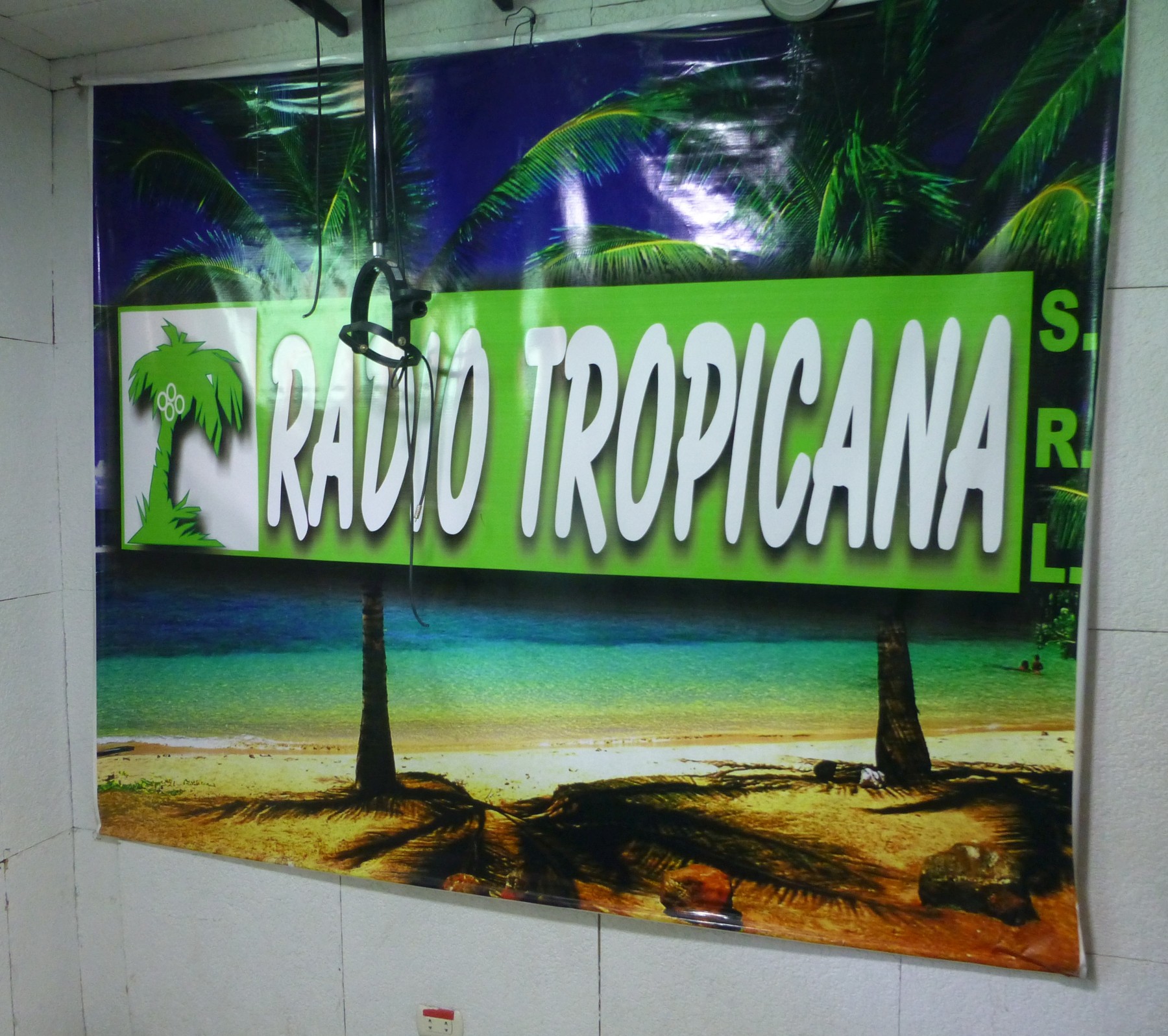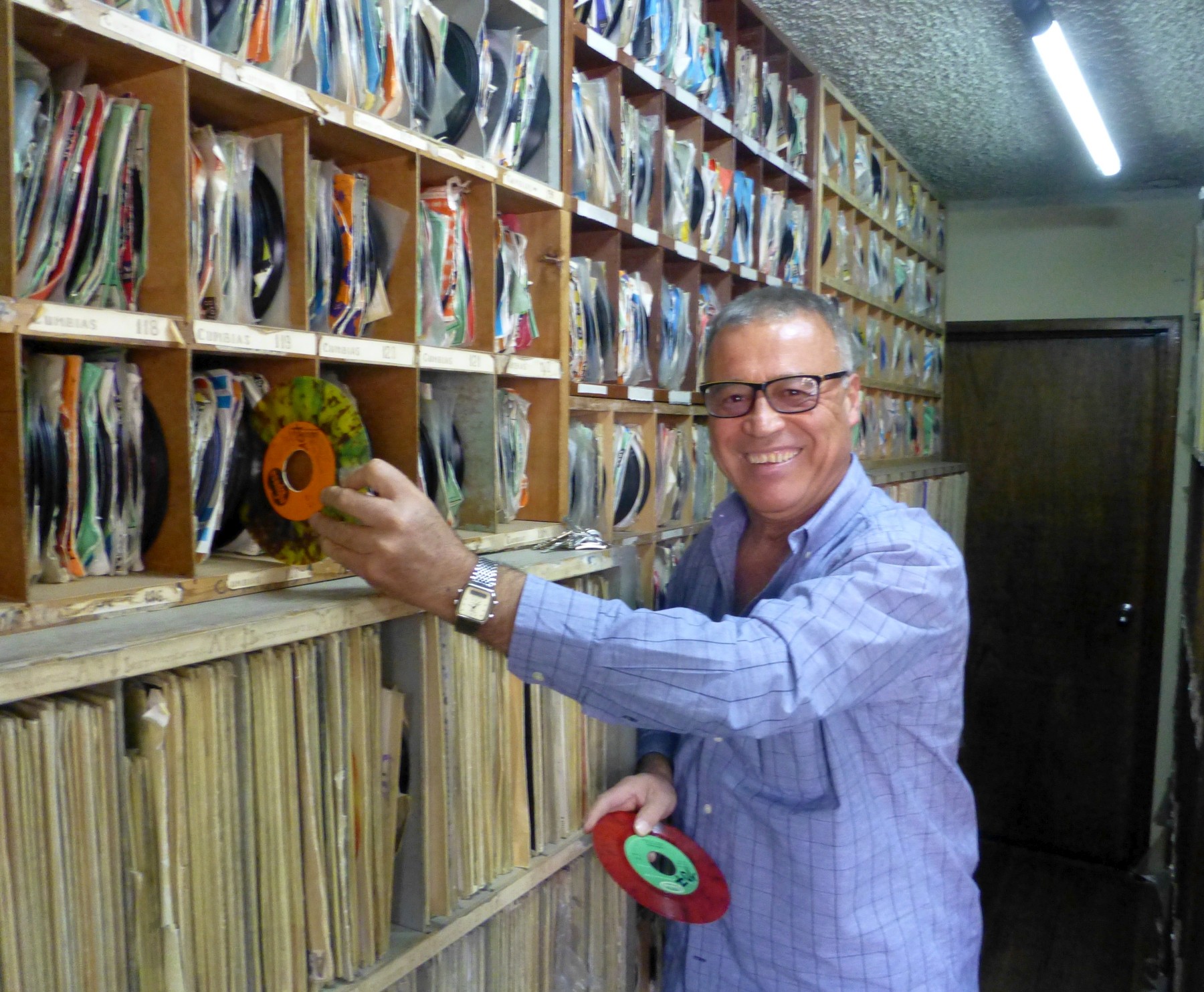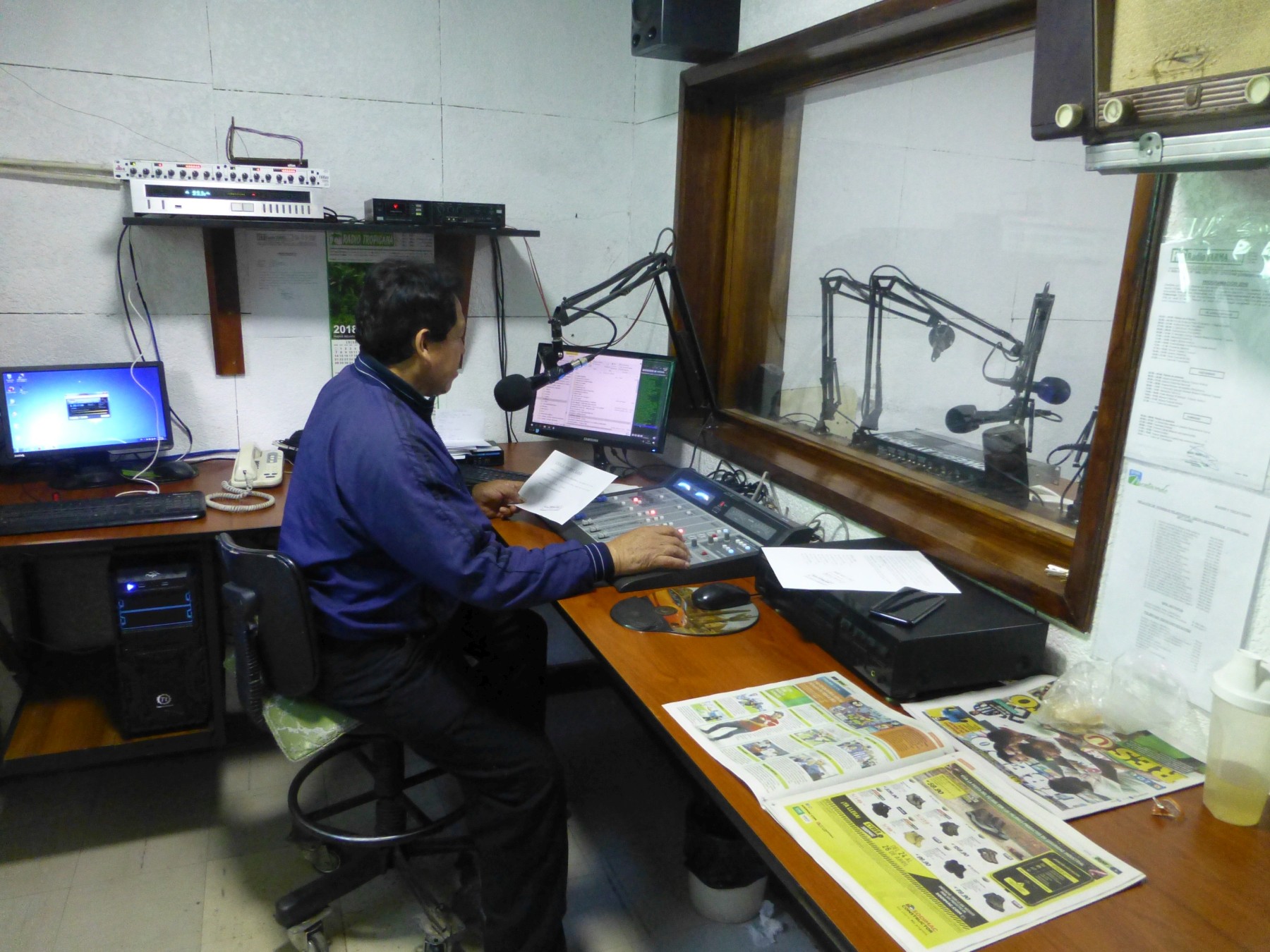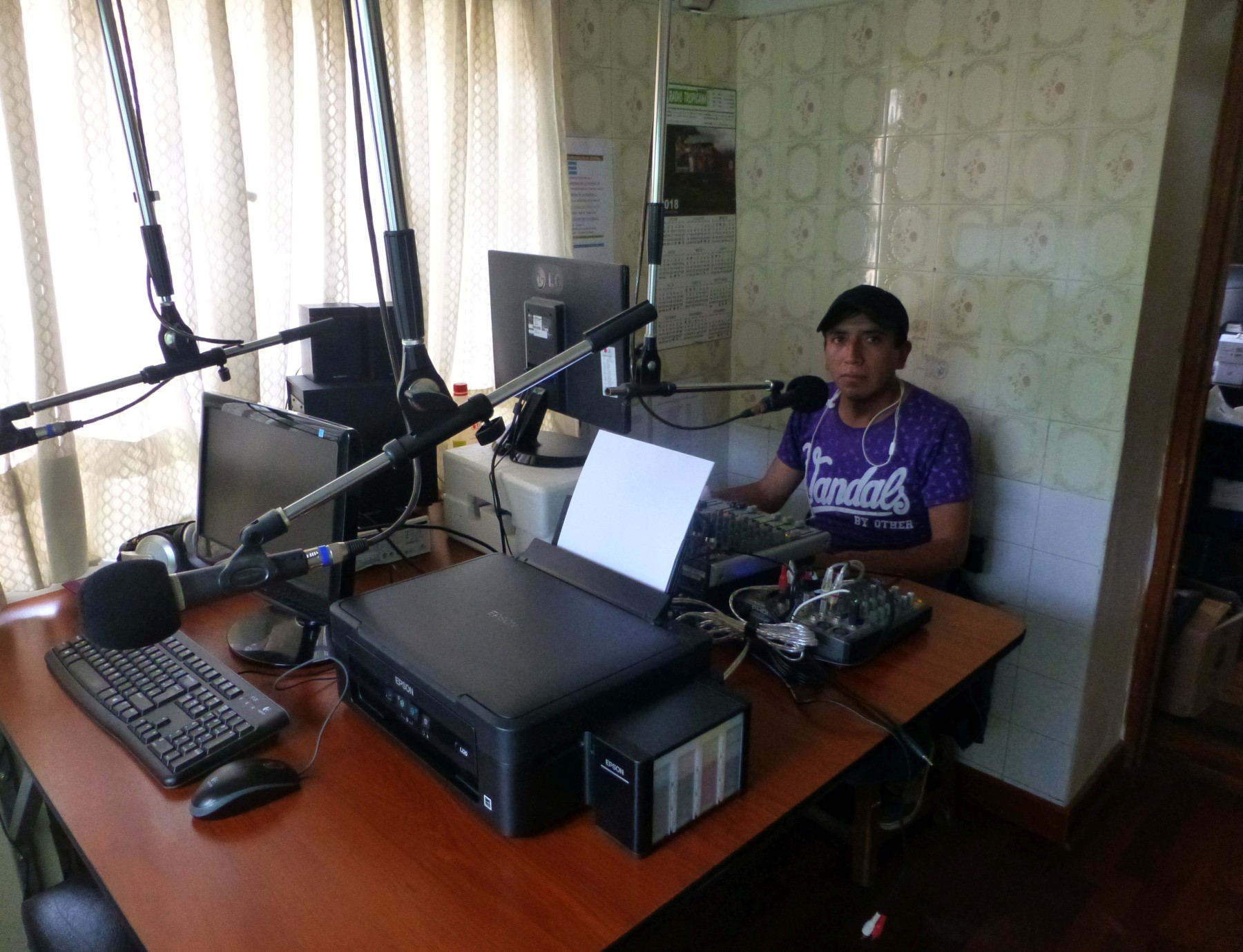 The Transmitter Site
Prior to 2012, Radio Tarma's transmitter site was in the north part of Tarma at what presently shows up as a field in Google satellite view at coordinates (-11.397014, -75.688842). It can also be seen in the following picture, which was taken from their new transmitter site.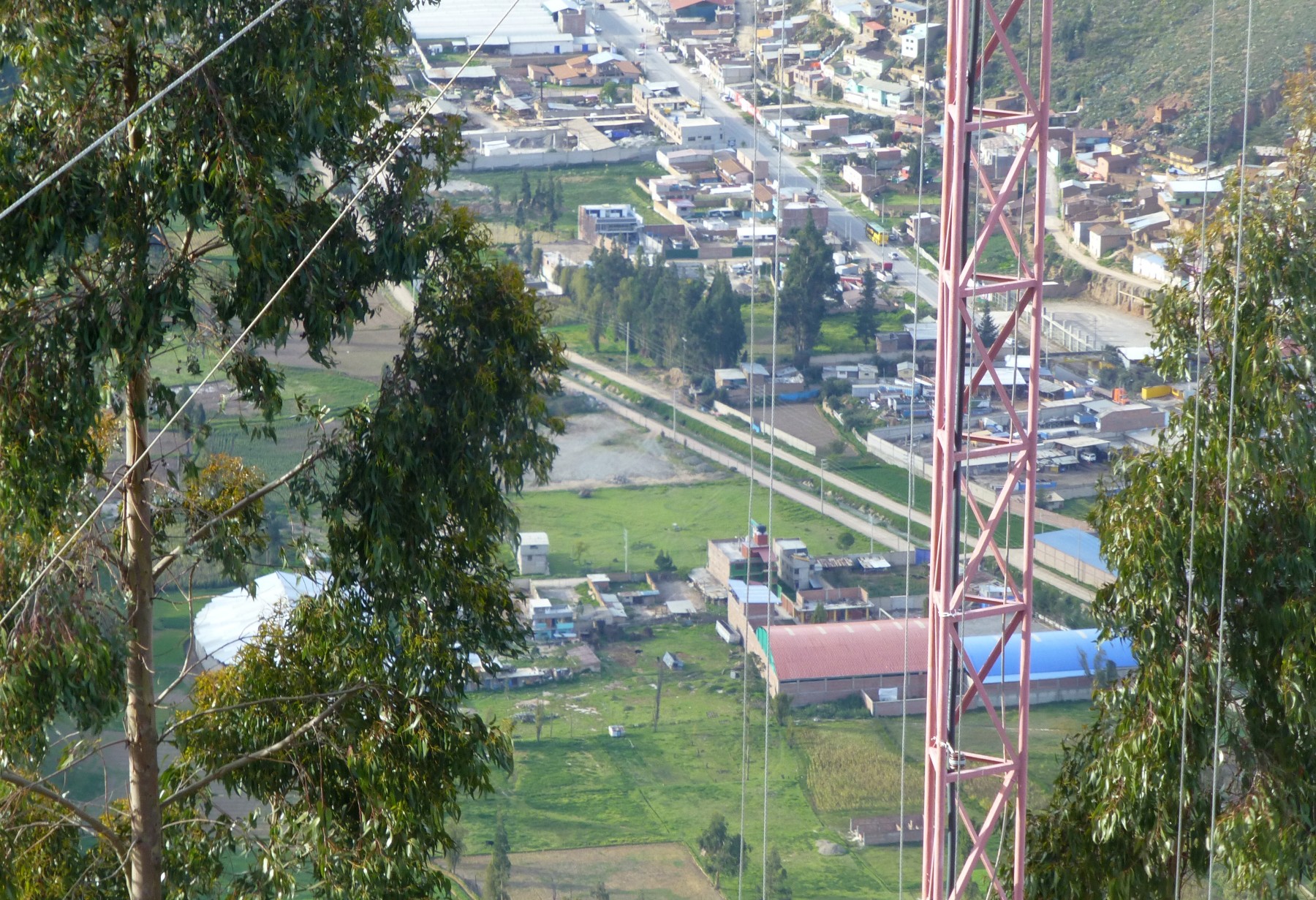 In 2010, Radio Tarma began construction of a new transmitter site on a mountaintop overlooking the town, about 1.4 kilometers south of the old site, at coordinates (-11.409436, -75.690687). The new location, which went on the air on April 17, 2012, is marked as Estacion Tarma on Google maps. This 3D view shows the difference in elevation between the two locations.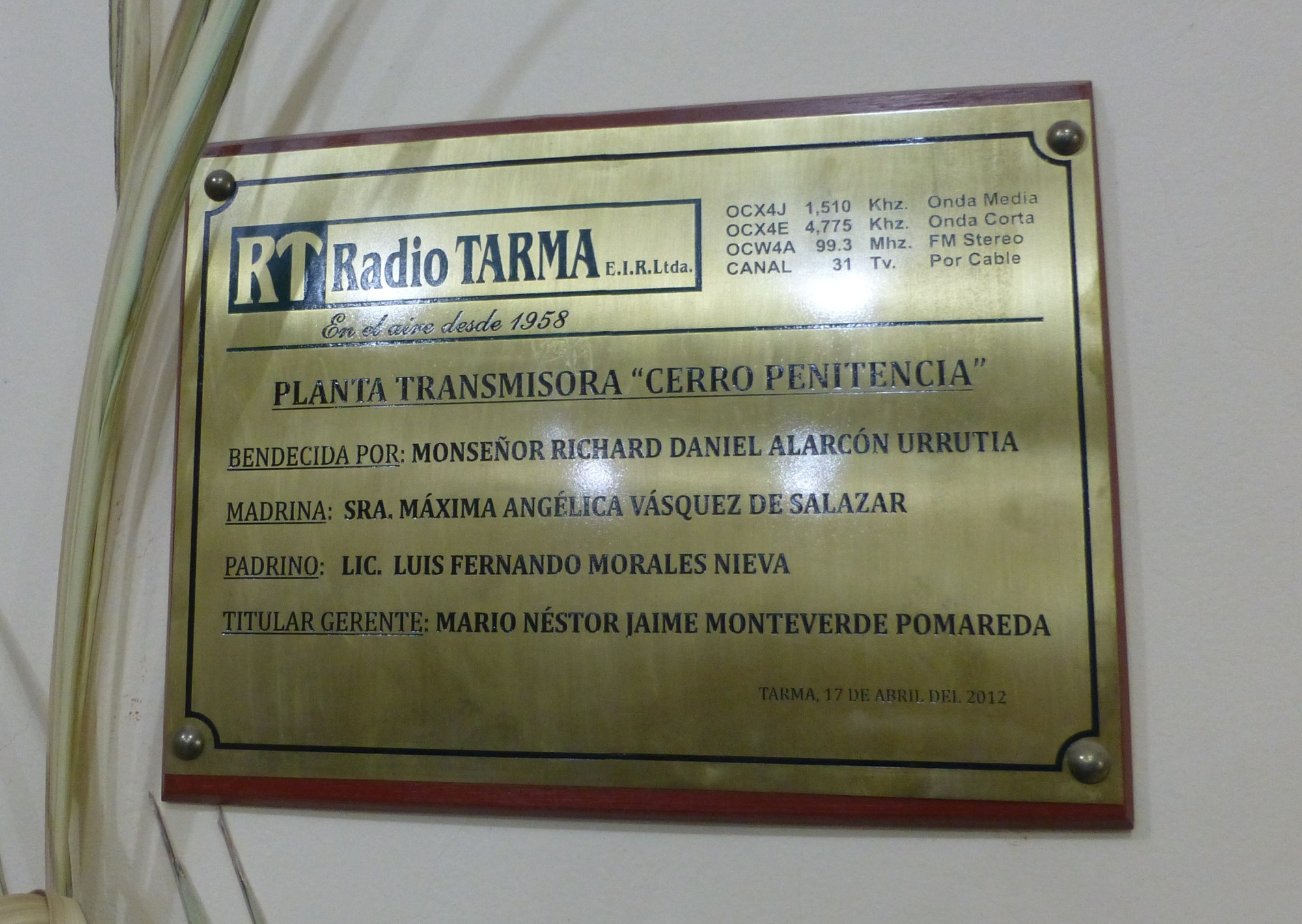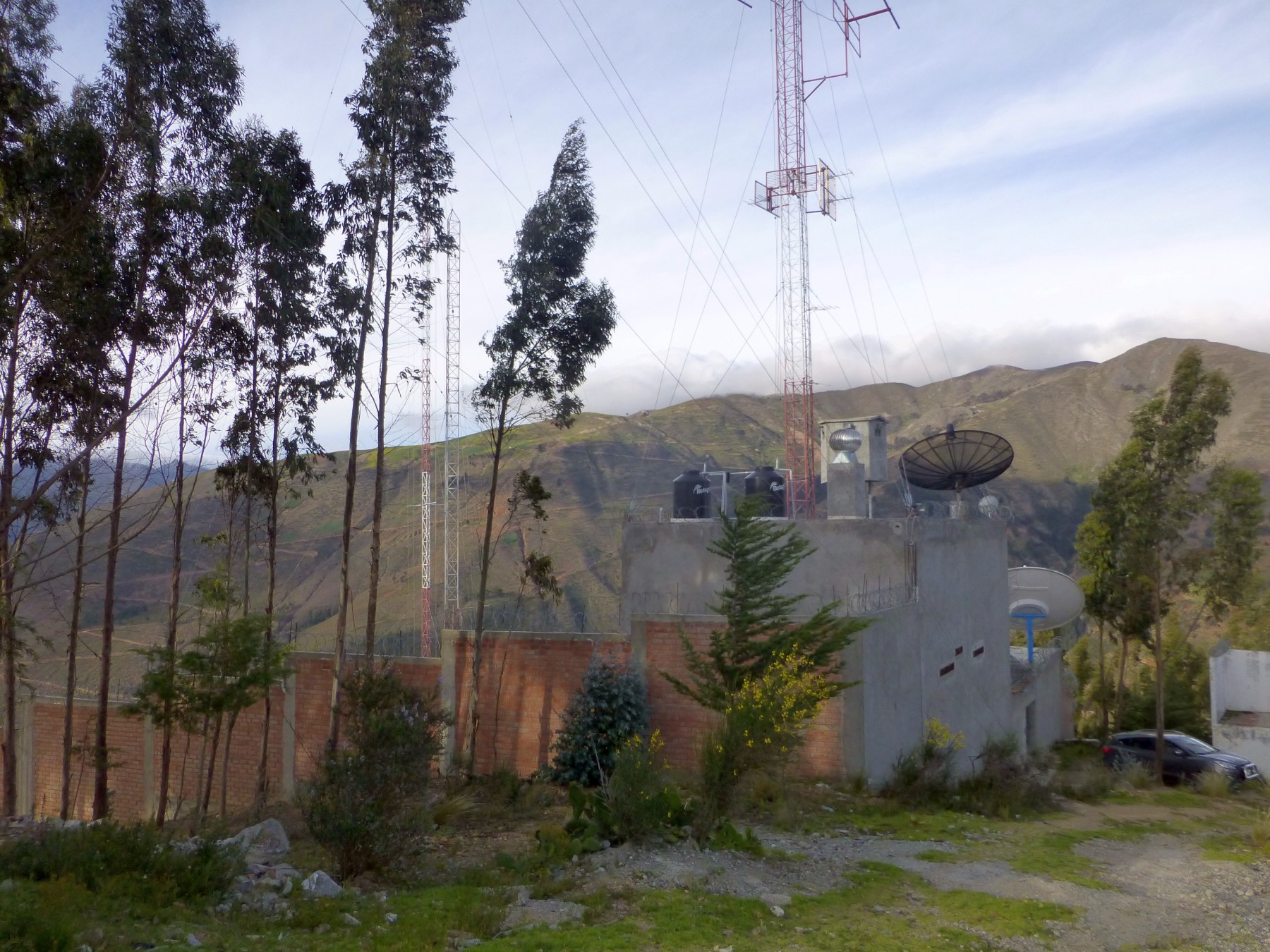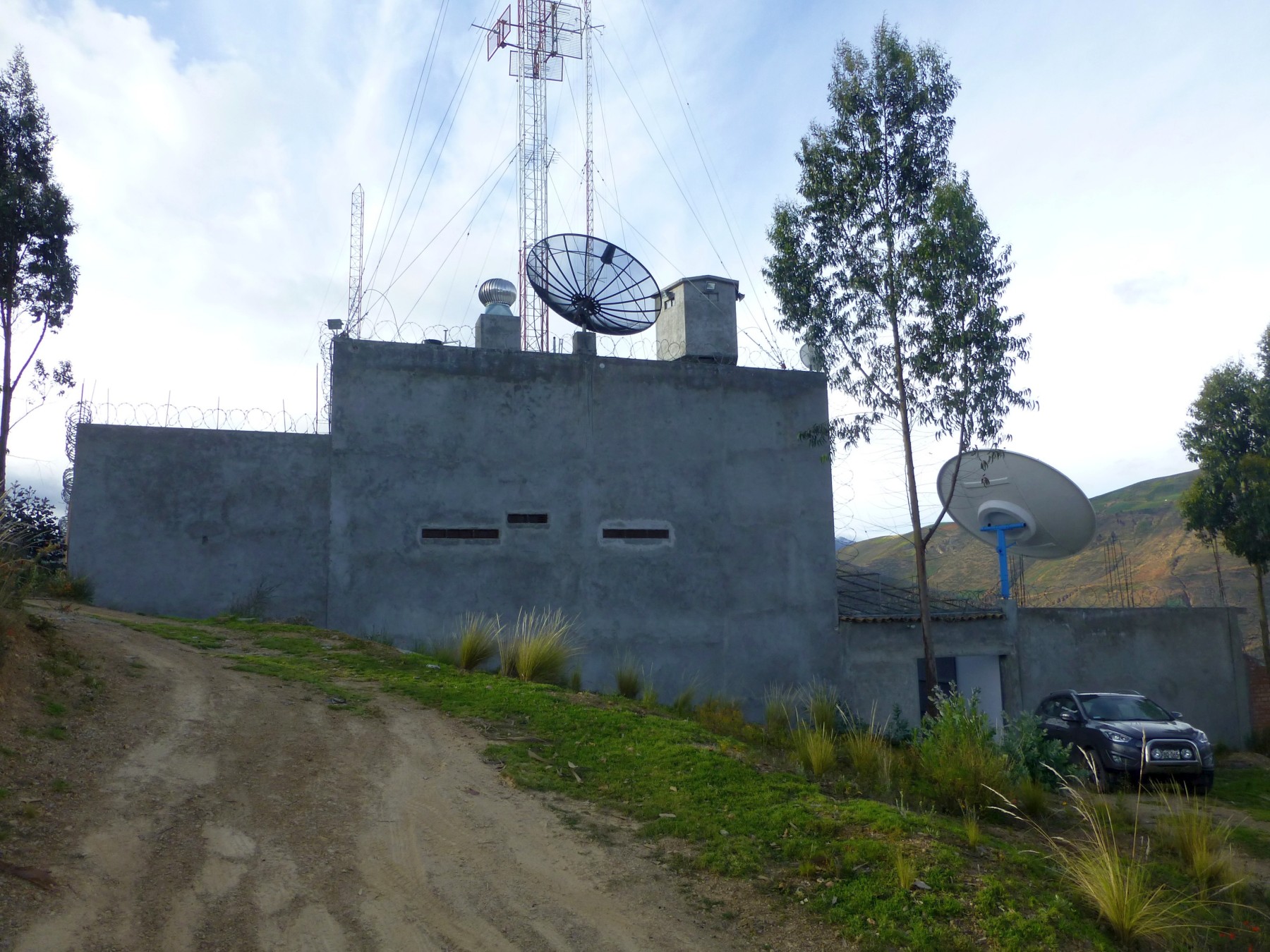 The first two photos here show the mast used for medium wave and FM. For 4775 kHz shortwave, Radio Tarma uses a dipole that runs between the two masts seen in the third photo.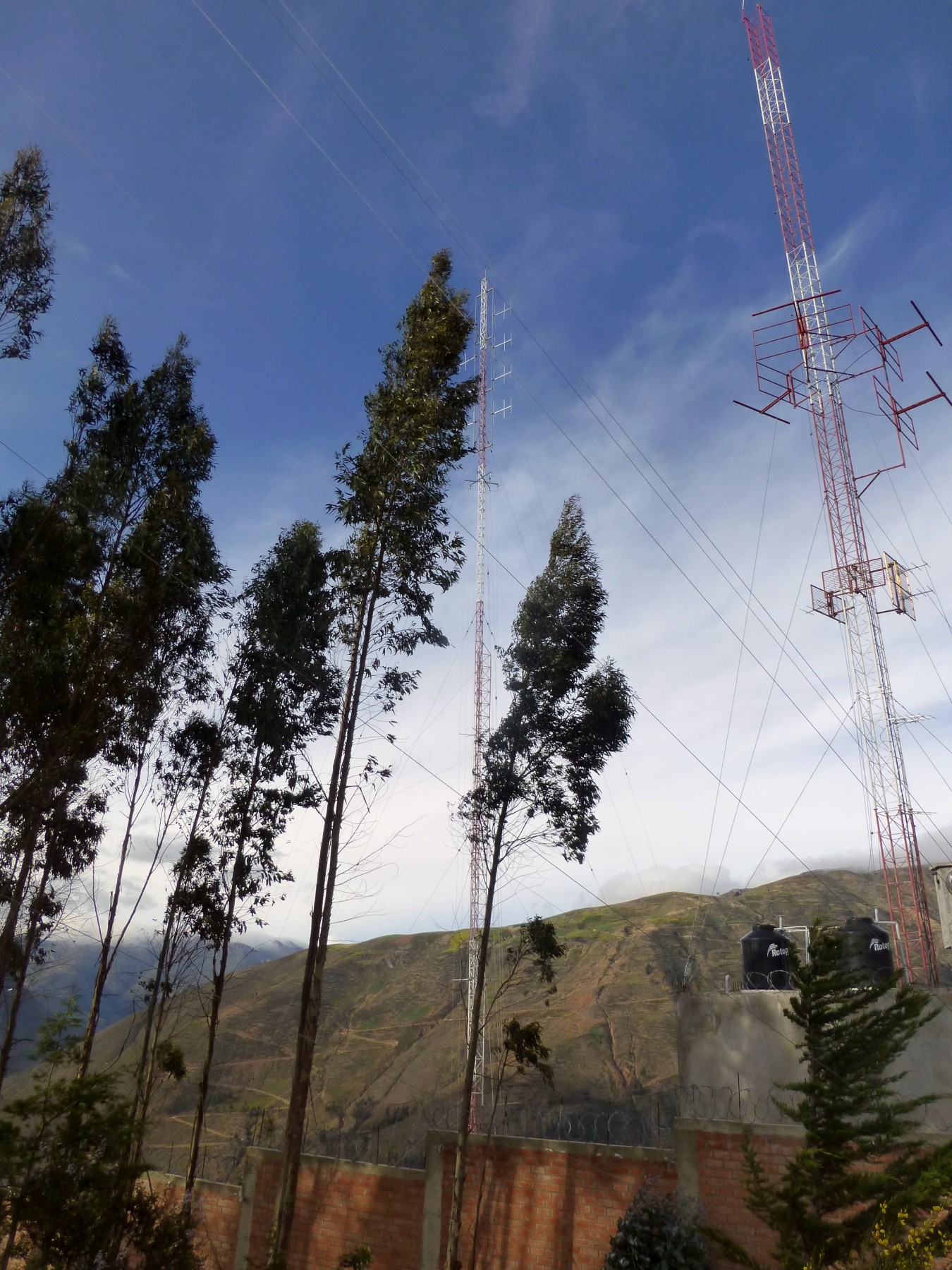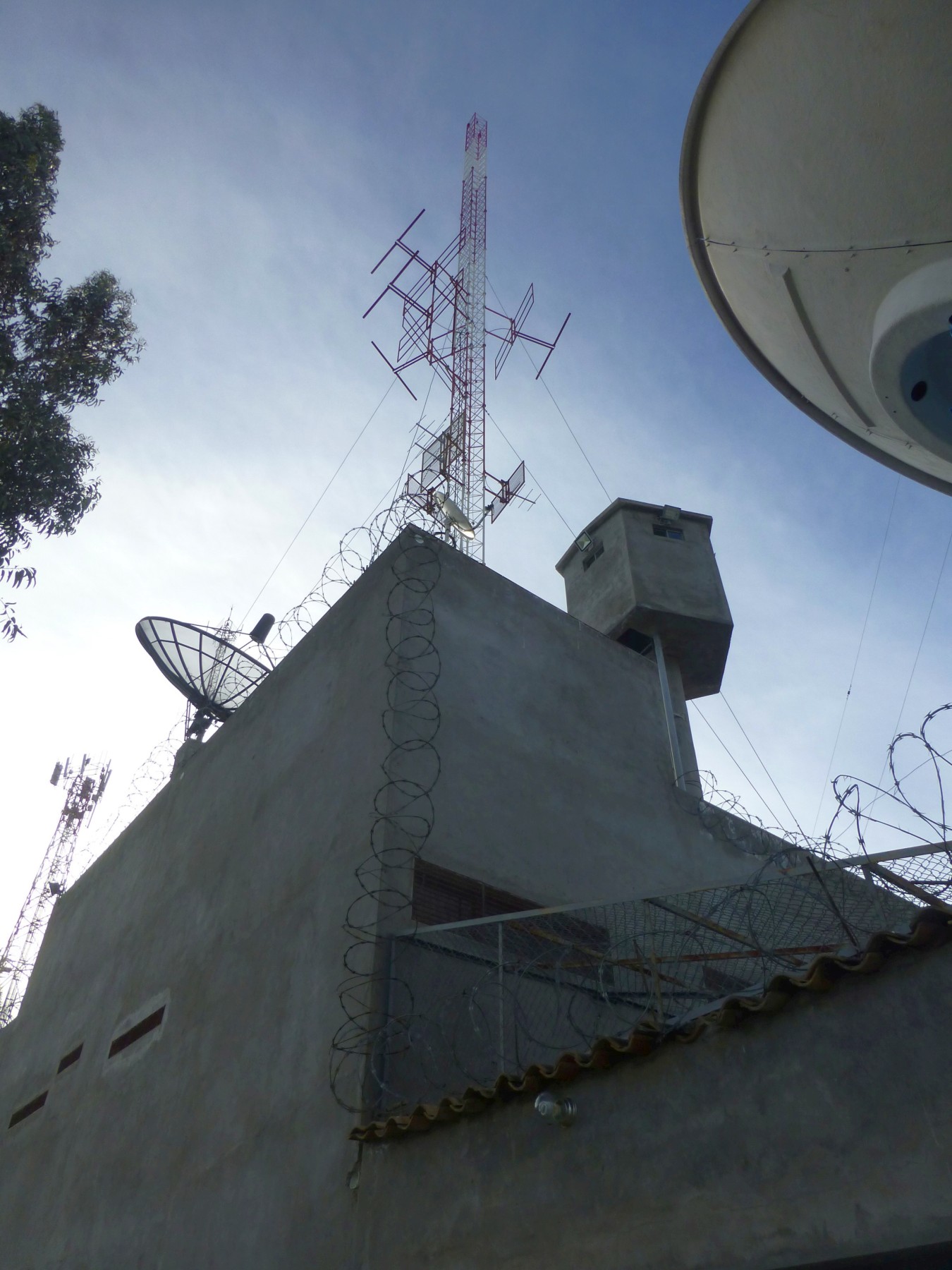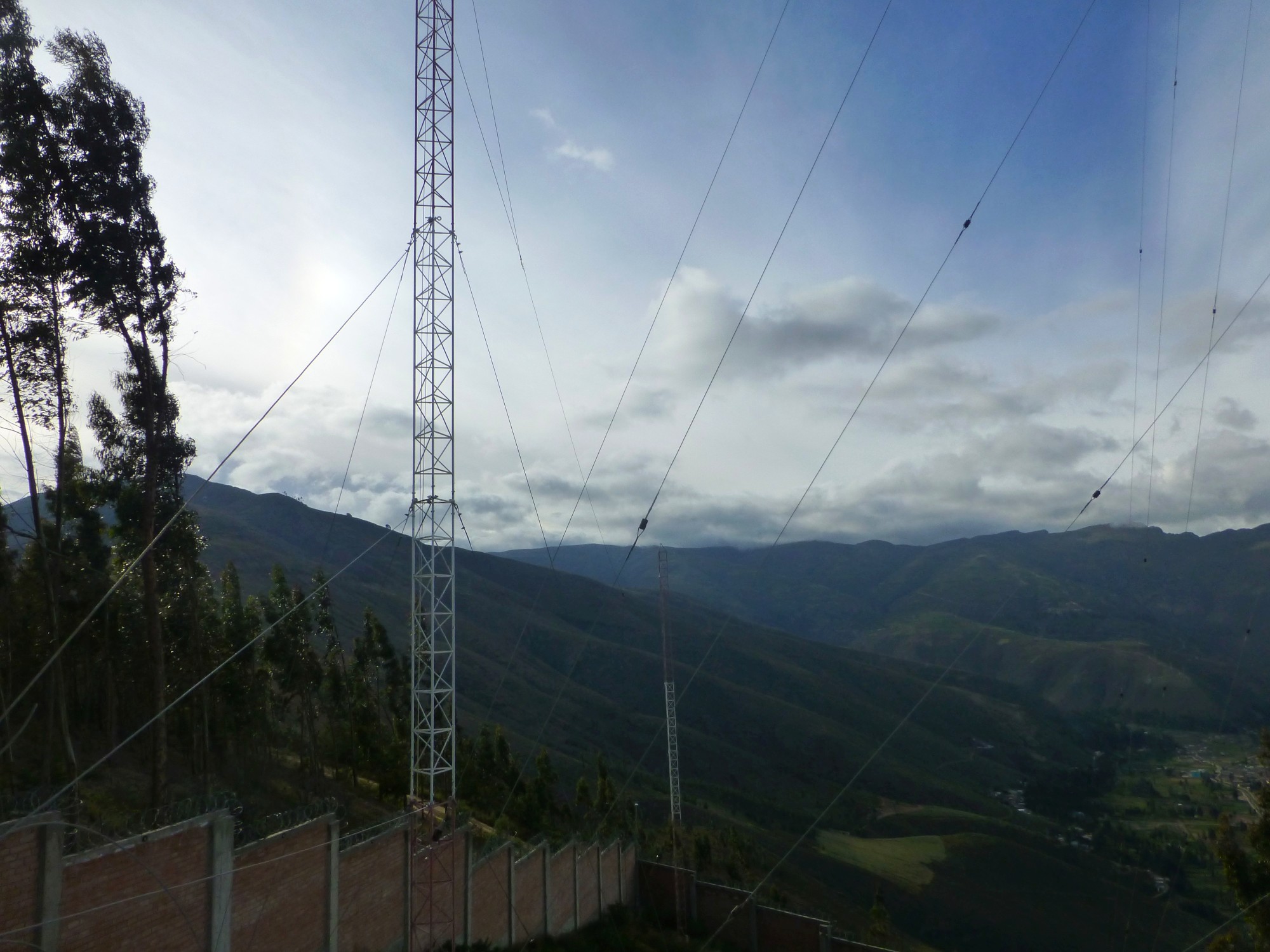 The Transmitters
From left-to-right in the first picture: the original homemade 500 watt tube shortwave transmitter, original homemade 500 watt tube medium wave transmitter, later 1000 watt MW transmitter, and the current 3000 watt solid state MW transmitter. The final two pictures show the FM transmitters, receivers for the studio-to-transmitter links, and other equipment.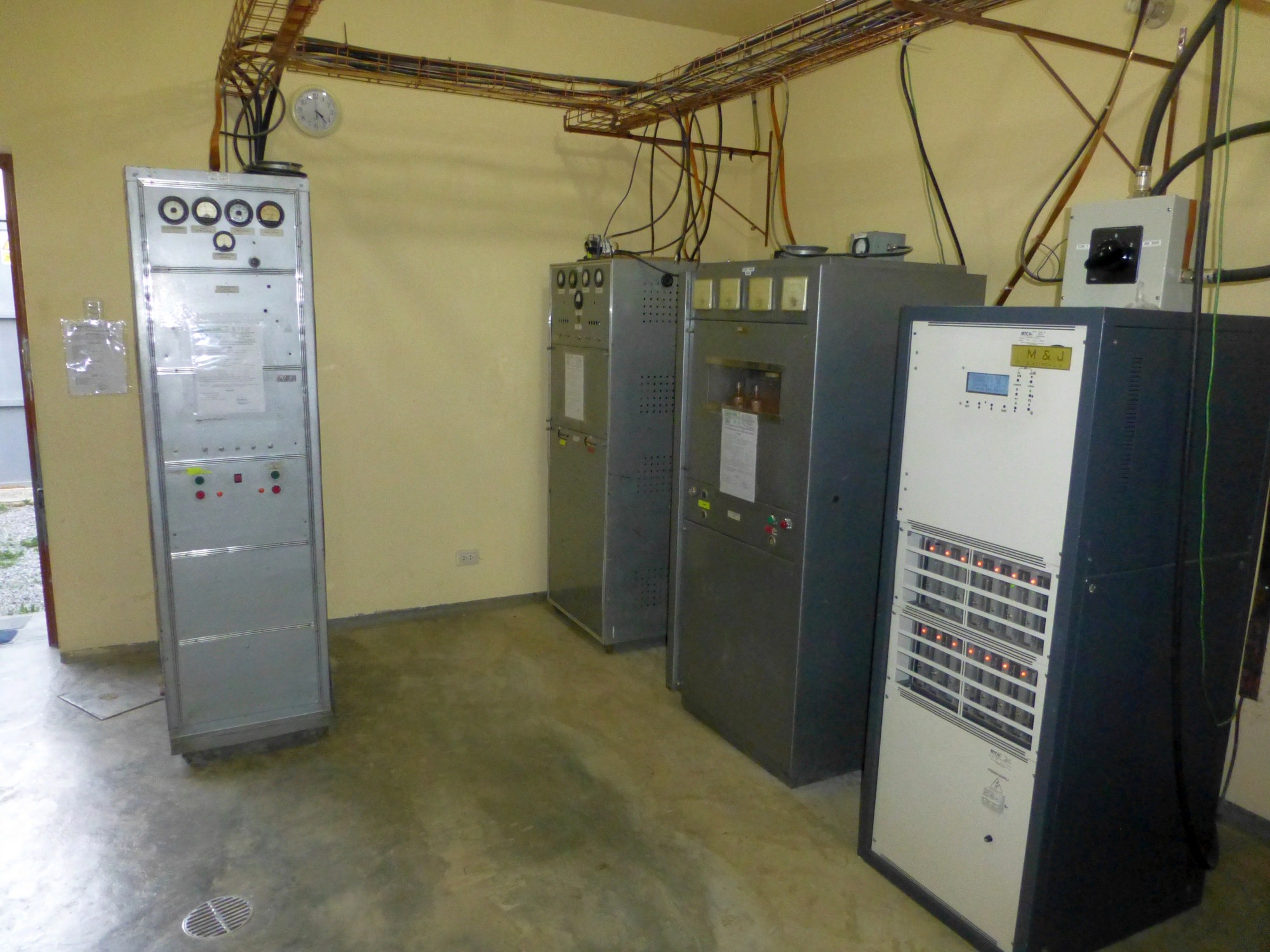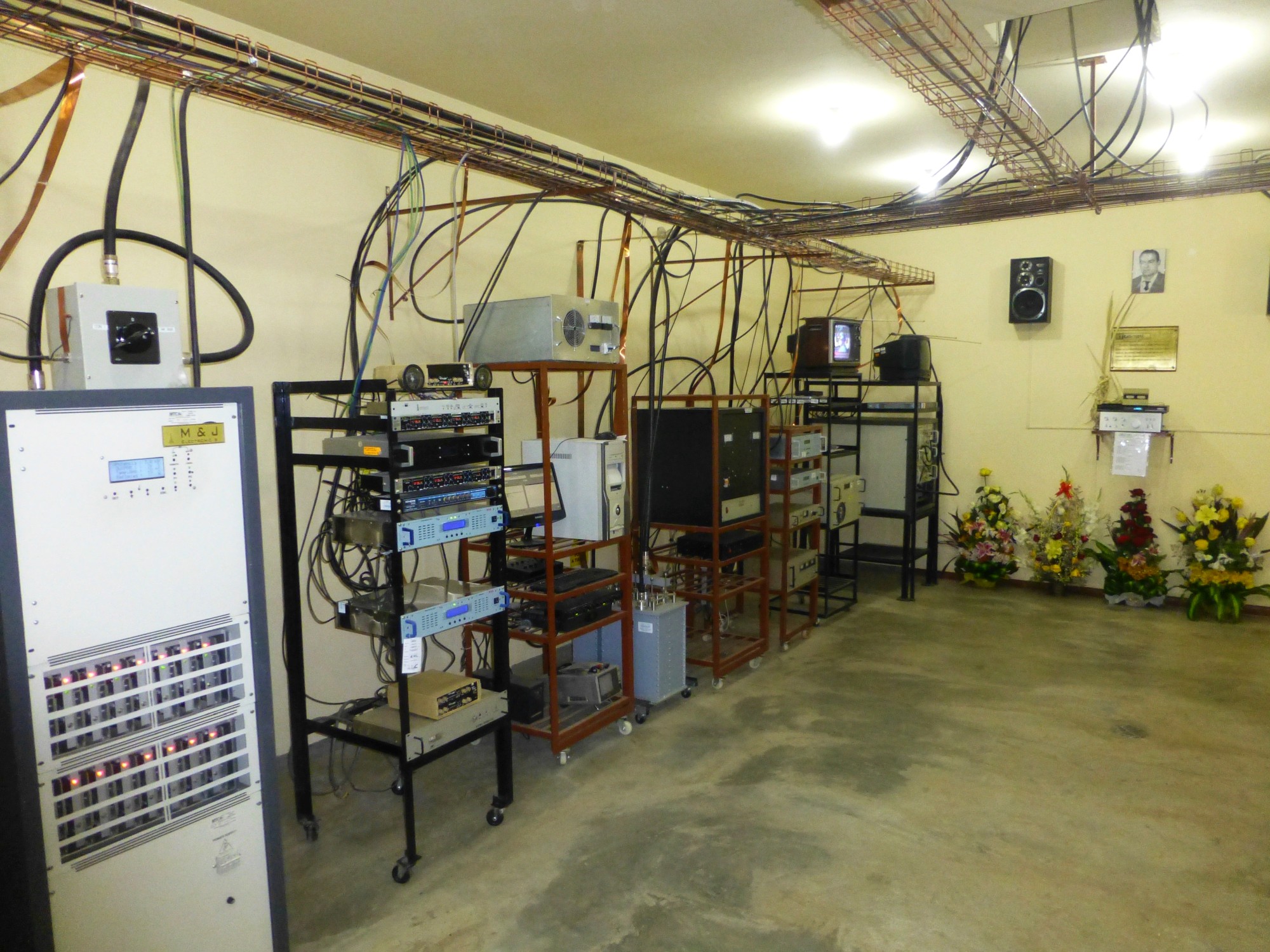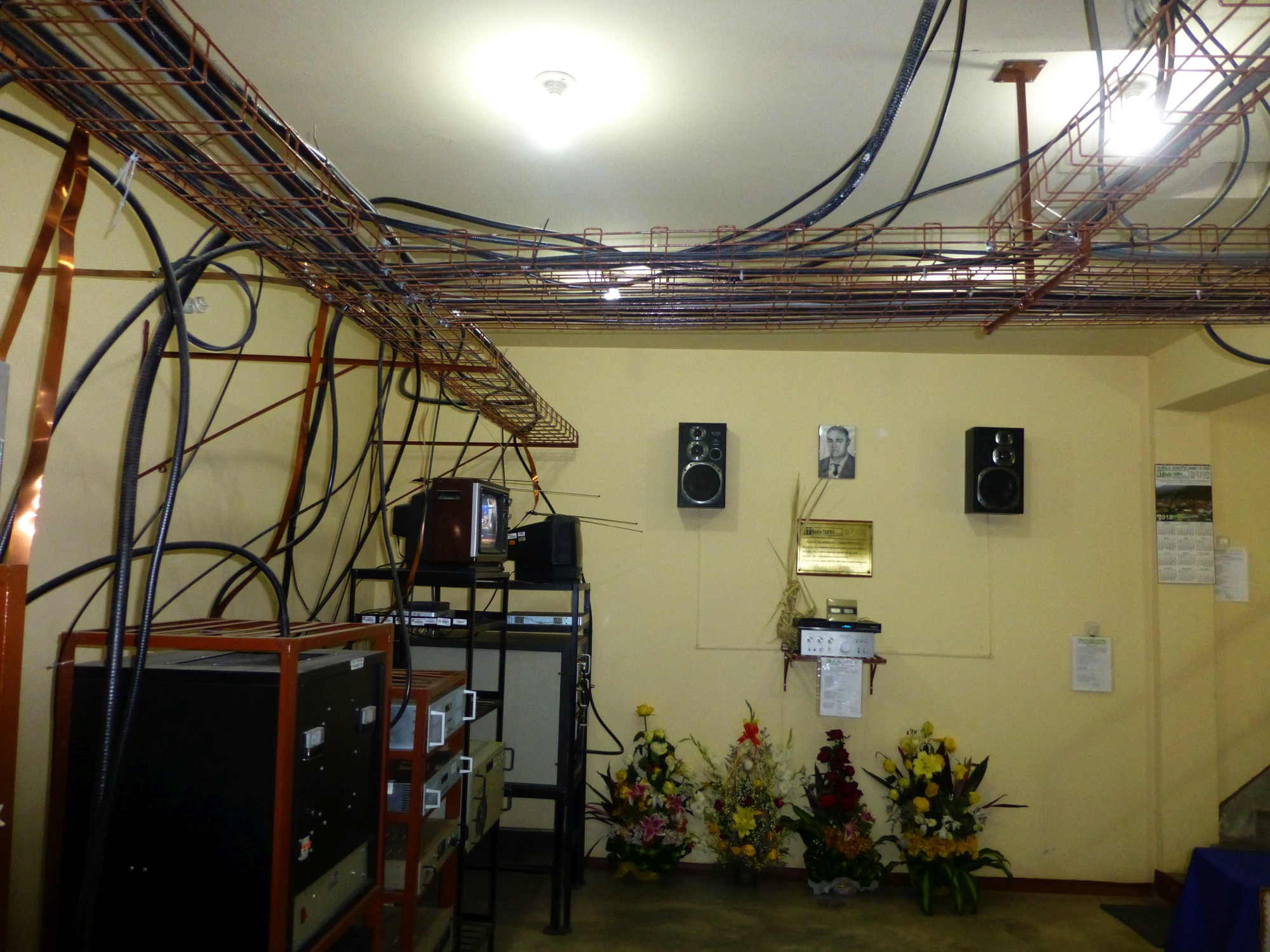 Mario Monteverde, Radio Tarma's owner-manager, and the original 500 watt shortwave transmitter that his father made in 1958. The transmitter was still being used on 4775 kHz in April, 2018 but was to be replaced with a modern 1000 watt solid state transmitter later that year.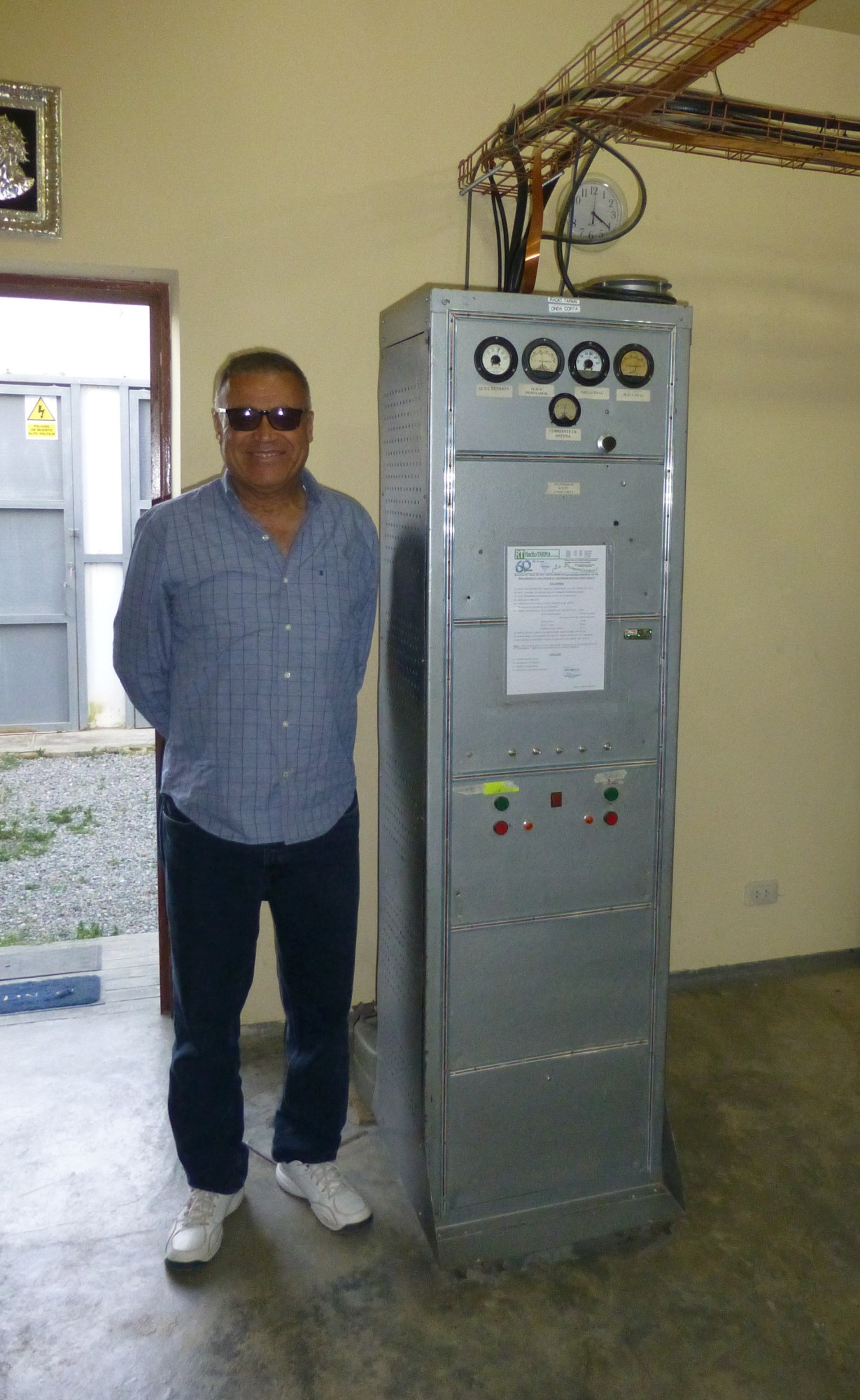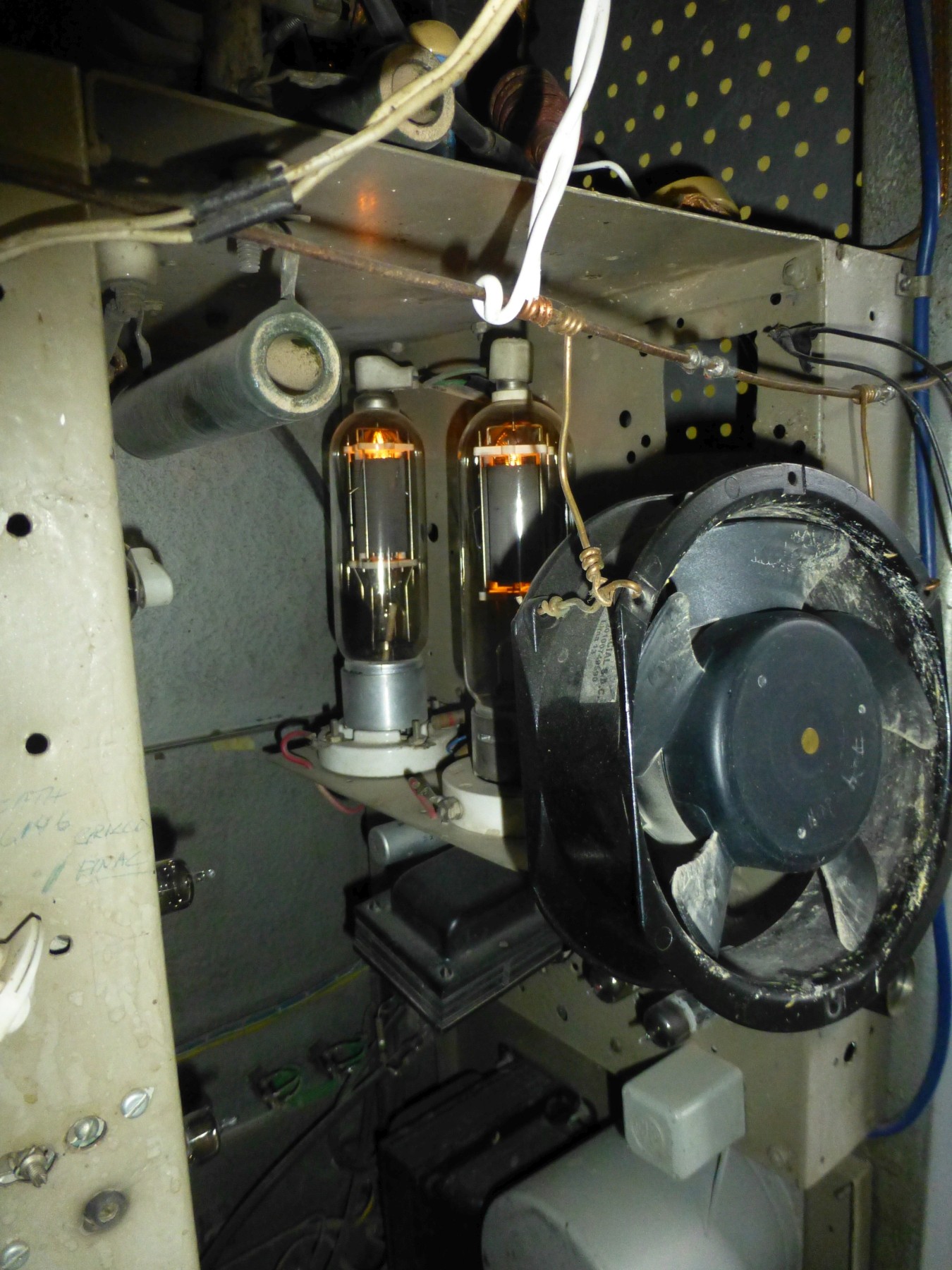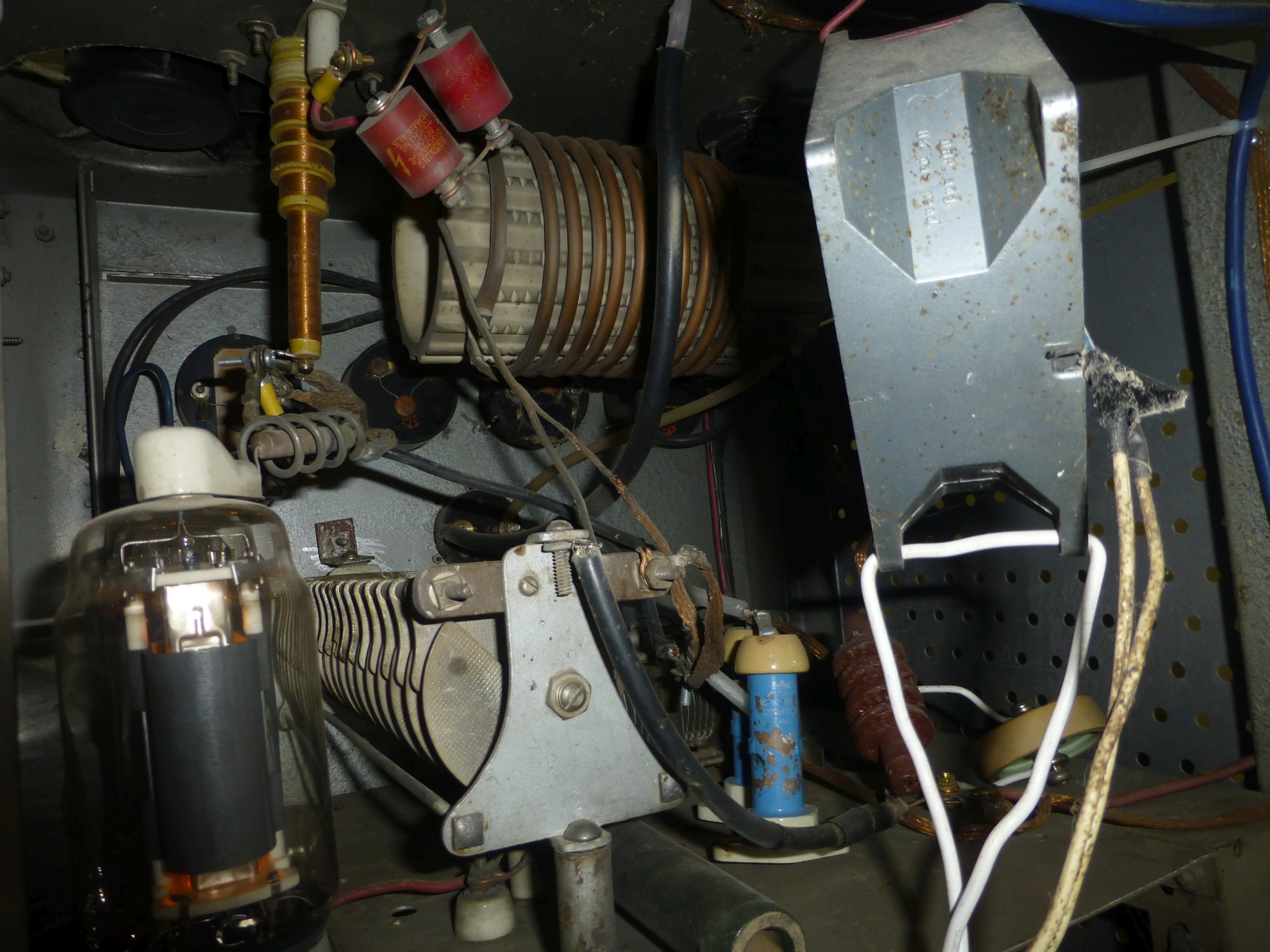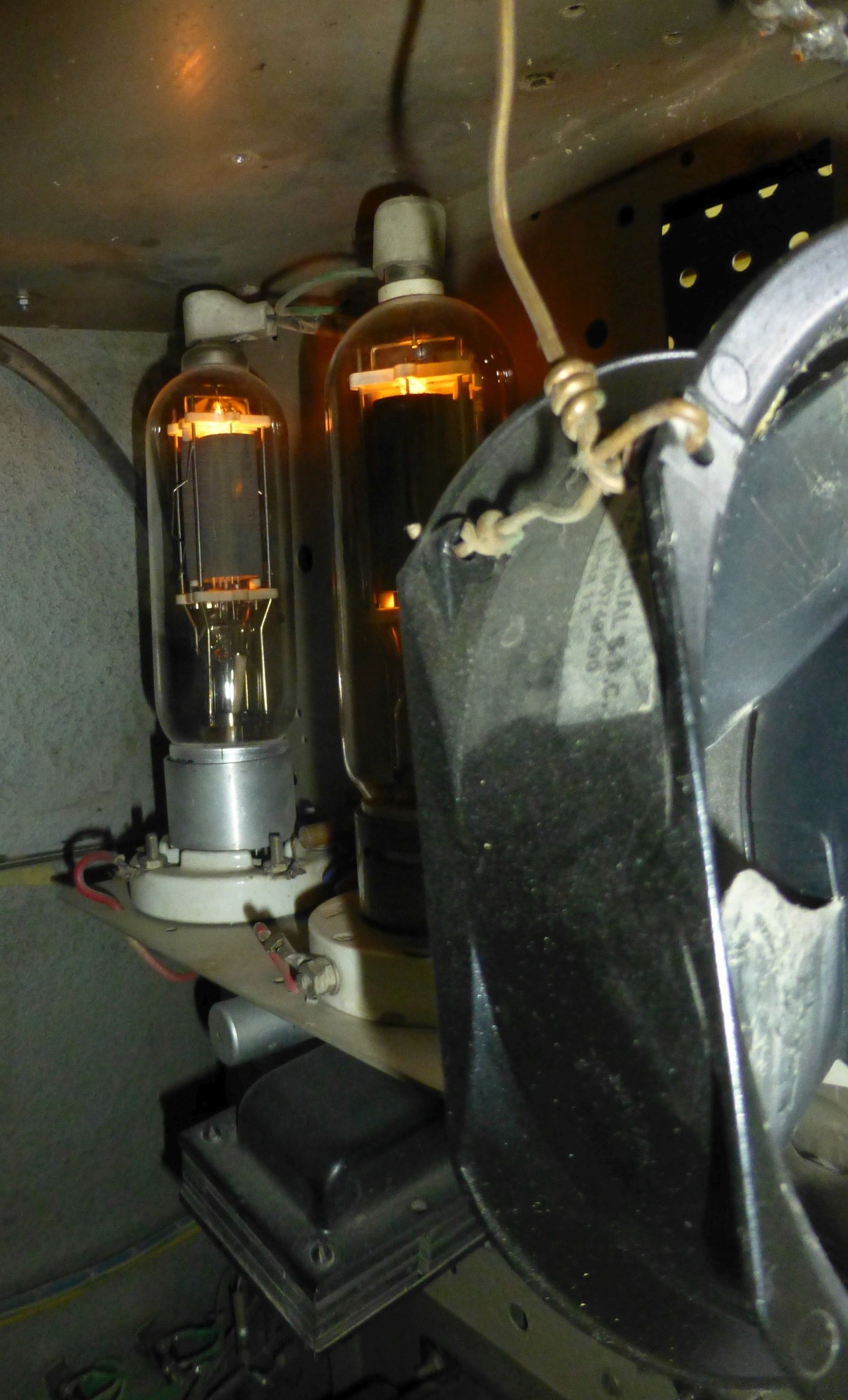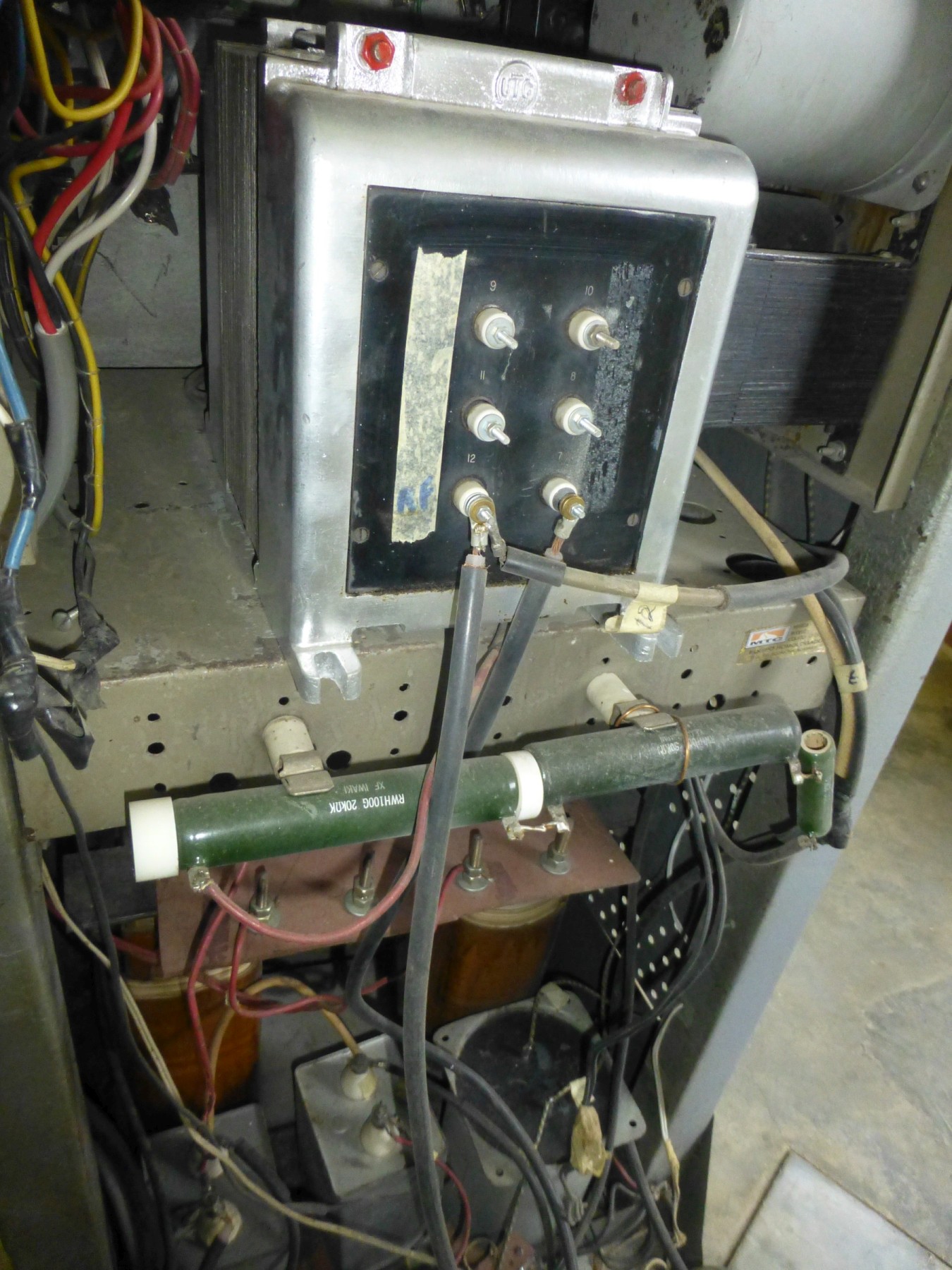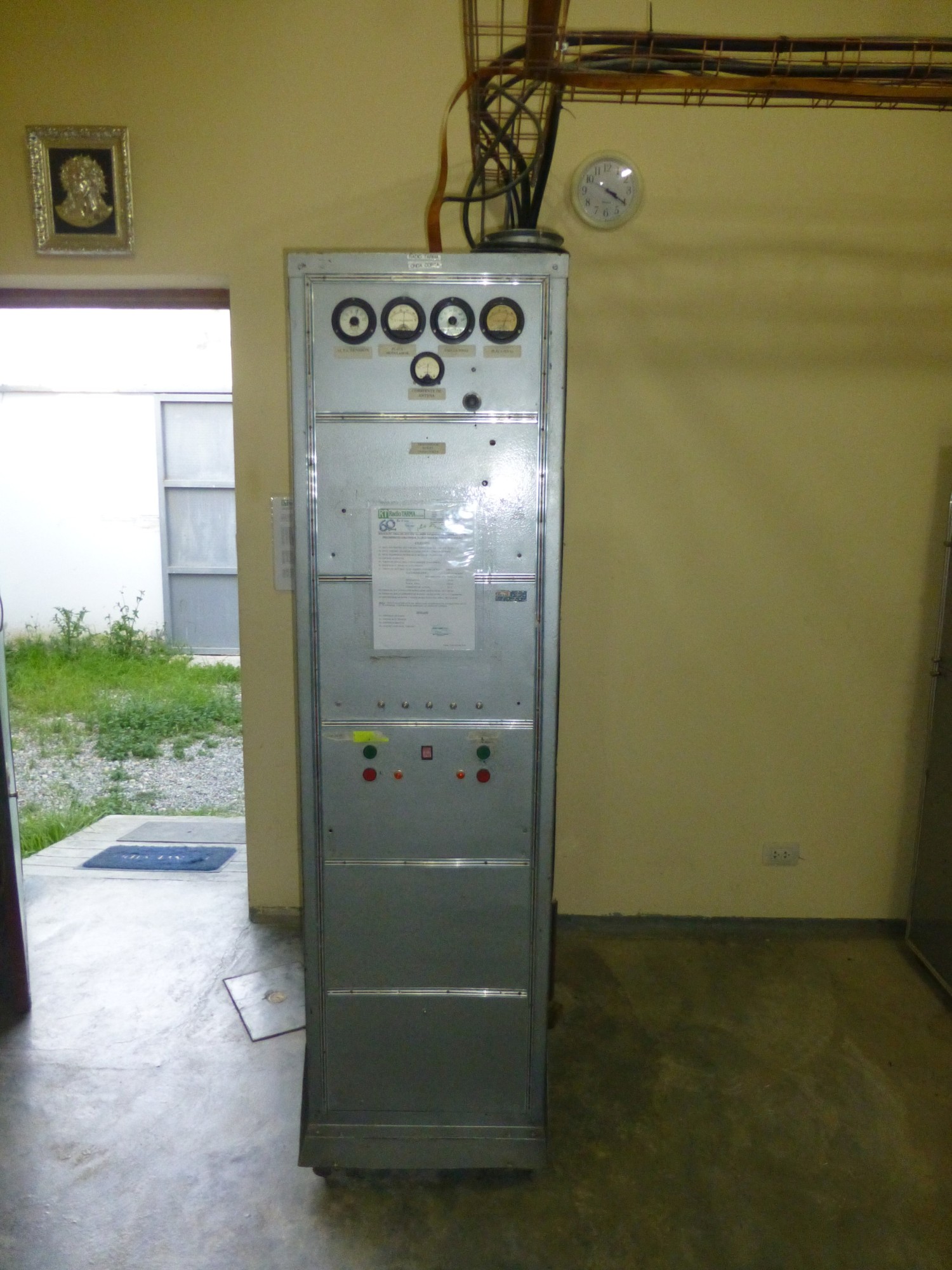 Mario Monteverde, Radio Tarma's owner-manager, and the original 500 watt medium wave transmitter that his father made in 1958. The transmitter was replaced in 1978 but continues to be maintained should it ever be needed.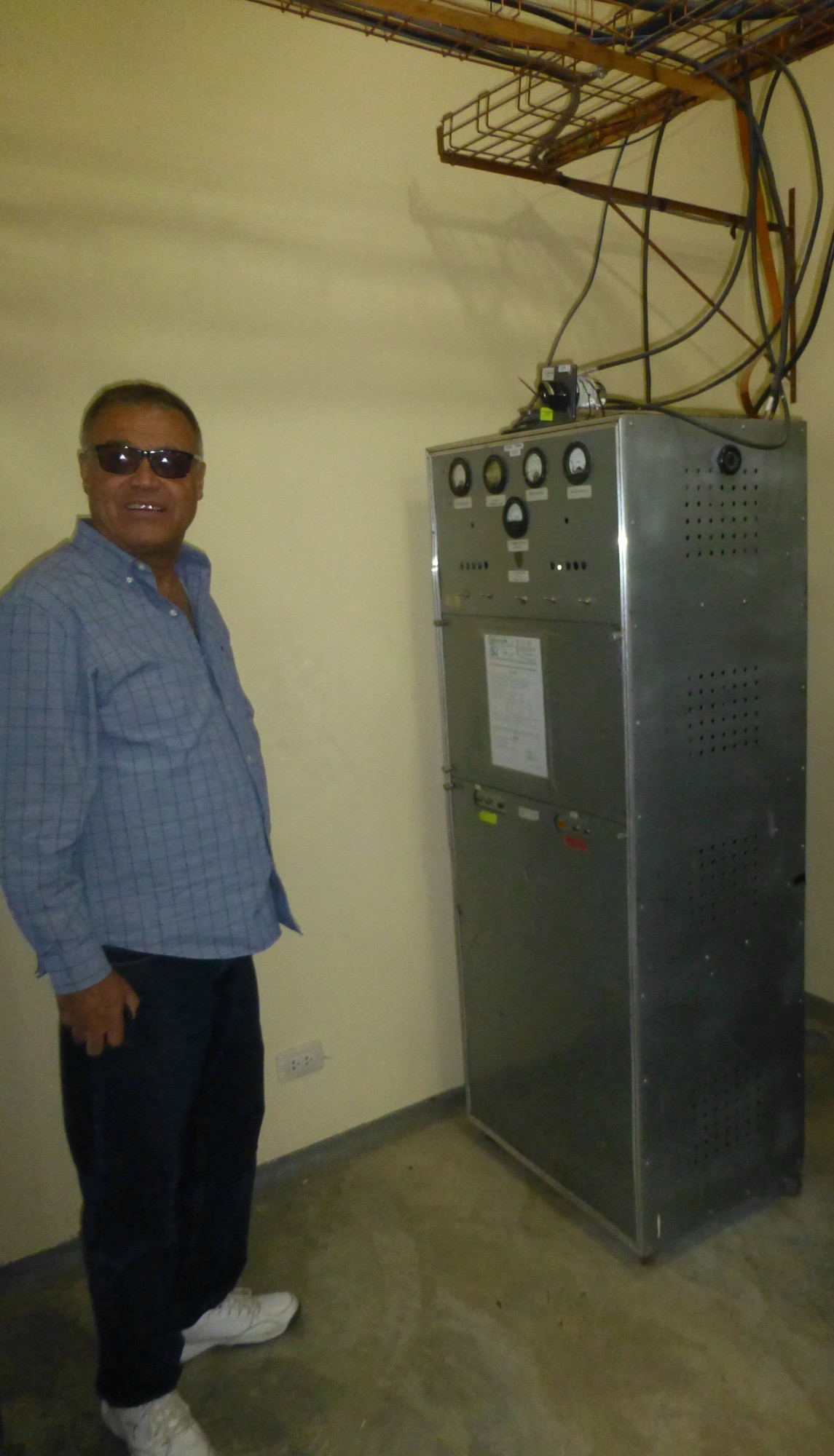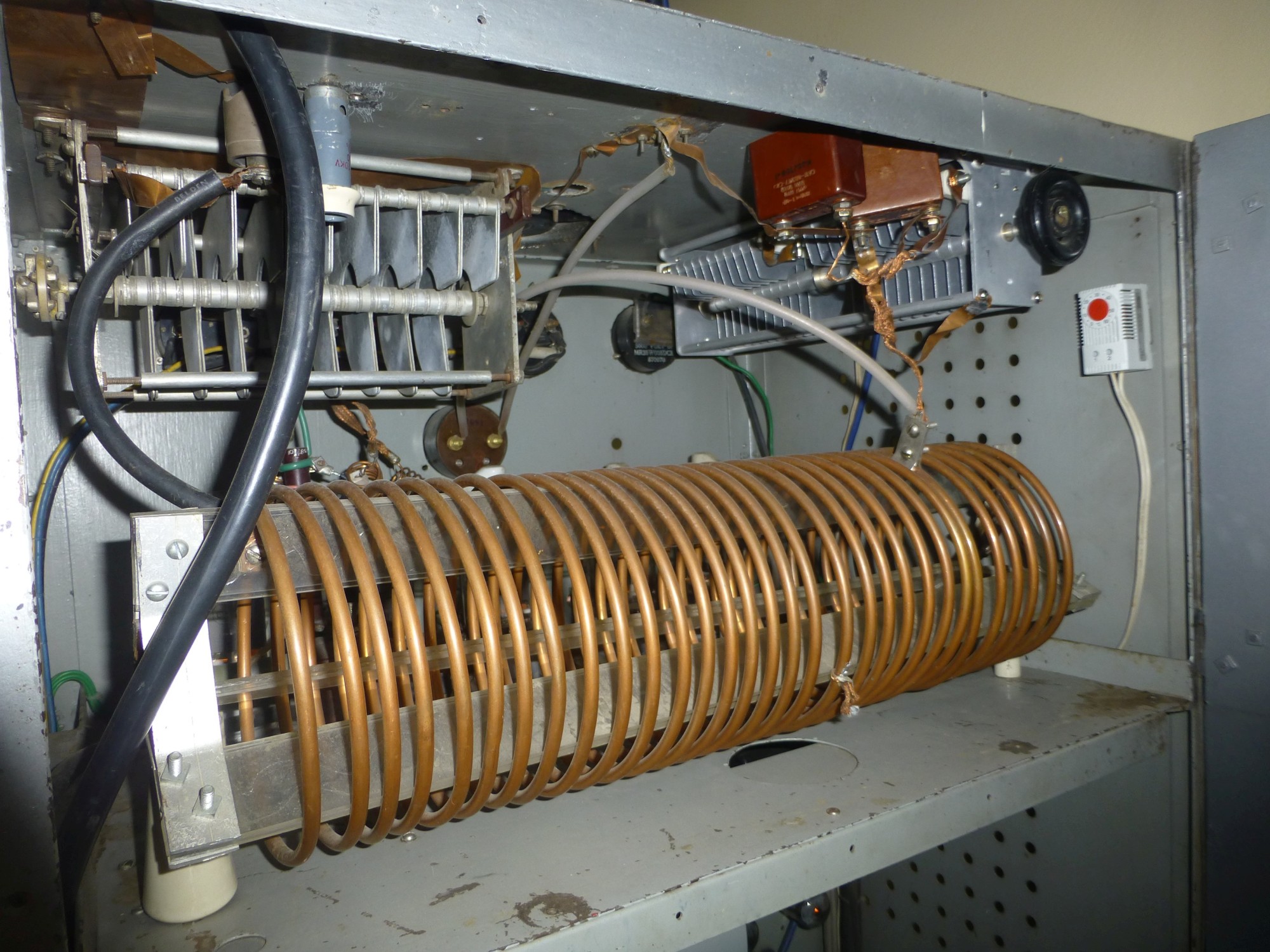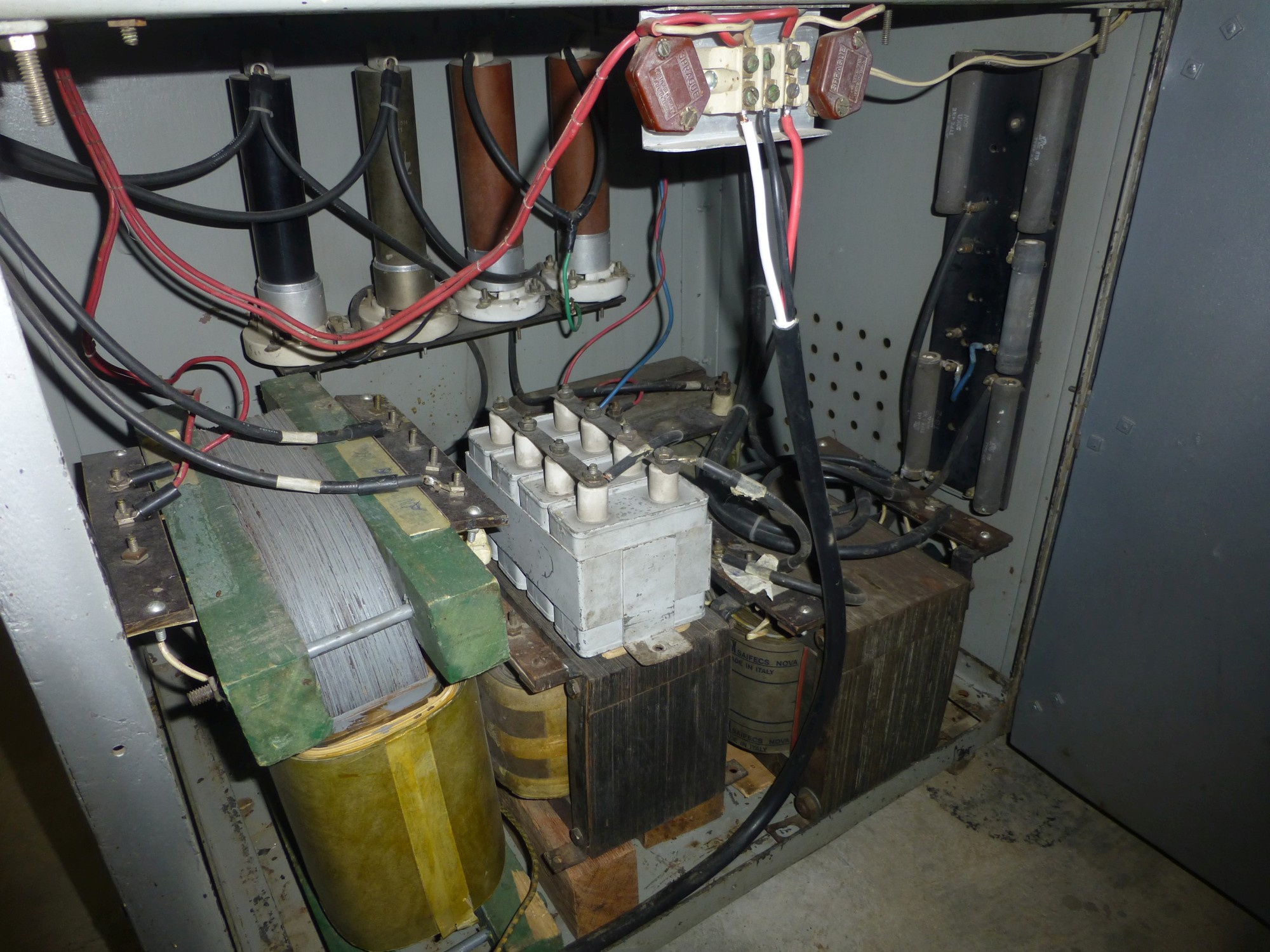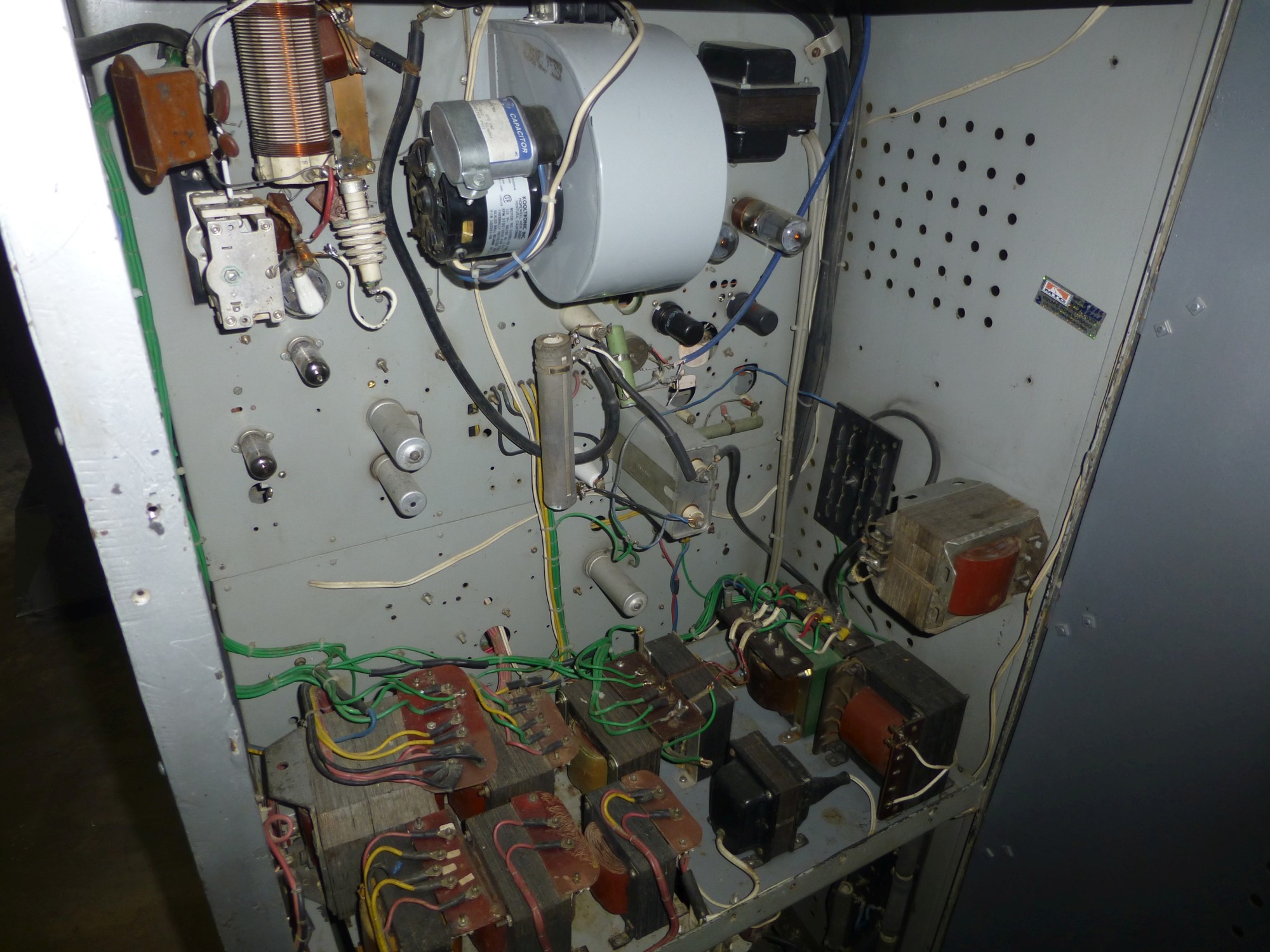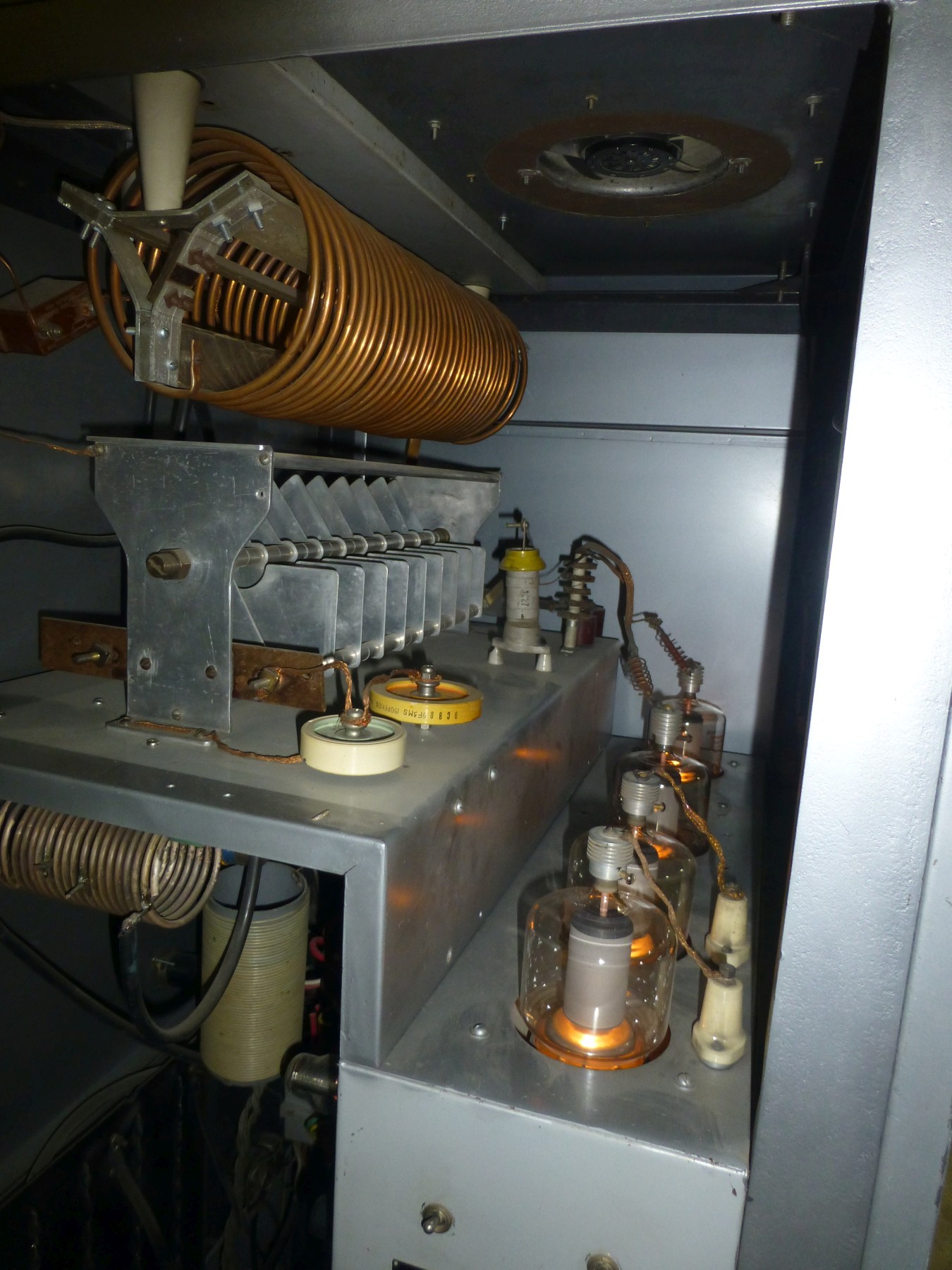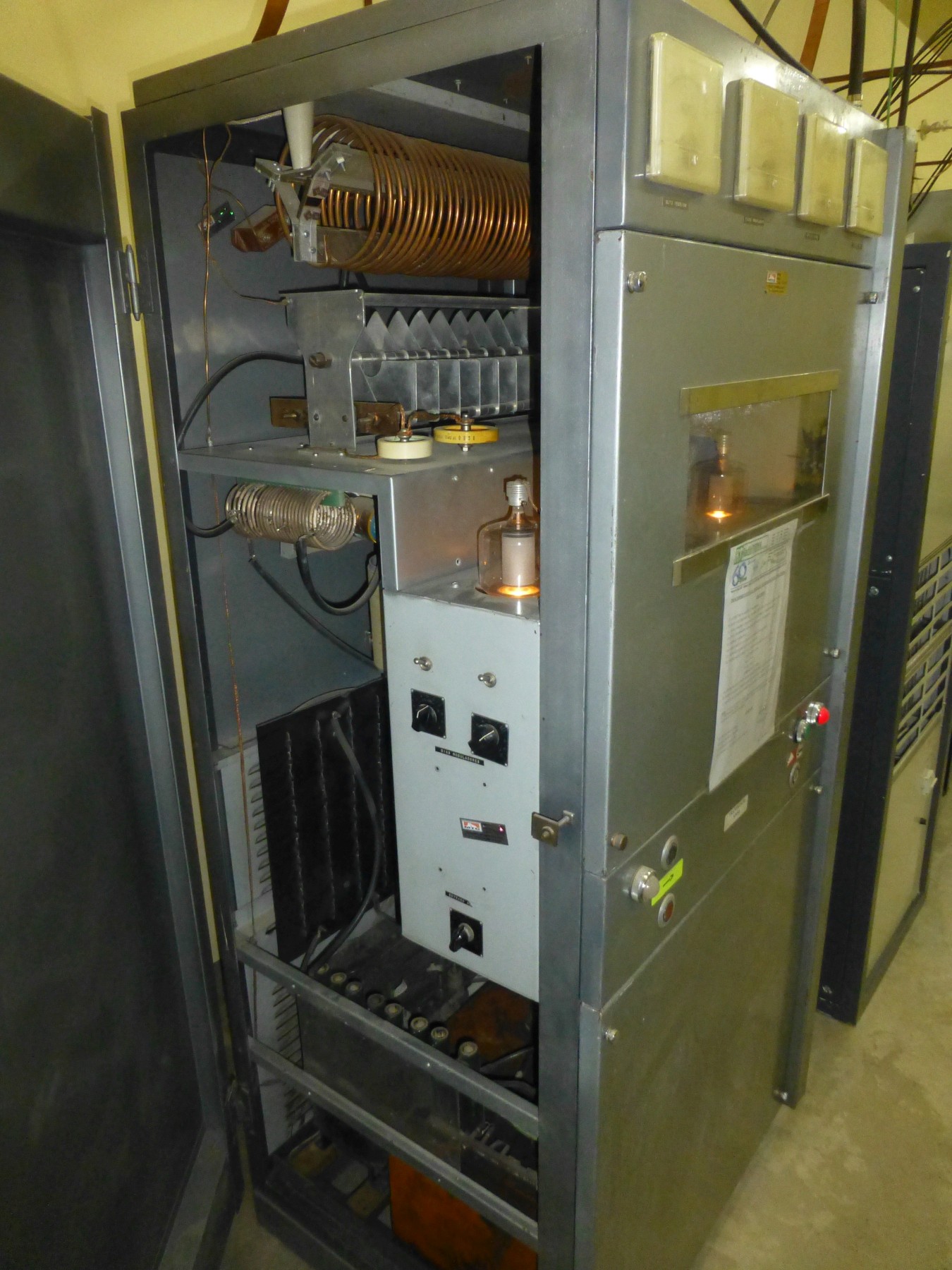 In 1978, Radio Tarma upgraded its medium wave signal to 1000 watts with a commercially made transmitter. That was replaced several years ago with a 3000 watt solid state transmitter. But all three medium wave transmitters are kept in full working order, as Don Mario showed me. During my afternoon visit, he shut down the solid state transmitter and the powered up the original 500 transmitter that his father built. Then he shut that down and powered up the 1000 watt transmitter. Finally that was turned off and the solid state transmitter powered up once again. I'm sure his listeners were puzzled by the outages!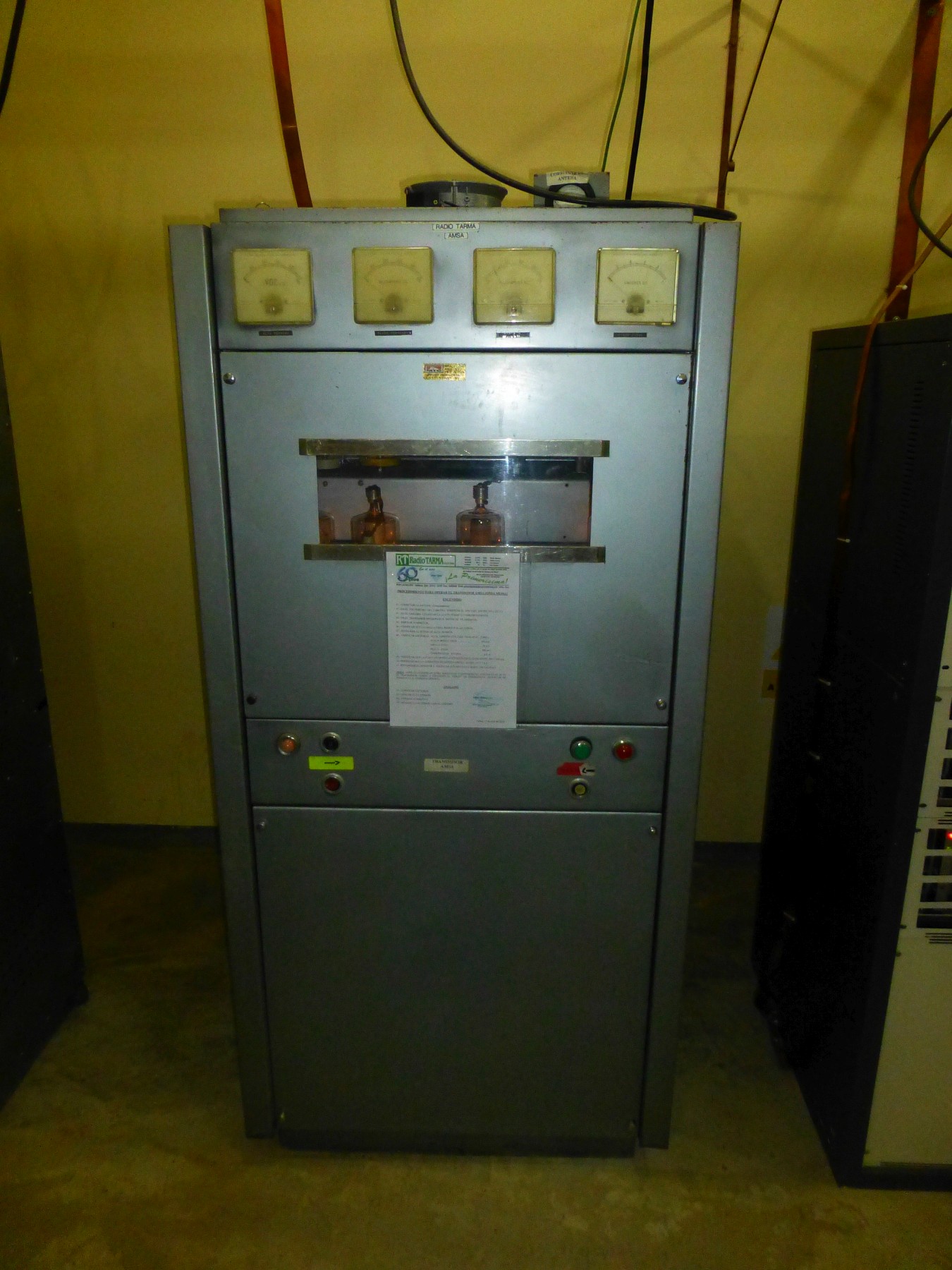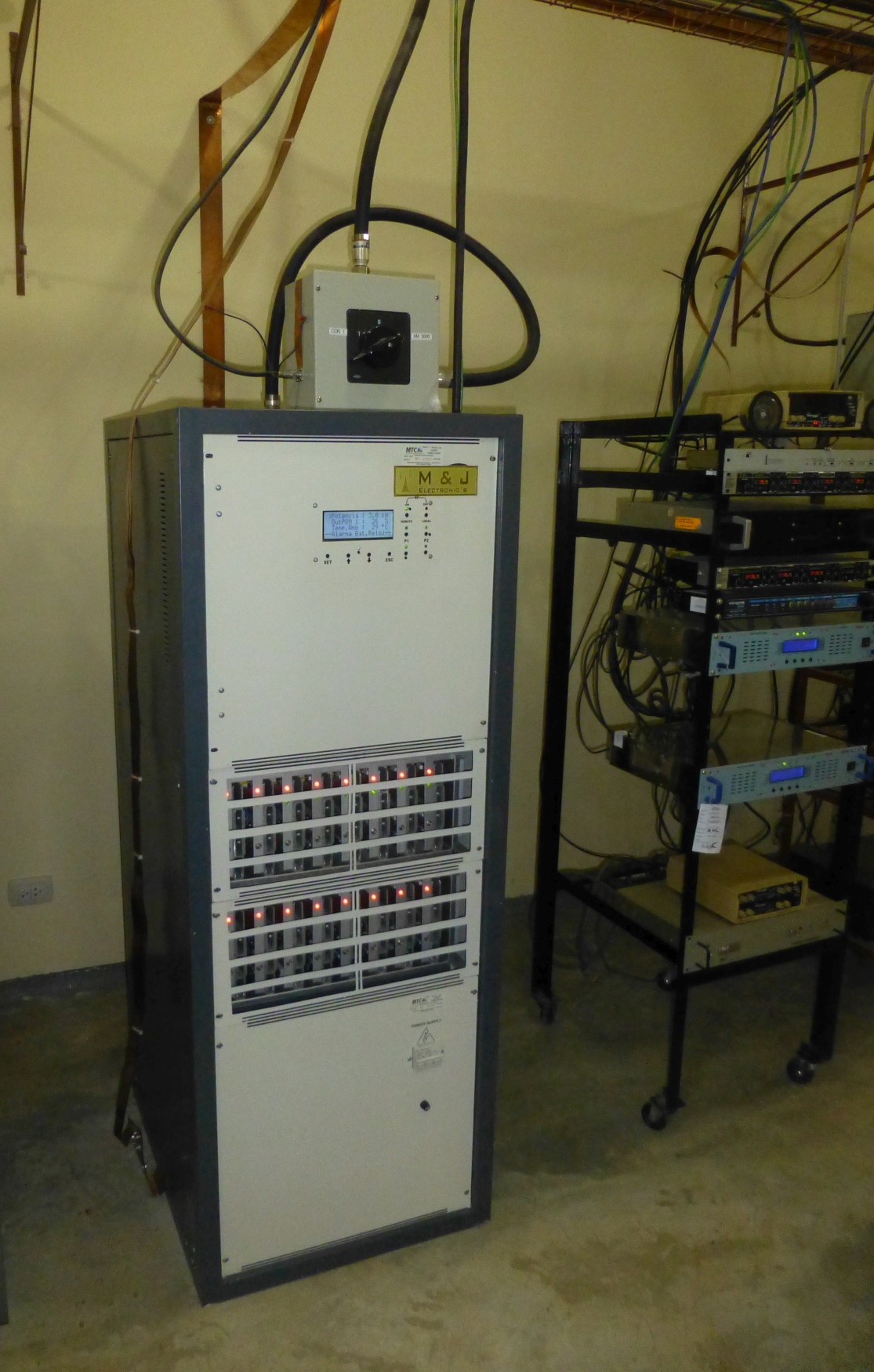 The solid state transmitter coming up to full power.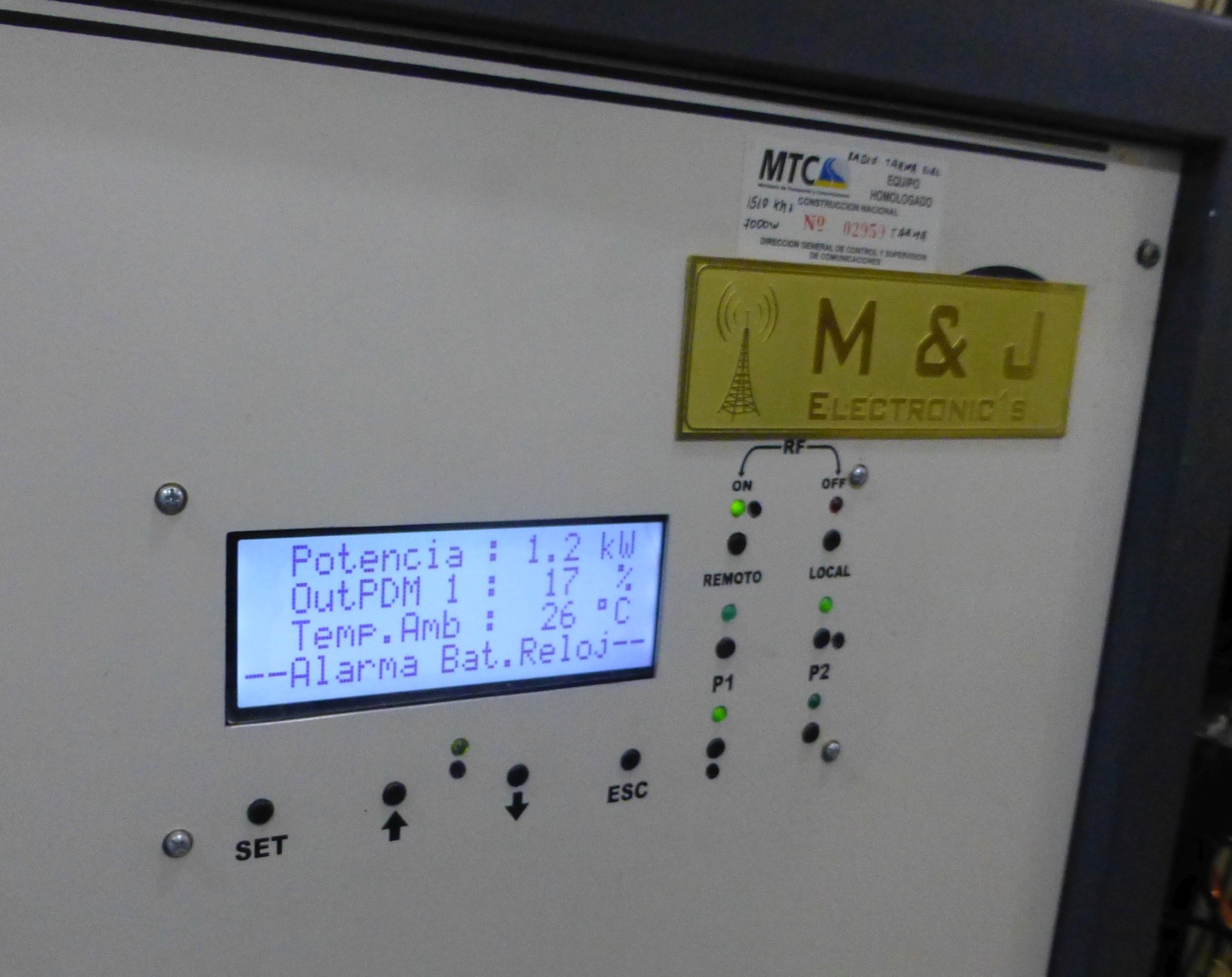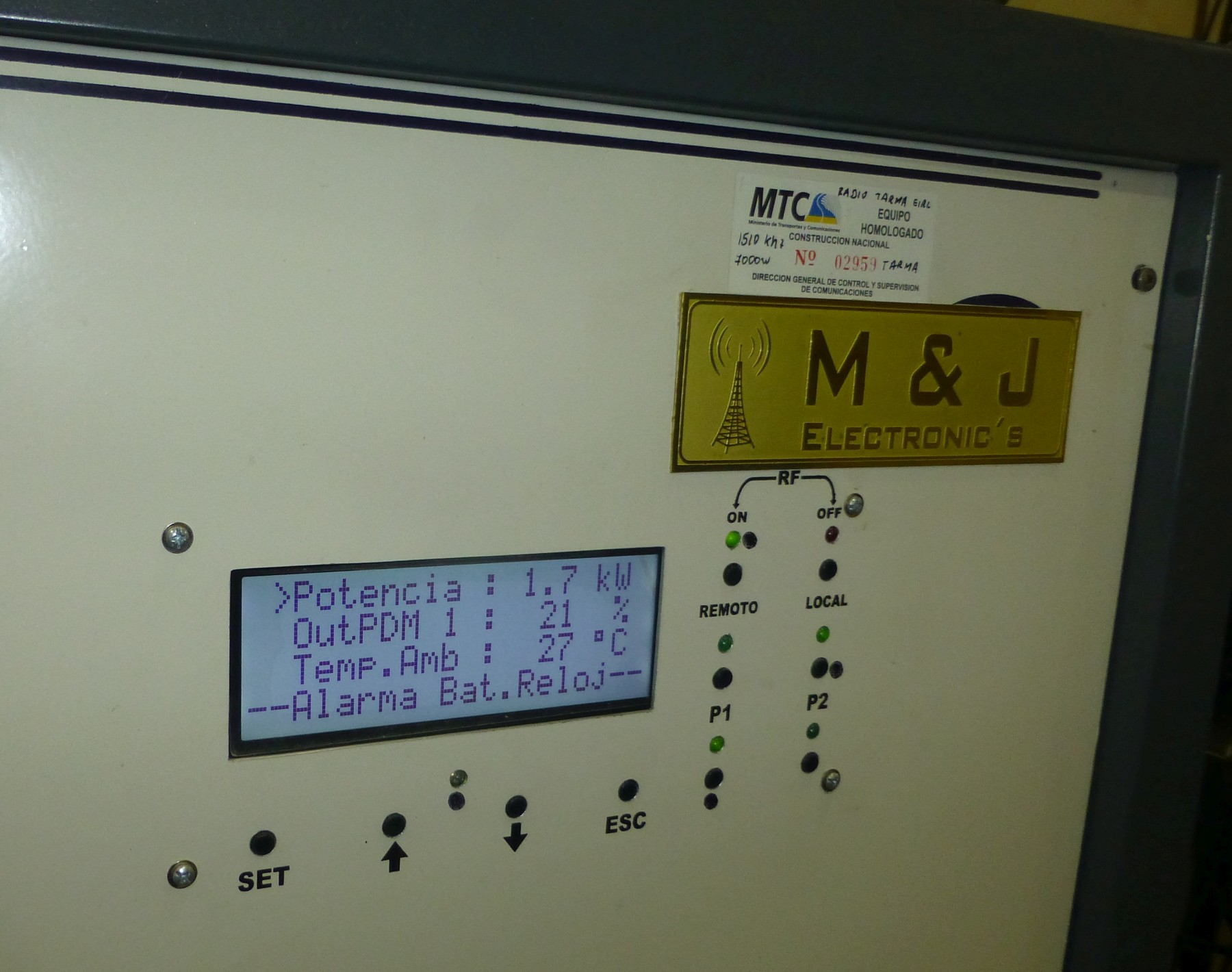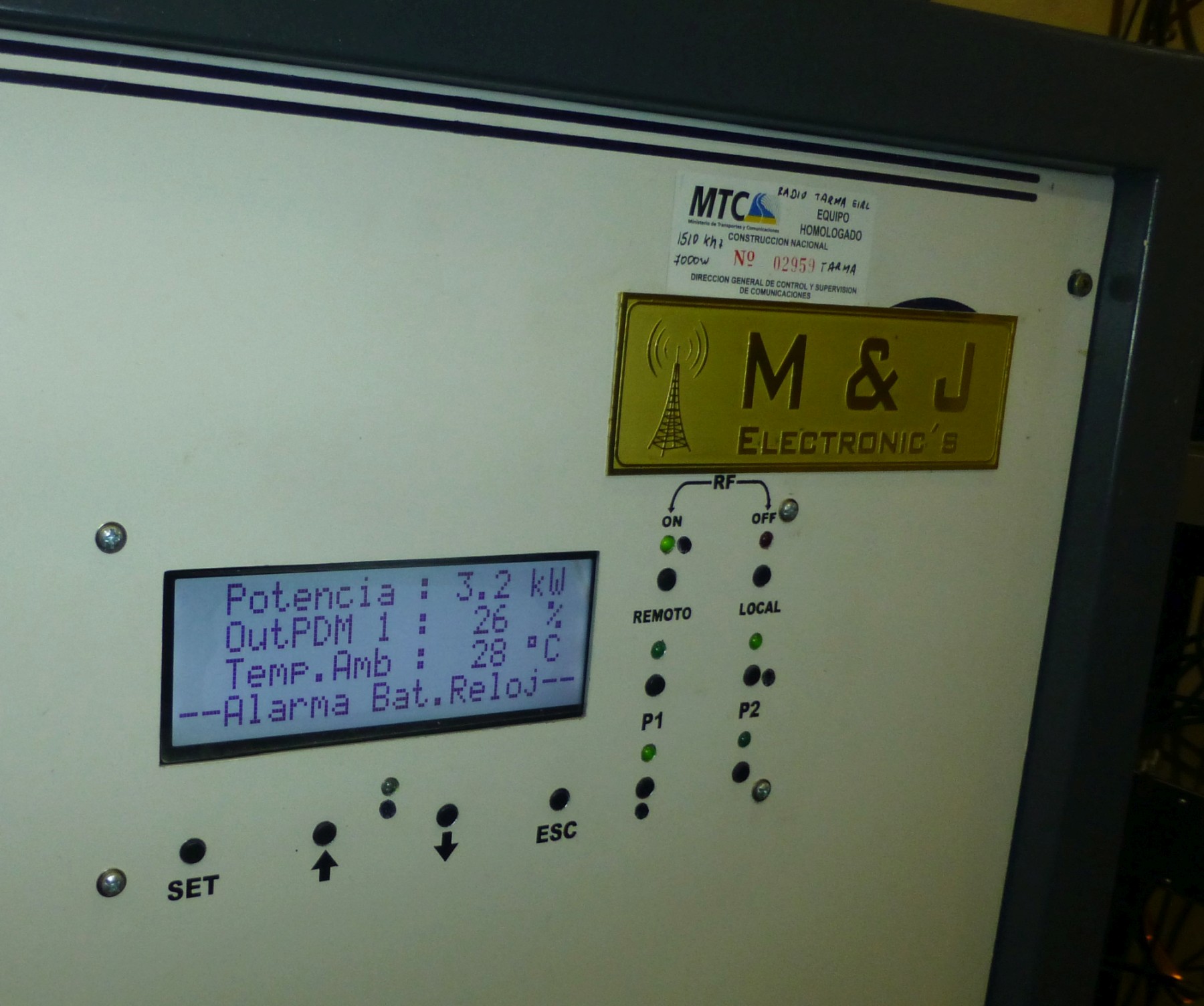 At an elevation of 3600 meters (12,000 feet), the wind is constant and the mountain air is all that is needed to cool the transmitter room. Cool air is channeled into the transmitter room through these tubes and hot air escapes through two roof-top vents.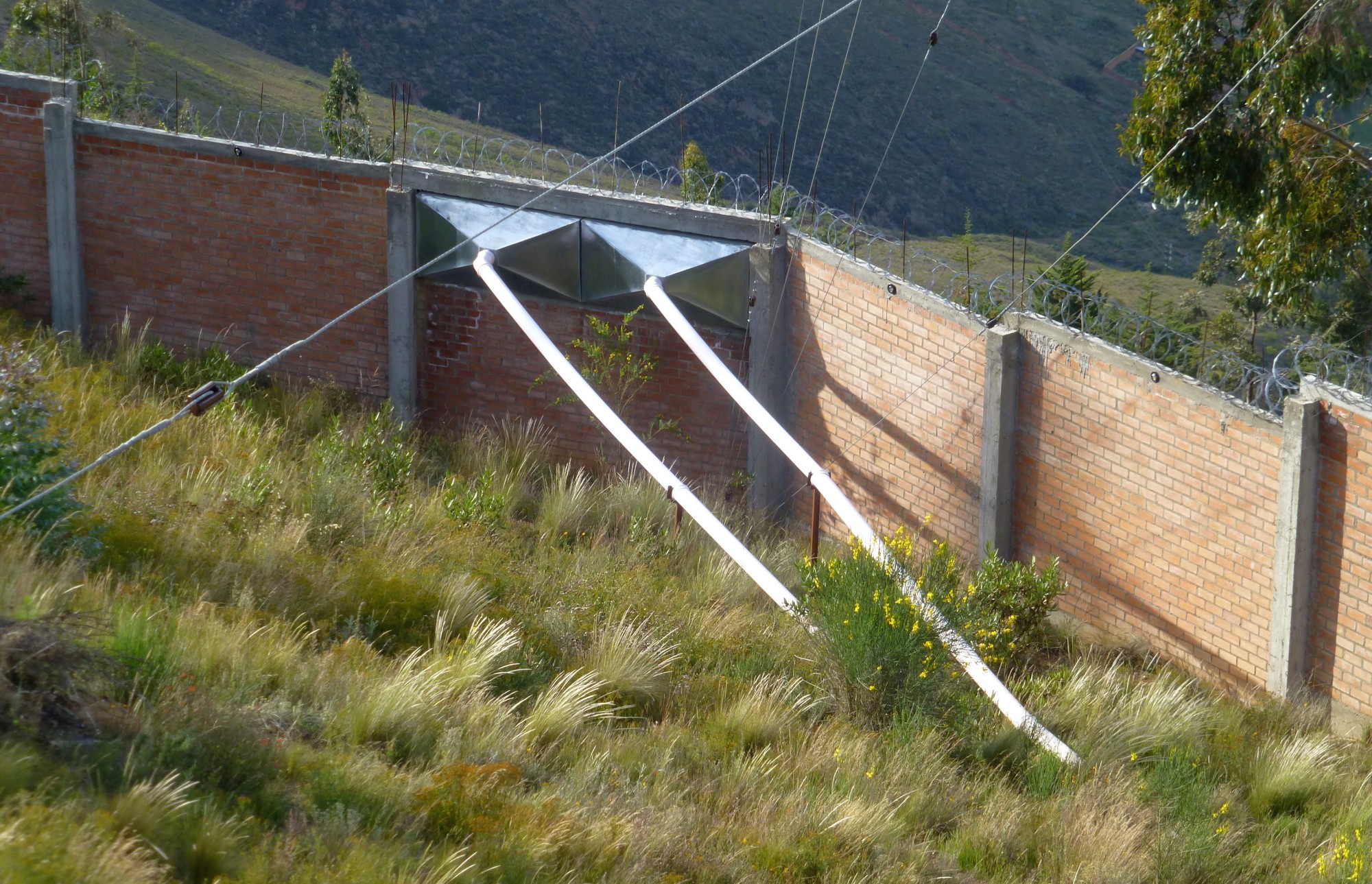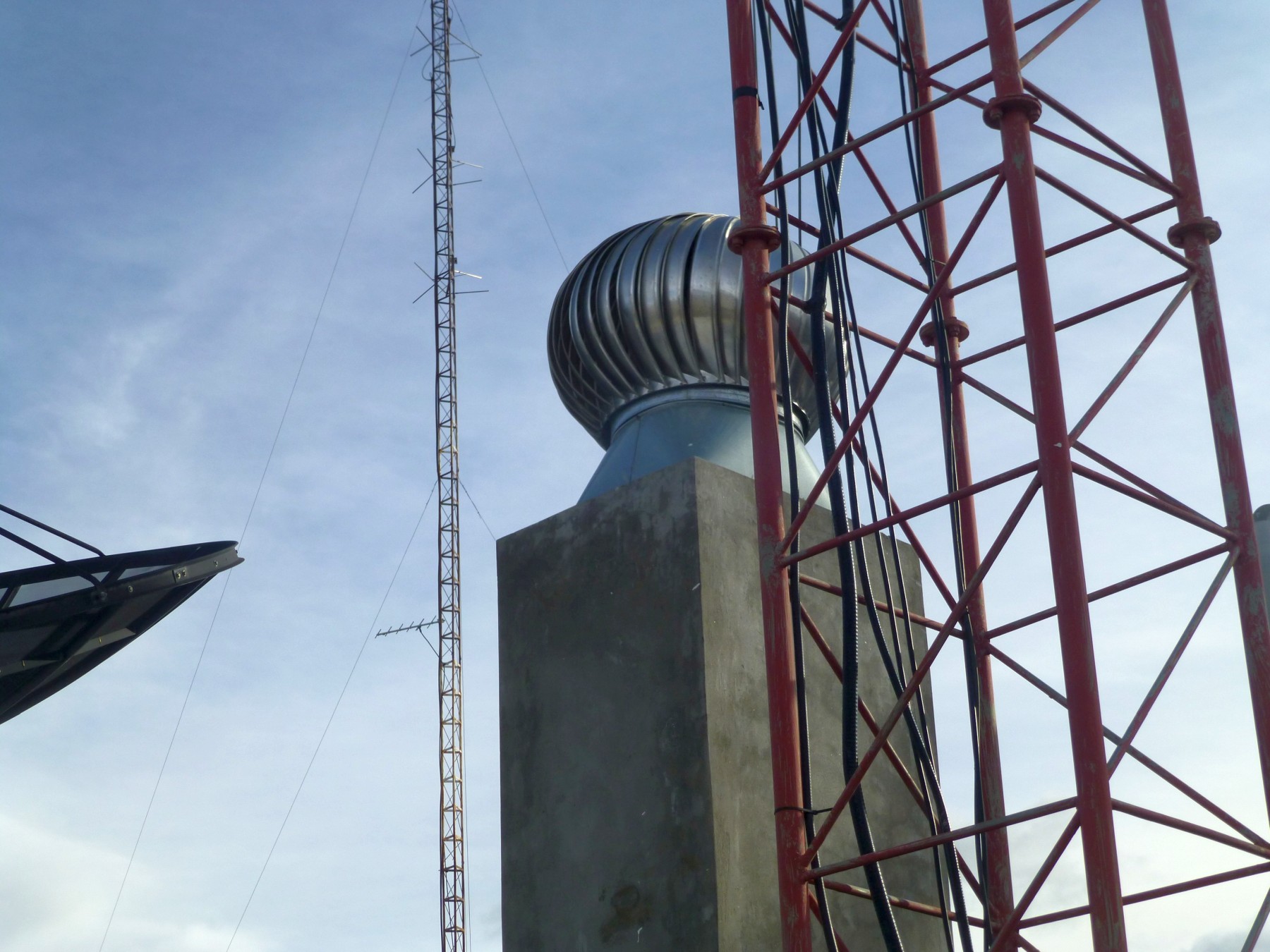 Alfonso, the transmitter operator, lives in a small apartment upstairs.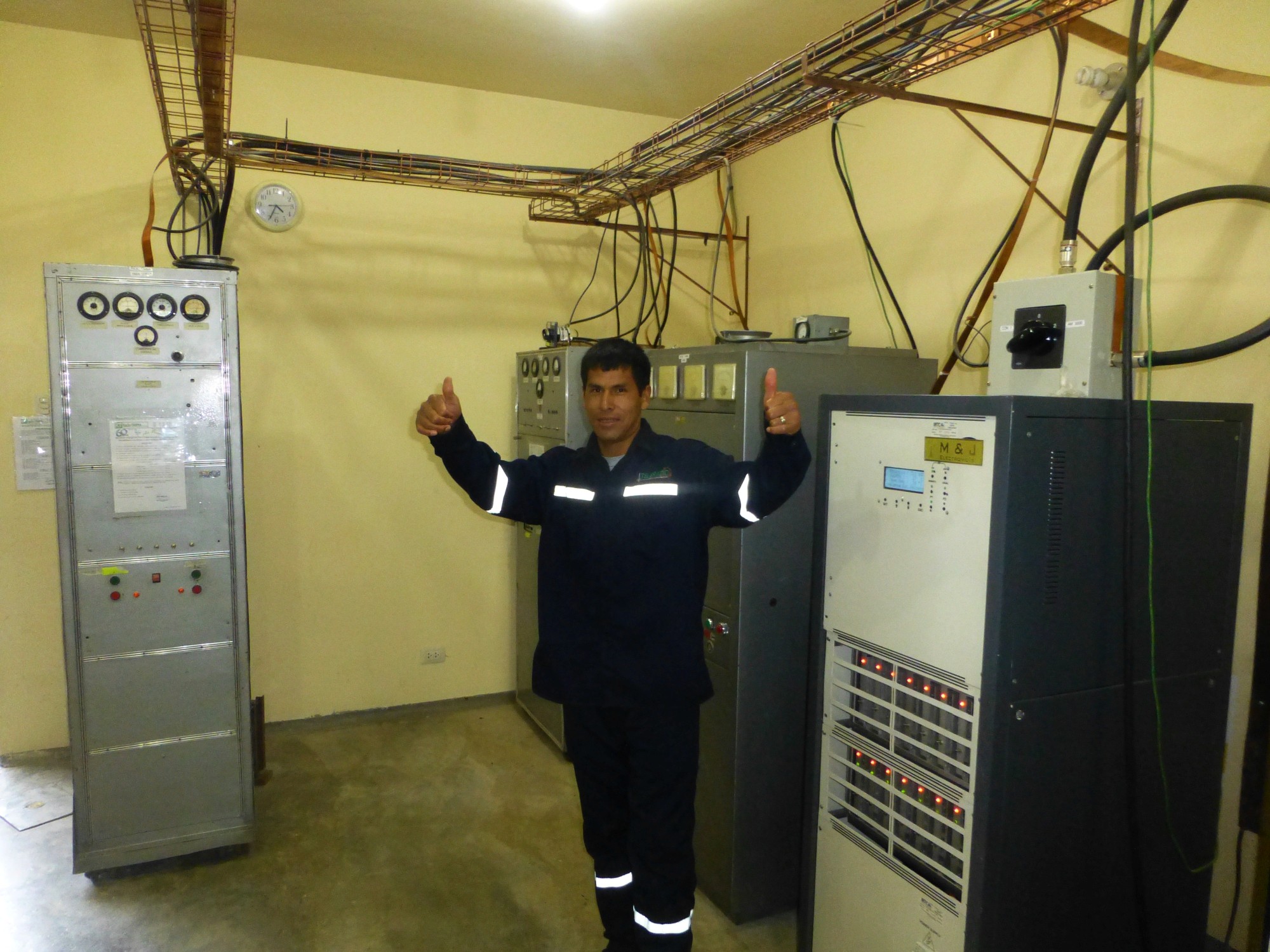 Views of Tarma
The Party
By pure chance, I arrived in Tarma just in time for Radio Tarma's 60th anniversary. They threw a great party with live music on the street in front of the station. I even got to meet one of the pretty young singers! The recordings are listed starting with what I think is the best.
Video of Stage Show (16 MB MP4)
Video of Stage Show and Street Dancers (9.5 MB MP4)
Video of Stage Show (8 MB MP4)
Video of Stage Show(8 MB MP4)
Video of Stage Show (6 MB MP4)

Brett Saylor made this two-hour audio recording of the Radio Tarma webstream that night. The live show starts about 35 minutes into the recording. (117 MB)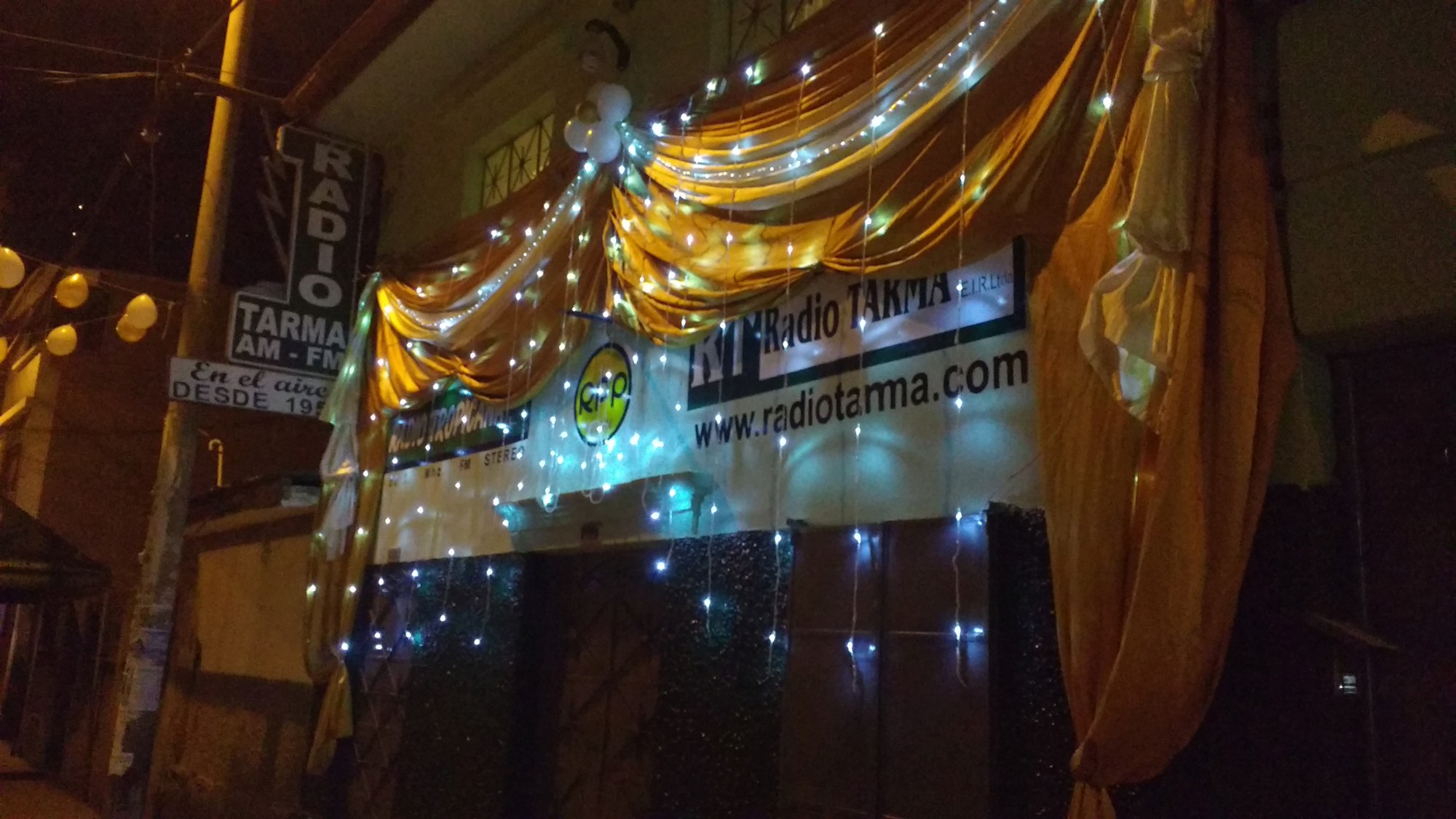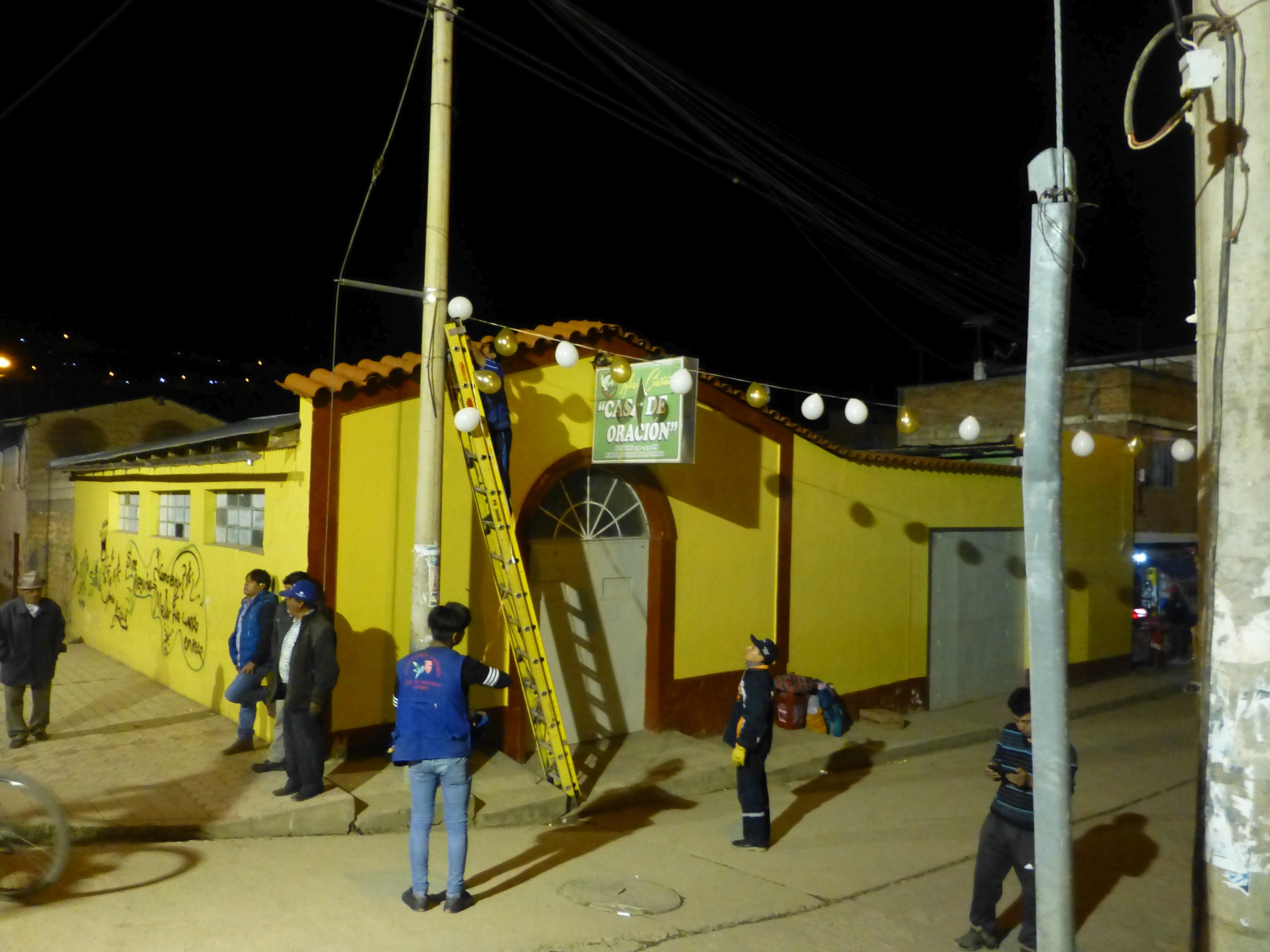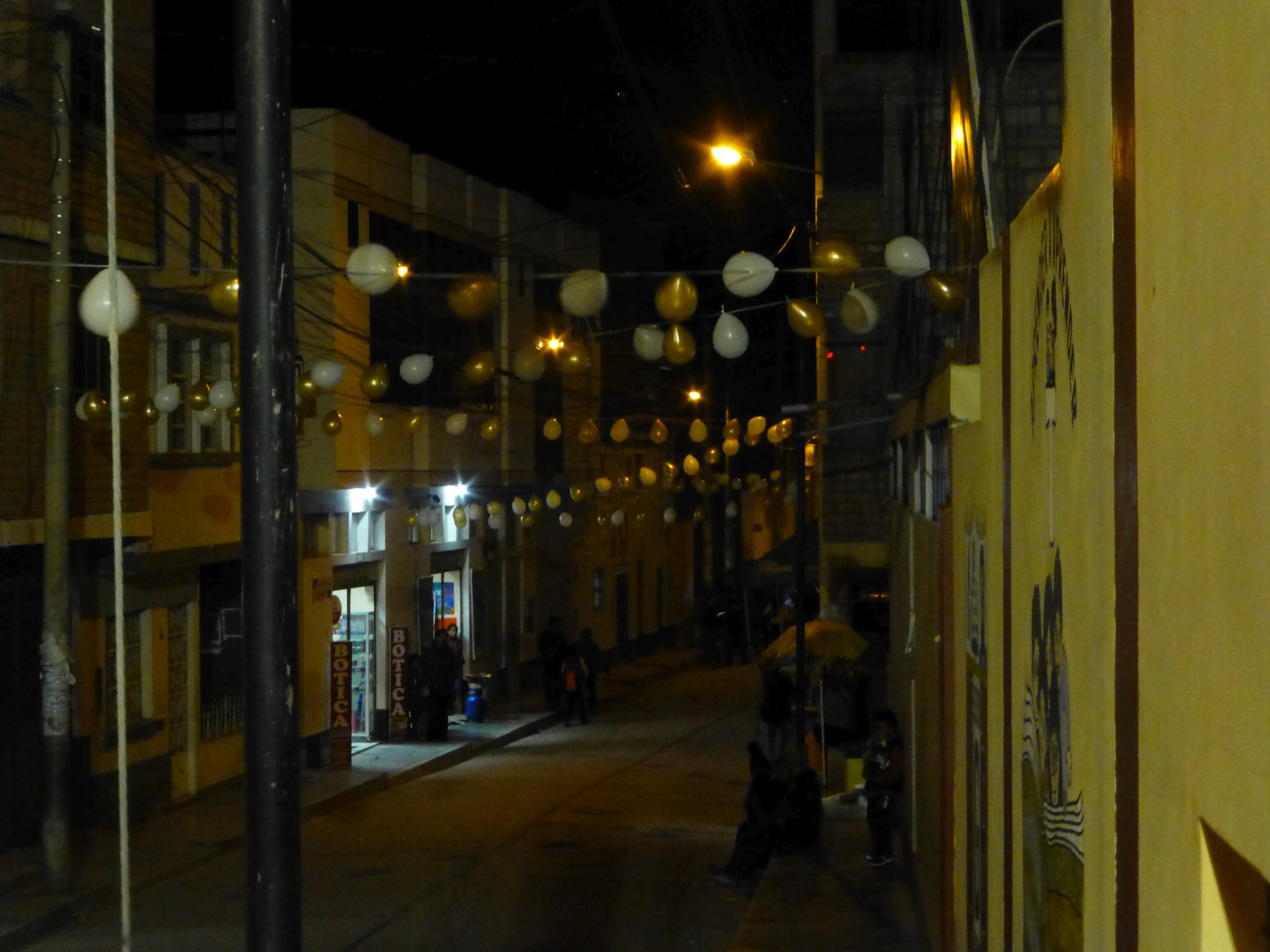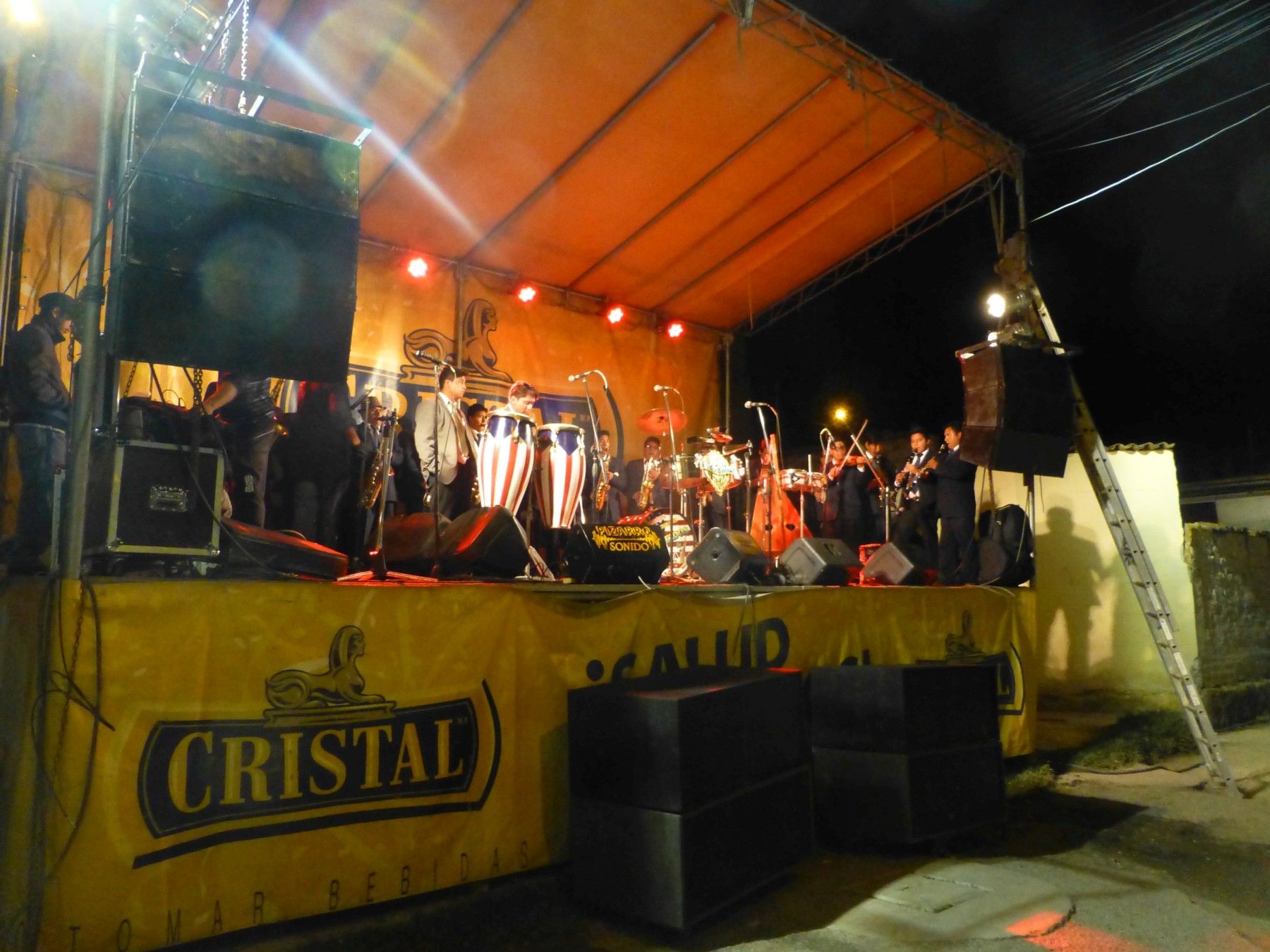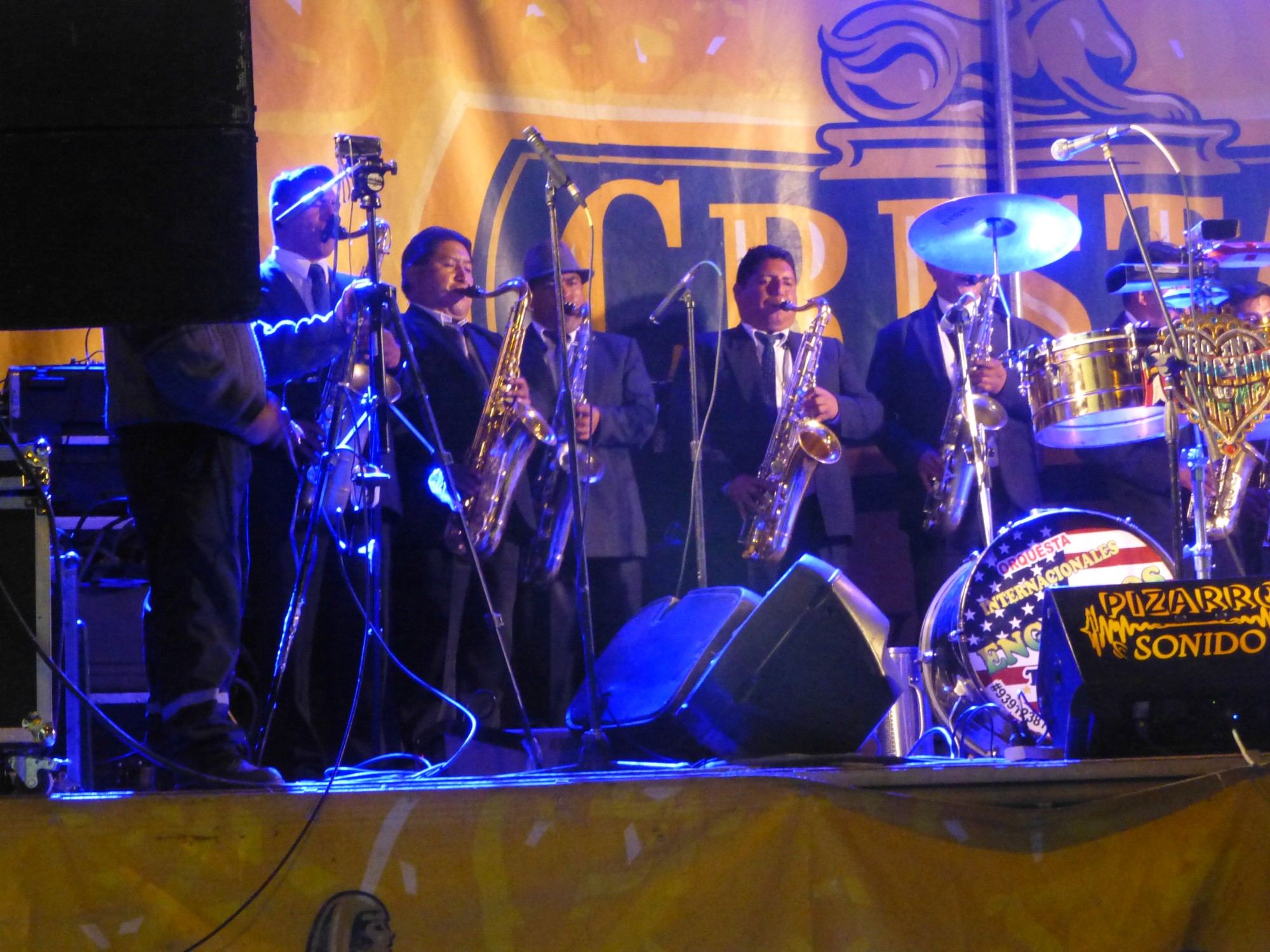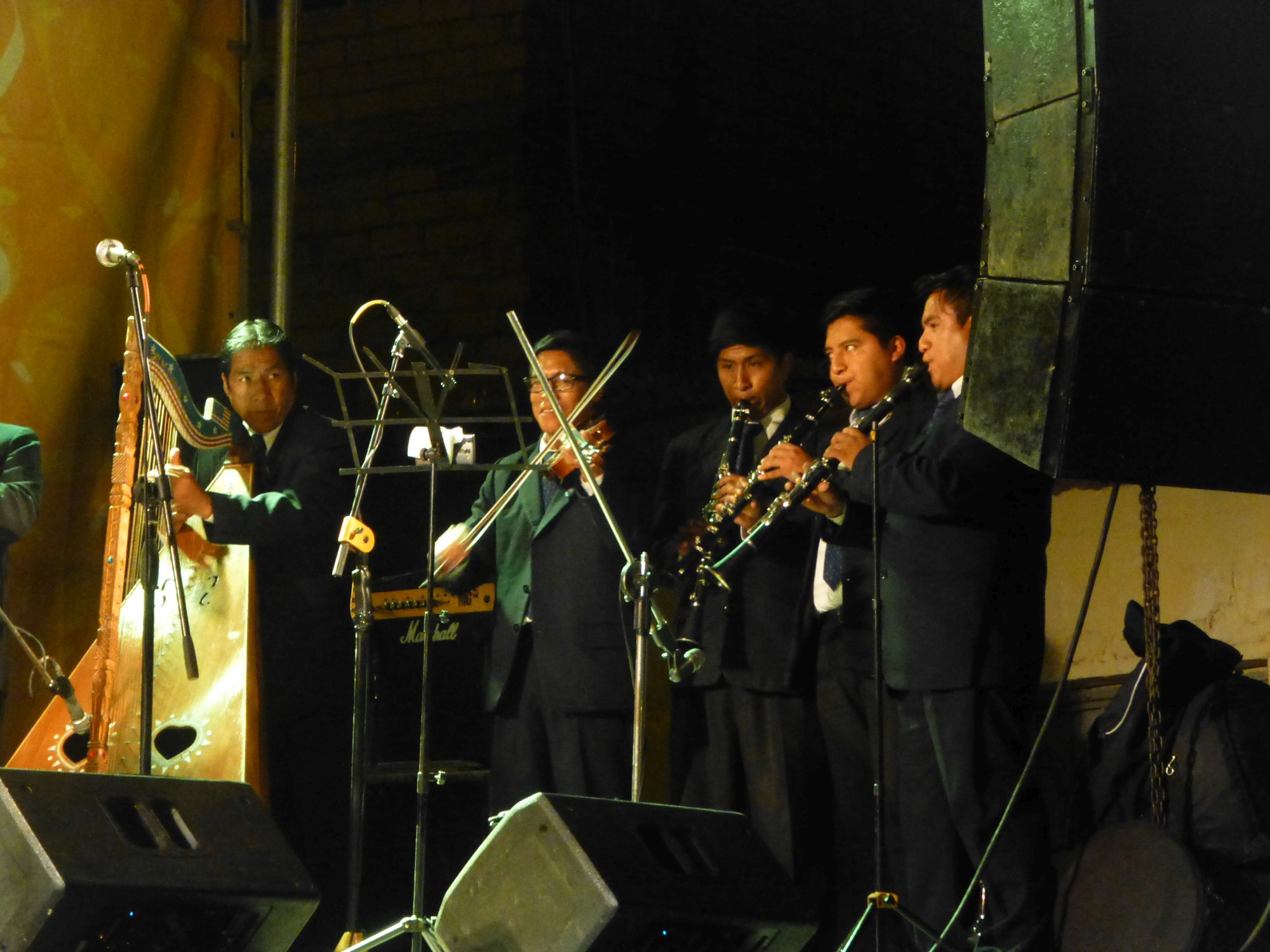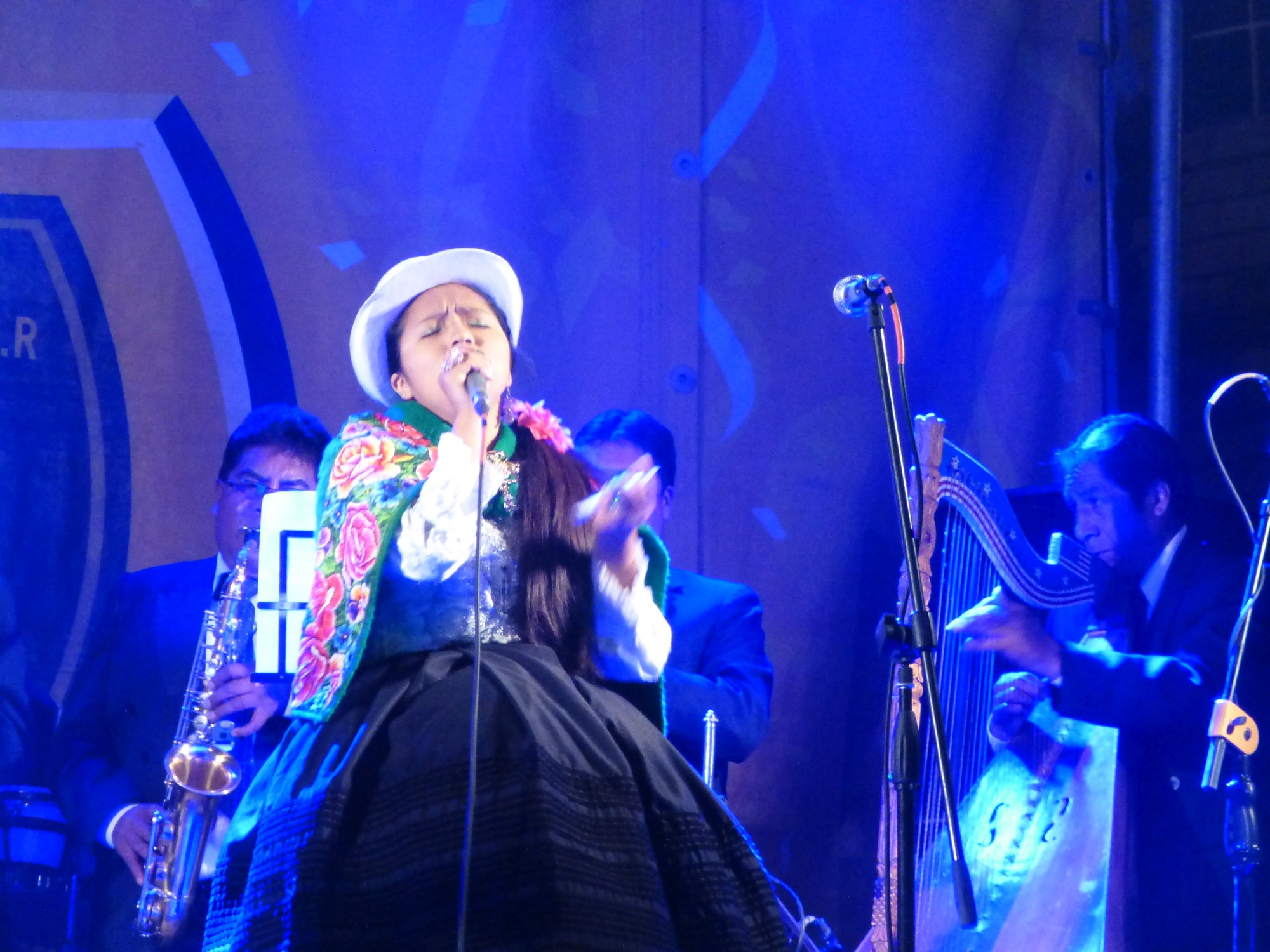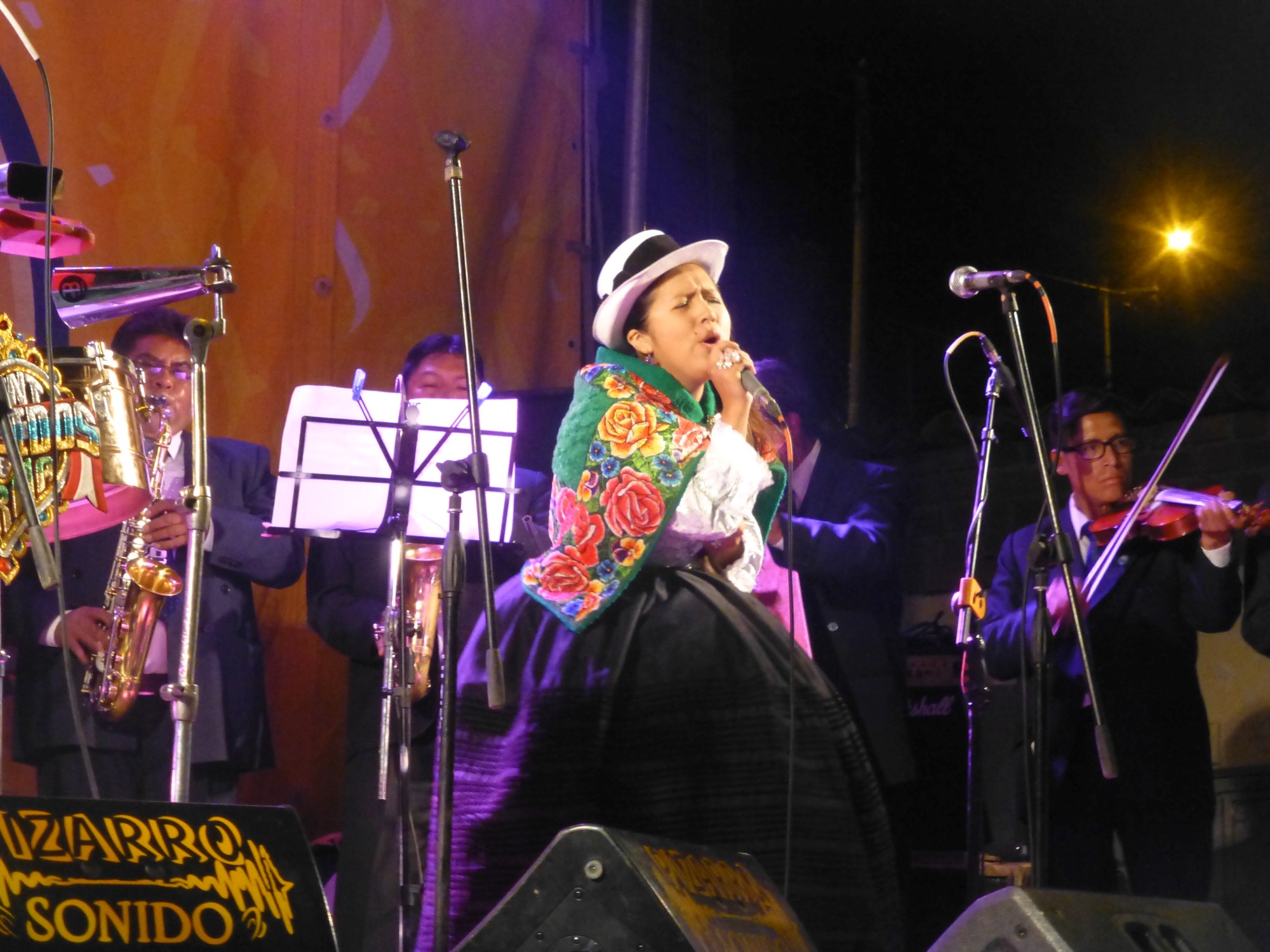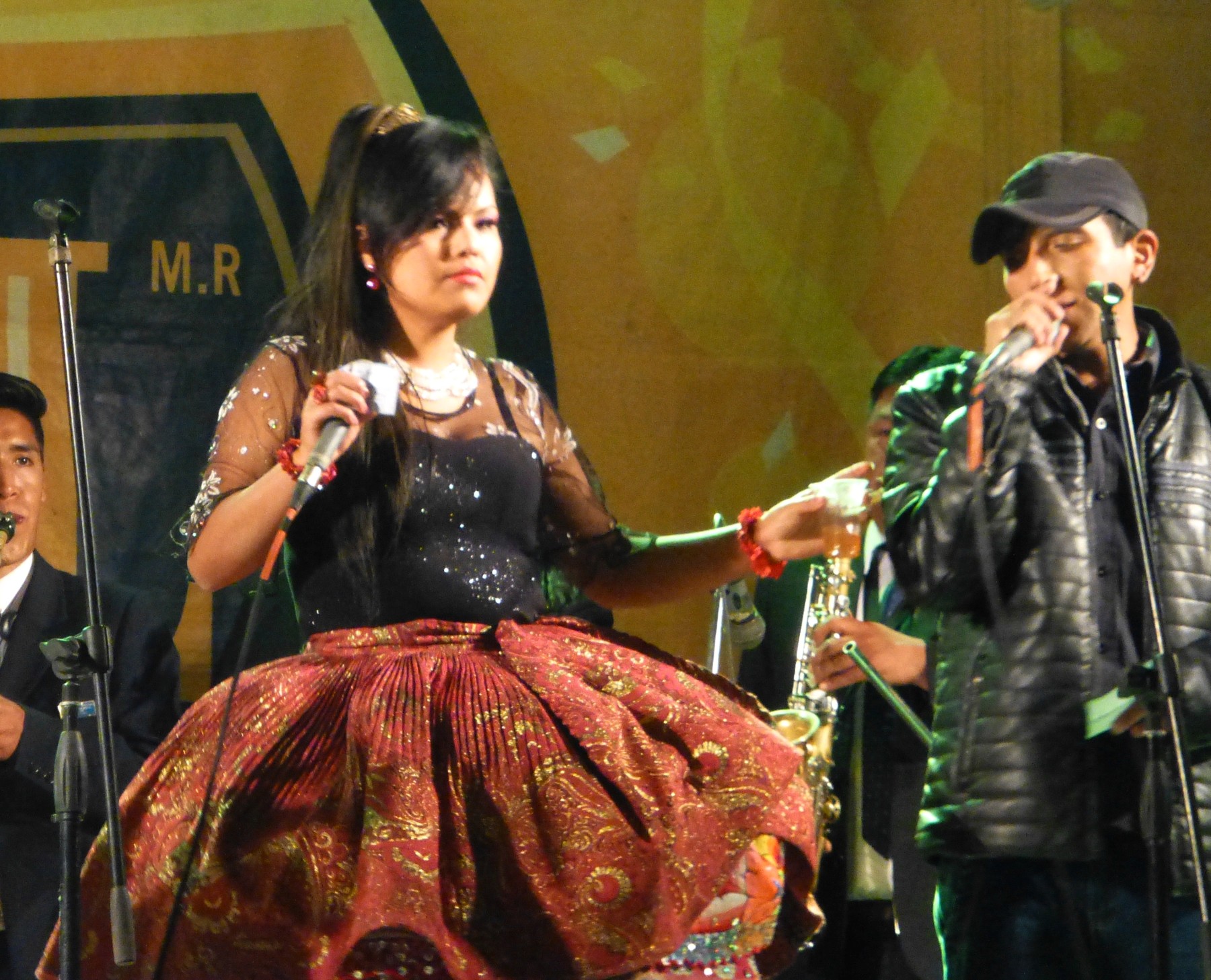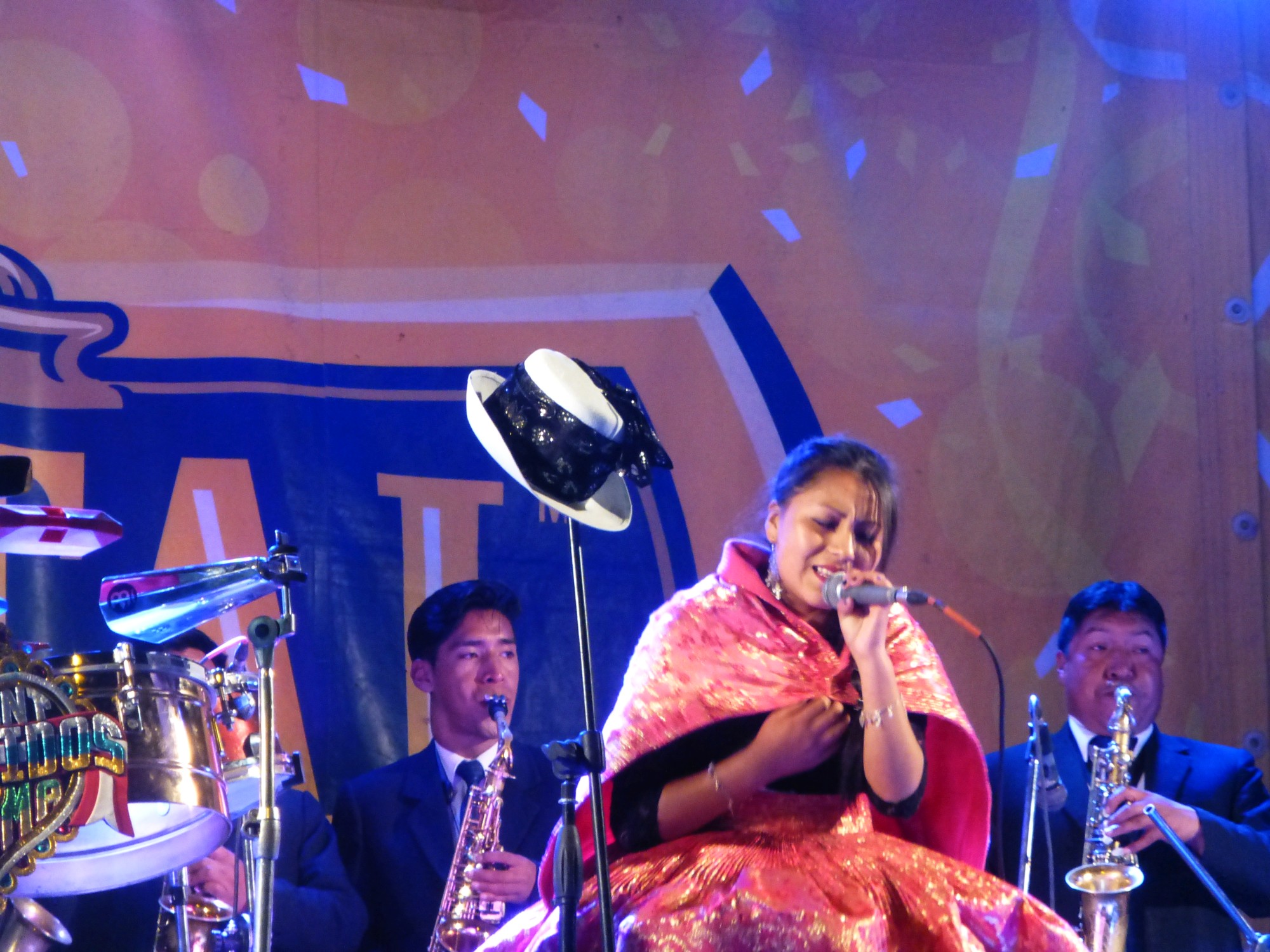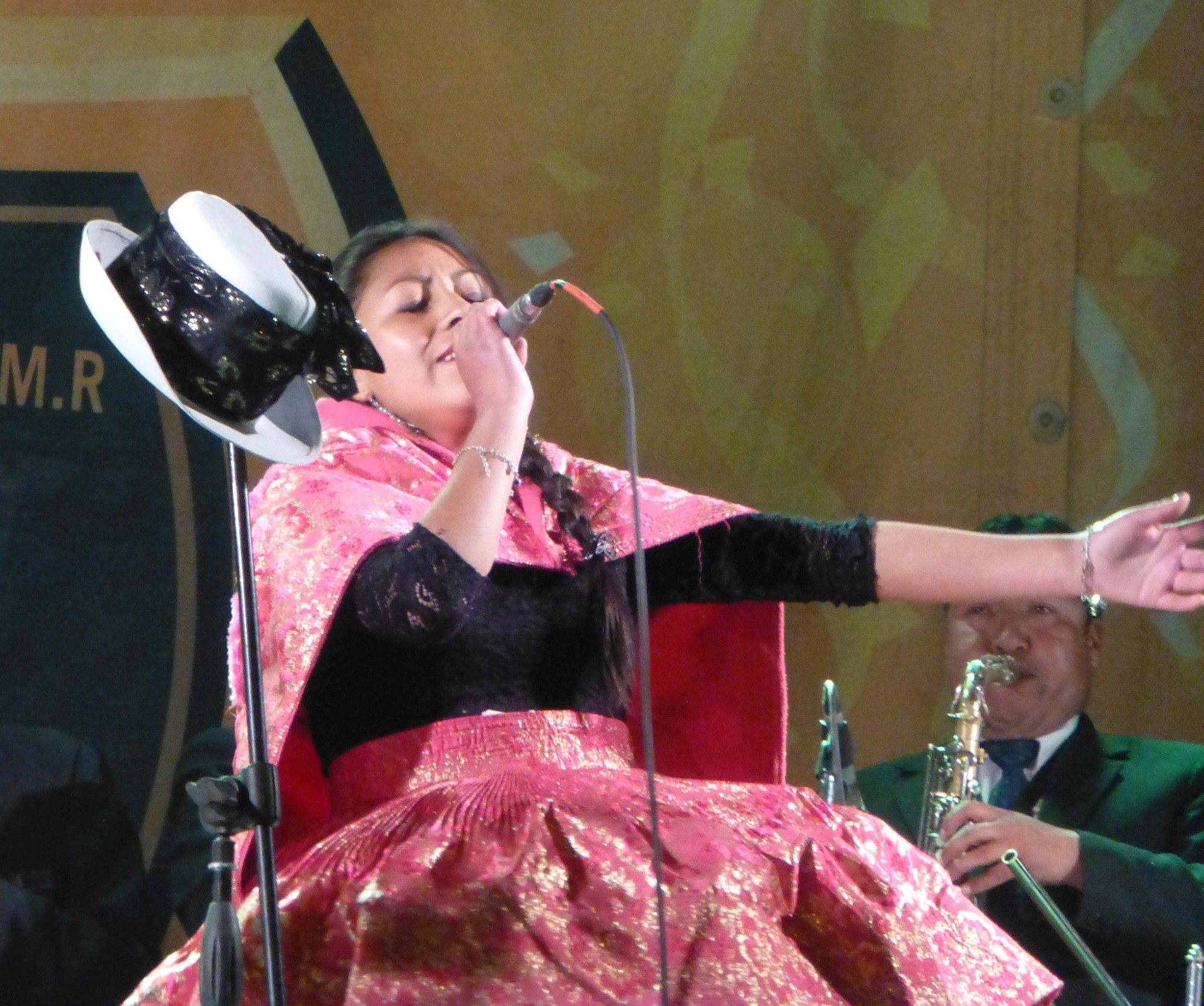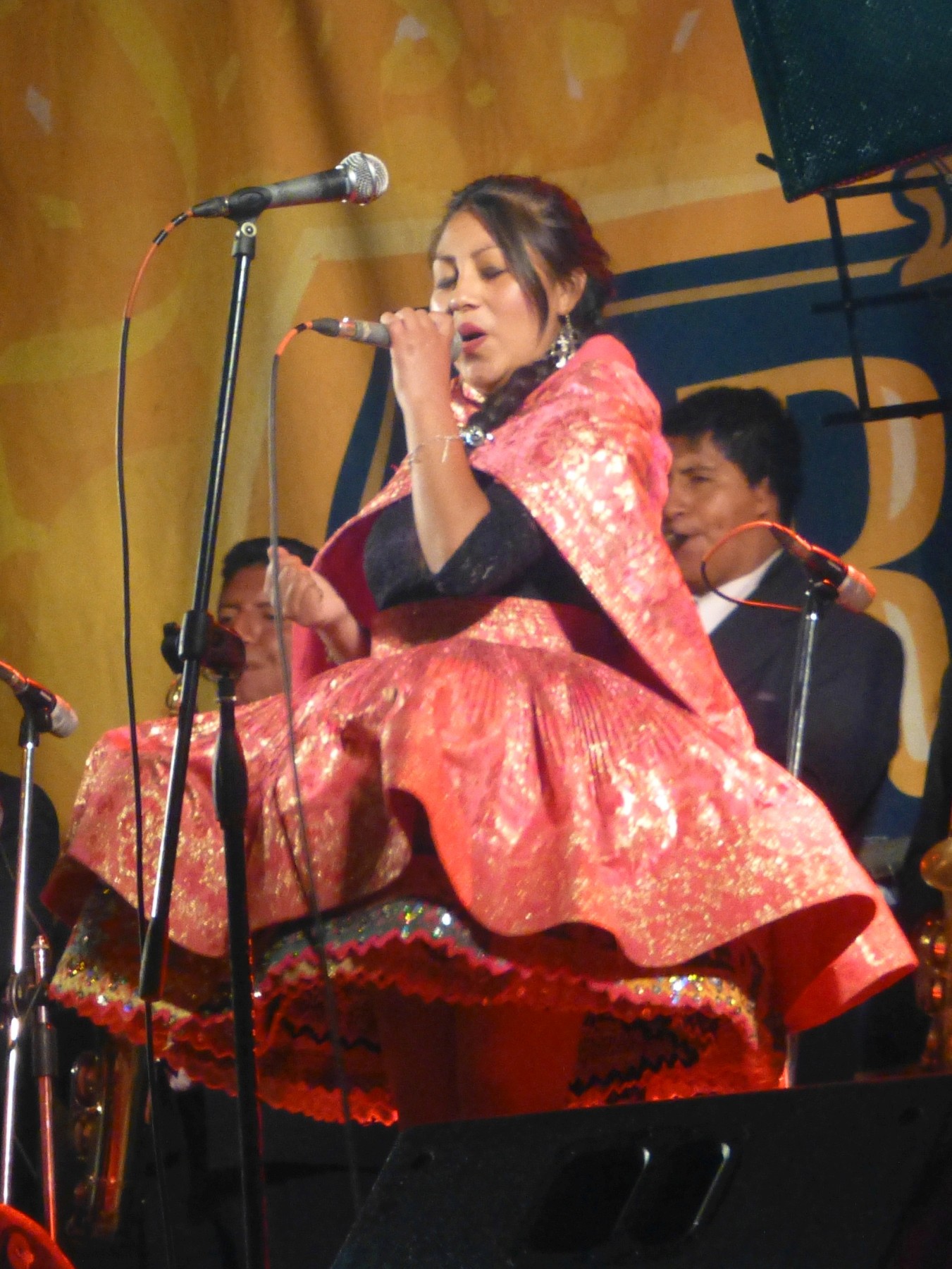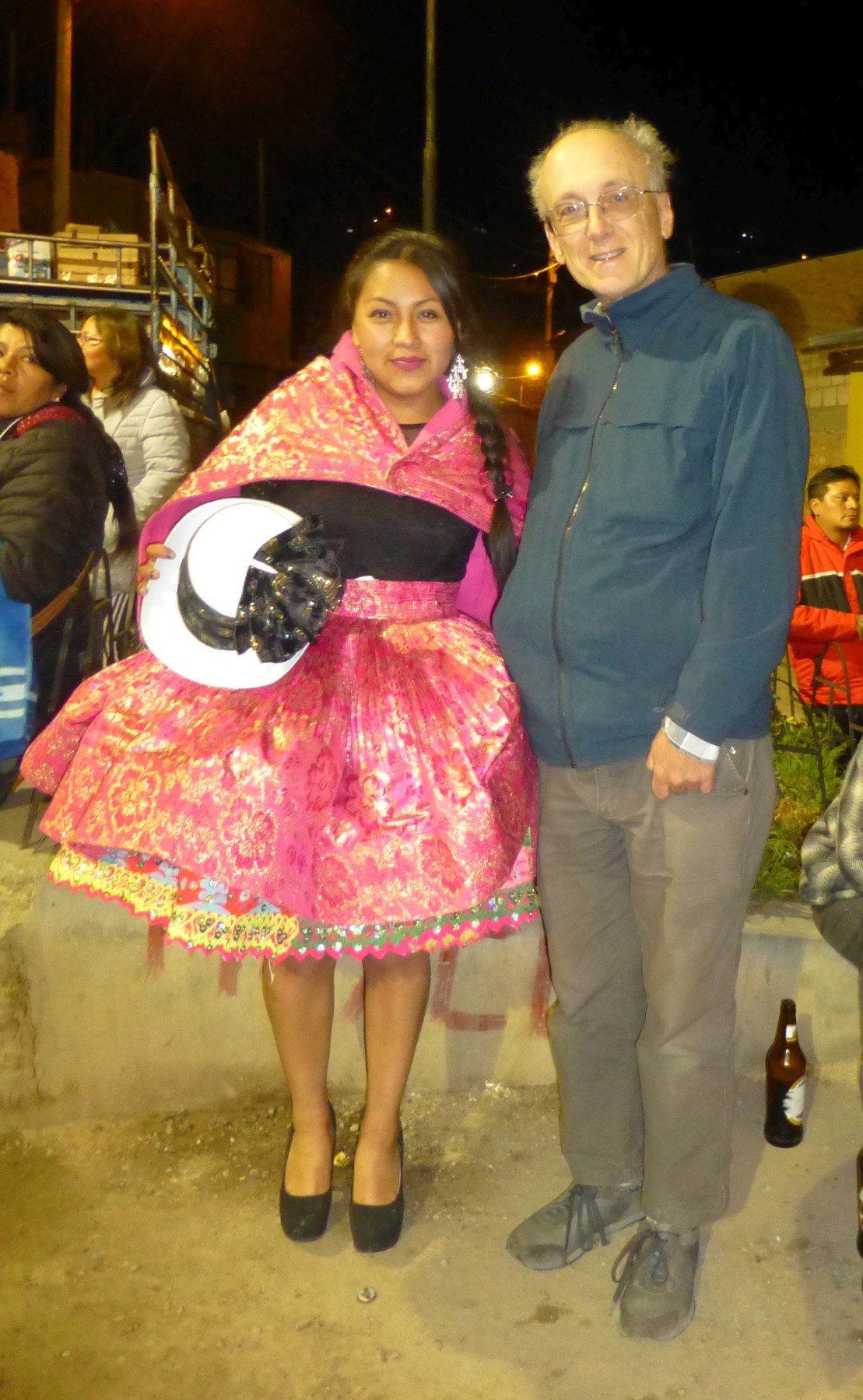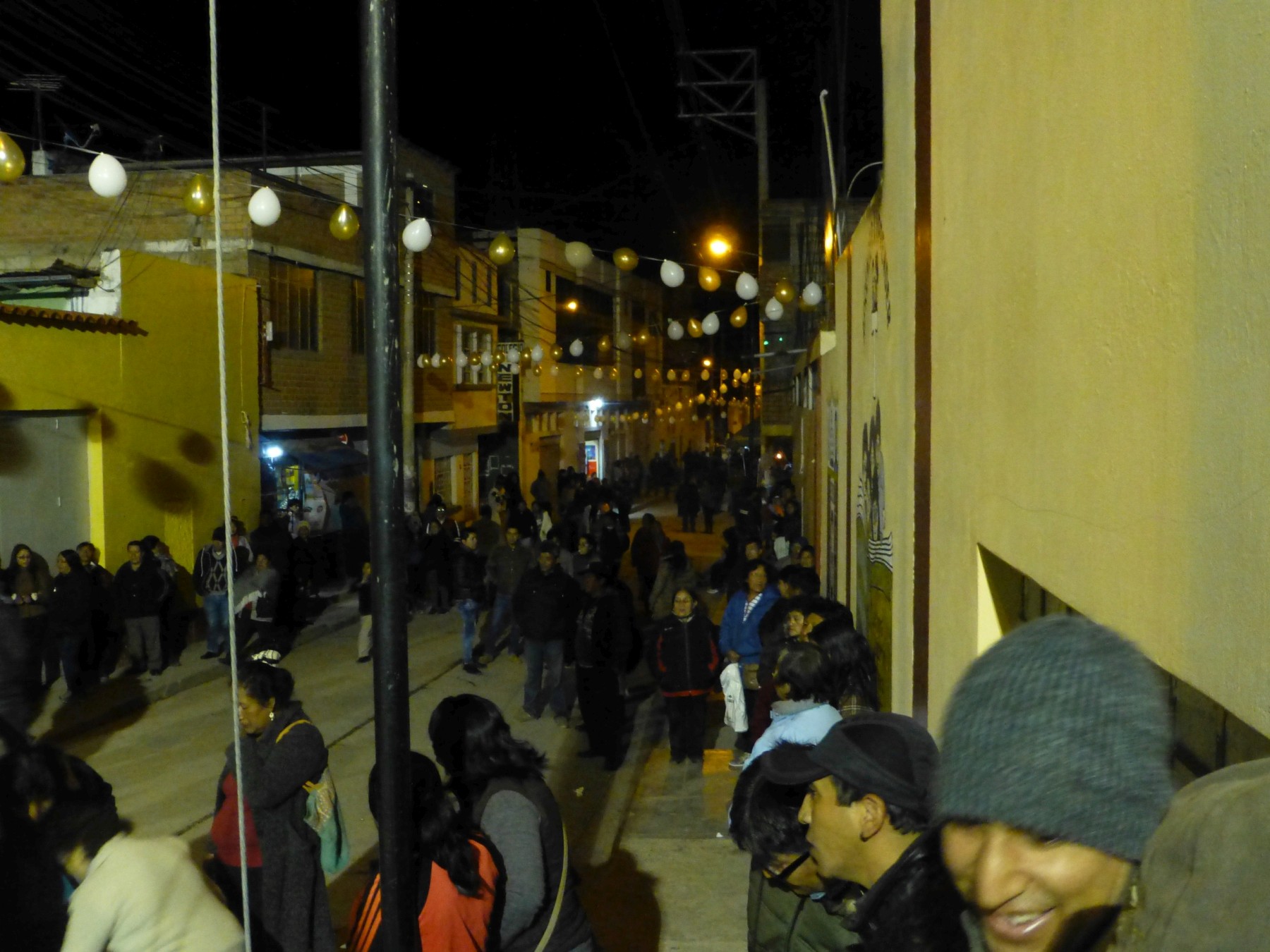 My Radio Tarma QSL and memorabilia from 1983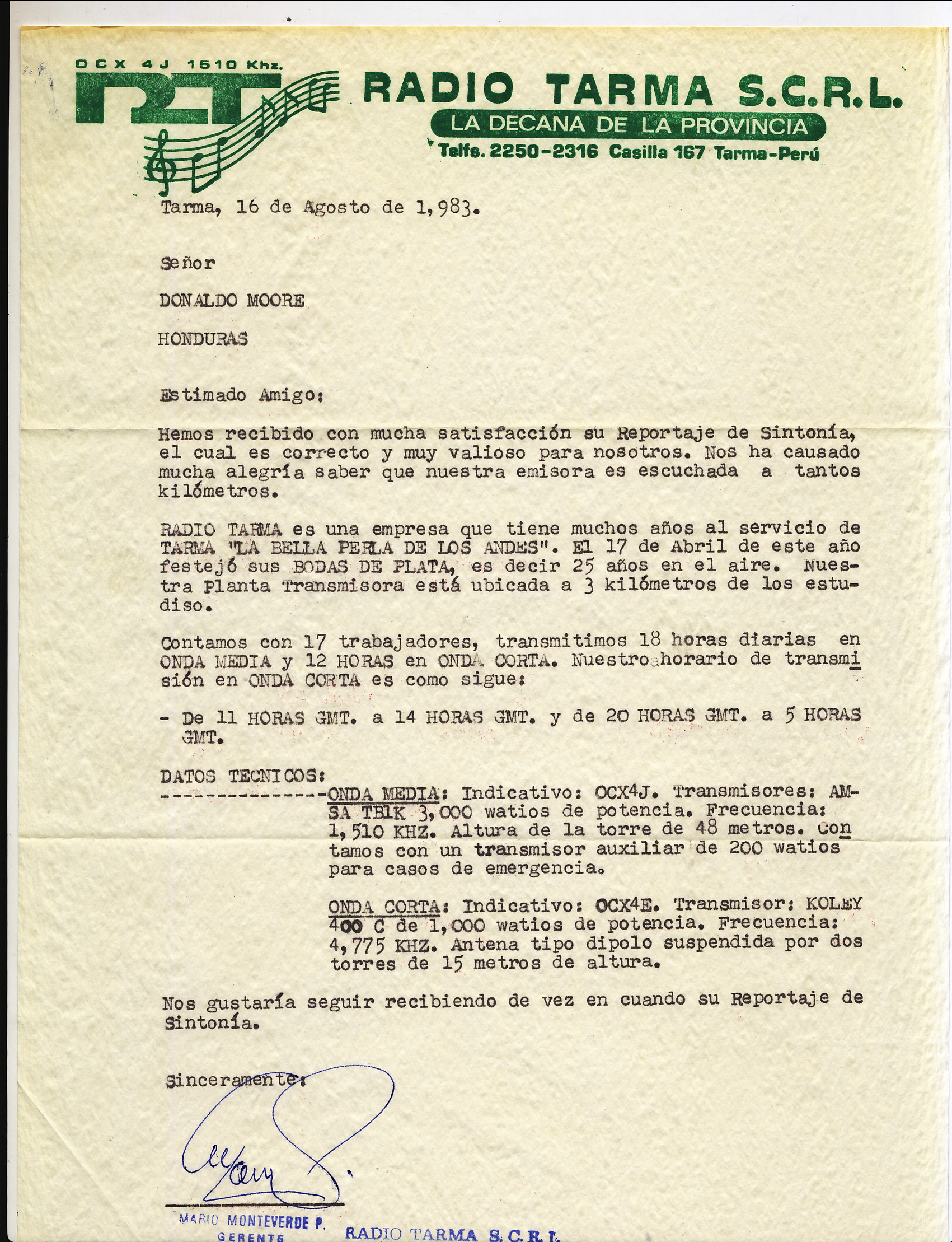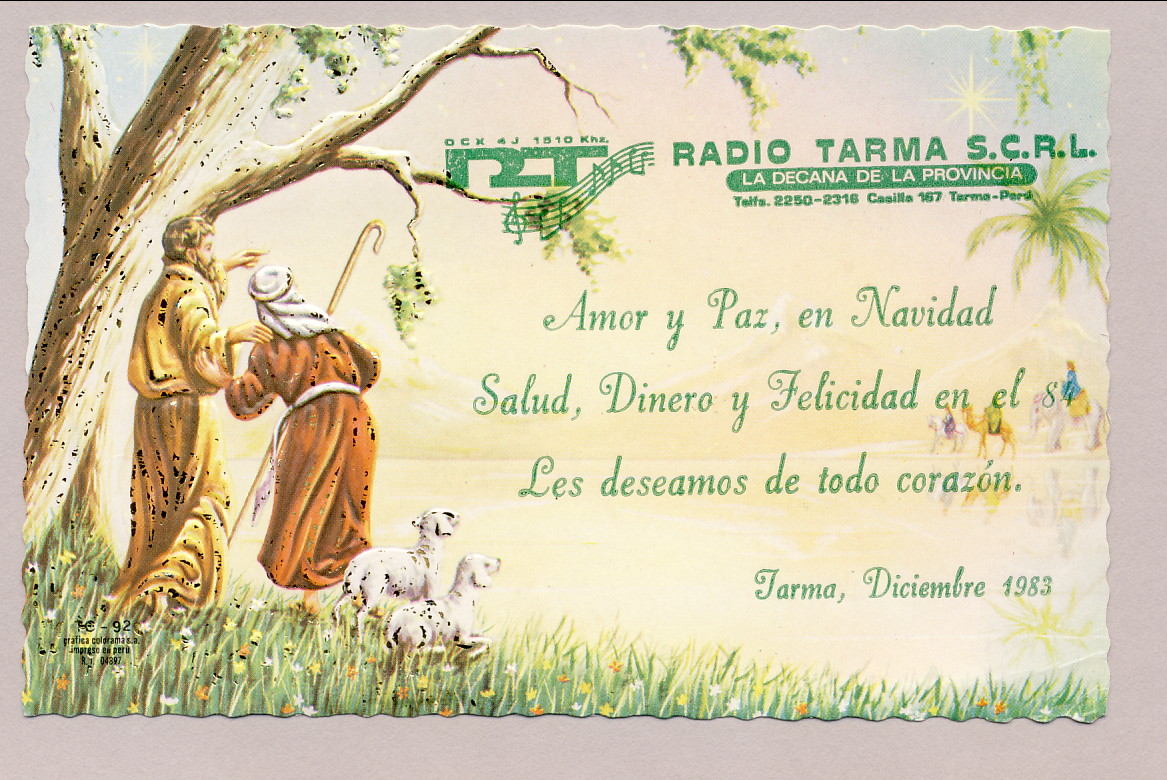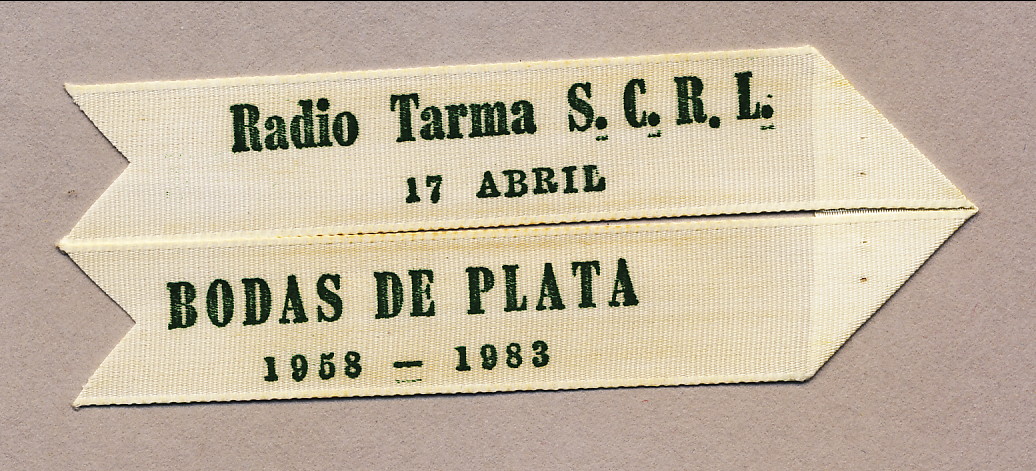 Larger Versions of Photos
These larger versions of some of the above photos are provided for personal use only. Contact me about possible public or commercial use.
Radio Tarma Office Building
Radio Tarma building sign
Radio Tarma building on party night
Radio Tarma station van
Radio Tarma studio
Mario Monteverde in the record library
Radio Tarma transmitter building
Radio Tarma transmitters
Original Shortwave transmitter
Internals of shortwave transmitter - #1
Internals of shortwave transmitter - #2
Internals of shortwave transmitter - #3
Internals of shortwave transmitter - #4
Radio Tarma shortwave antenna
Party singer #1
Party singer #2